Aaron Dykstra passed the down time on the flight line by imagining his life building bikes. More specifically, he wanted to build bike frames, the integral series of metal tubes that makes up a bike.
"I spent a lot of time mapping out real basic stuff," said Dykstra, a six-year Air Force veteran from the 94th Fighter Squadron. The wheels of his future business were already spinning in his head.
With the exception of his deployments and time as a business owner, Dykstra worked in bicycle shops since he was 15. When he turned 17, Dykstra enlisted in the Air Force. He wanted to get out of Roanoke, Va. and the military seemed like a viable option. Now he's the man behind Six-Eleven Bicycle Co, a company that's received high honors at North America's most prestigious bike show.
Bringing Something to the Table
Having worked at bike shops for so long, Dykstra quickly noticed that the bikes he worked on were all coming from the same factories, nearly all overseas.
"In the modern bike shop environment, you just work on the same bikes that come from the same factories in Taiwan," Dykstra said. "Once you start seeing that on a regular basis, it kind of takes away some of the magic."
Dykstra is proud to be making a U.S.-made product. Although it's something he prides himself on, he said he'd like to be making more affordable bicycles frames. Still, Dykstra has achieved his goal of becoming a U.S. bike builder.
"I wanted to be bringing something to the table rather than taking it away," he said.
After he finished his service in 2006, he stayed at a hostel in the Bronx until he found a bike shop job and an apartment in Brooklyn. He called his New York experience a "radical, different experiment." He later made his way to Chicago working for a cycling advocacy nonprofit.
In September 2008, he and his wife Michelle moved back to Roanoke, where she got a job offer, and the pair bought a house. The costs to start a business were far lower in Roanoke than his previous two cities of residence, Aaron realized. Chasing his dream, Aaron studied under Koichi Yamaguchi, a famous Japanese frame builder in Colorado.
With the training complete, Dykstra seized the opportunity to start a hand-built bicycle frame company in Roanoke.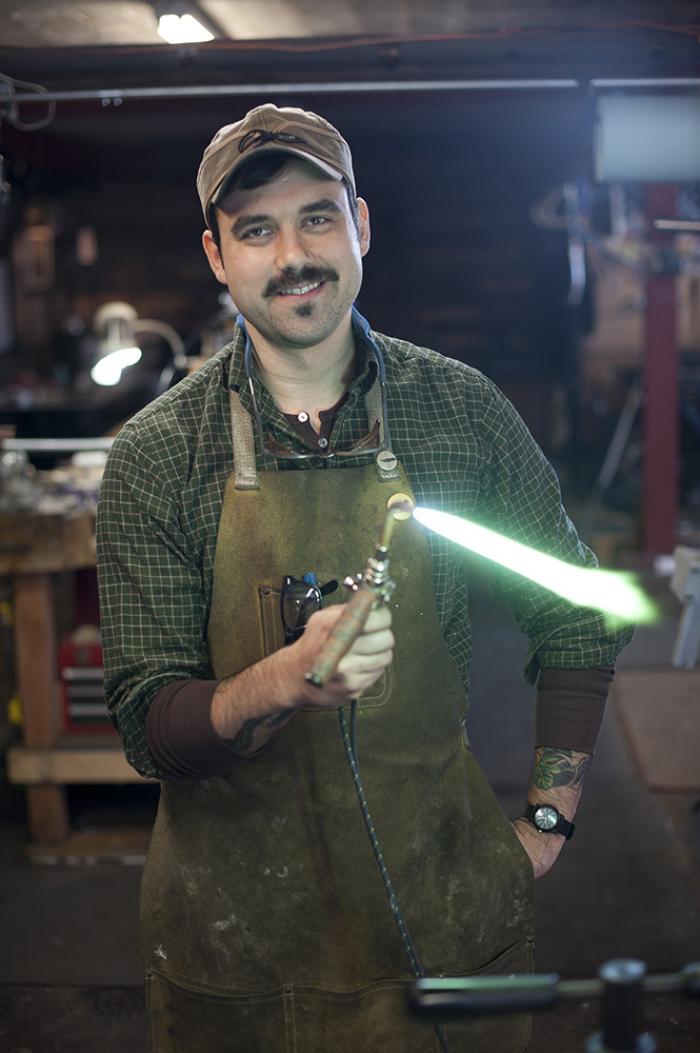 Opening Shop
While the skills he learned in the Air Force aren't directly correlated to his success as a frame builder, he said it certainly helps his craft. He recalls examining every part of fighter jets and keeping meticulous notes; that experience with aircraft has helped him deal with the logistics of ordering the precise materials and components he needs to construct custom-made bicycles.
"A lot of that experience definitely translated to dealing with … providers of metal or component manufacturers," said Aaron. "I was never a particularly organized person before (my service) and I always struggled with that kind of thing."
Aaron's best piece of advice to veterans: pursue something you're truly passionate about. For him, it's bicycles.
Despite all the ups and downs of owning a business, Dykstra said he doesn't do it for the money. He's happy that he's turned his imaginations from the flight line into a reality.
"The satisfaction of turning raw materials into something is really a tremendous experience," he said.