And with it comes all the things we love about America's pastime.

The teams of Major League Baseball show their appreciation each year to those who have served by offering some great military discounts as well as some appreciation days.
Many people think that making a budget and sticking to it means cutting out all of the fun from your expenditures. While it's true you don't want to overspend on things you don't need, everyone needs a break now and then and nothing beats a trip to the ballpark with the family.
Discounts and appreciation day dates are based on information gathered for the 2019 season. These dates are subject to change so make sure you check in with the ticket office beforehand.
Baseball. Is. Back.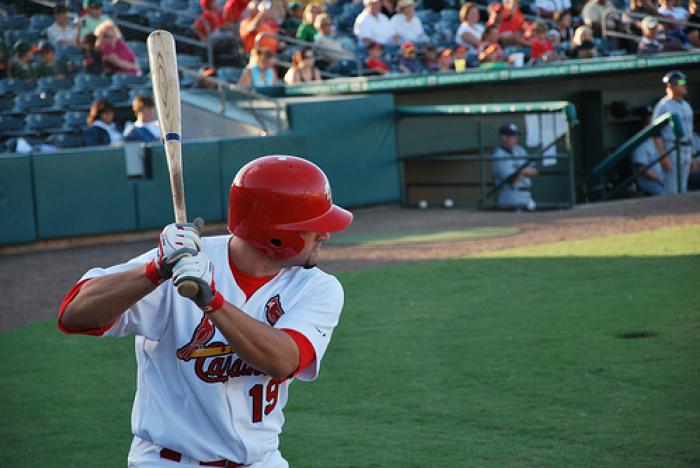 American League
Baltimore Orioles: Baltimore, MD
In 2019, the Baltimore Orioles offer a $3 discount on all tickets for active duty members, retired and veterans and their families. Tickets are available at the Orioles box office. Larger discounts can be arranged by contacting the ITT/Leisure Travel office. Active duty members who show a valid military ID receive a complimentary Orioles ball cap. Check out even more Orioles military promotions.
Boston Red Sox: Boston, MA
The Boston Red Sox have partnered with GovX to offer special pricing to active duty, reserve, veteran and retired service members and families to select home games. Tickets can be purchased here.
Chicago White Sox: Chicago, IL
Presenting a valid military ID at the Guaranteed Rate Field box office gets military members one free ticket to select White Sox games. This offer excludes opening day, Cubs series, Red Sox series, Yankees series and Elvis Night.
Detroit Tigers: Detroit, MI
The Detroit Tigers offer active duty members and veterans half-price Upper Box Infield and Upper Reserved tickets to all Monday-Thursday regular season home games. Service members are eligible to purchase up to 4 tickets per ID per game. Check out other Tigers military promotions.
Houston Astros: Houston, TX
The Houston Astros offer discounted tickets for most regular season home games. The offer is only available while allocated tickets last. Tickets can be purchased online.
Kansas City Royals: Kansas City, MO
For select regular season Royals games in 2019, active duty and retired military members can purchase up to 4 half-priced tickets for all regular season home games, excluding Opening Day and Marquee game dates, in the Outfield Plaza and View level seating areas.
Minnesota Twins: Minneapolis, MN
The Minnesota Twins offer active duty military members and veterans with a valid military ID plus up to three guests half-price tickets behind Home Plate to every Monday - Thursday game. Visit the Twins Military Support page for more military events held throughout the season.
Oakland Athletics: Oakland, CA
The Oakland A's offer a military discount to all 2019 home games. Active-duty, reserve, veterans, and retired military personnel are able to purchase tickets at 25% off the dynamic rate in any Field Level or Plaza Level section.

New York Yankees: Bronx, NY
Active duty and veteran military members are offered a complimentary ticket in designated areas of the grandstand or bleacher sections to select Monday through Thursday games.
Half-price tickets in other available non-premium seat locations are also available. The Yankees' website has more information on which games are discounted. Tickets may only be purchased on the day of the game, beginning two hours before the scheduled start.
Seattle Mariners: Seattle, WA
With a valid military ID, U.S. Military can receive a 10% discount for up to four tickets for certain Main, Terrace, and View Level seats to a Mariners game. The offer is only available at the Mariner's Team Store or the box office before home games.
Tampa Bay Rays: Tampa Bay, FL
In 2019, active duty military, retired and honorably discharged veterans are eligible for two complimentary tickets to seven Monday Rays home games, three additional bonus dates and special ticket offers throughout the season. Some exclusions apply; tickets will be made available one week prior to each scheduled game date.
Texas Rangers: Arlington, TX
The Texas Rangers offer military discounts on tickets through GovX. Tickets can be purchased online.
National League
Arizona Diamondbacks: Phoenix, AZ
The Diamondbacks offer half off to all active, reserve, retired and veteran military personnel for every regular season home game. The discount applies to up to four seats in any section.
Atlanta Braves: Atlanta, GA
In 2019, military members attending Atlanta Braves' home games this year are eligible to receive $10 off Homerun Porch seats or half-off Grandstand Reserved seats. Tickets are available for all home games based on availability.
Cincinnati Reds: Cincinnati, OH
The
Cincinnati Reds
offer discounted tickets for a variety of seating locations to select home games. Tickets to each of the five Military Appreciation Games the Reds will host in 2019 are available for active duty, reserve, veteran and retired service members and families for only $5.


Los Angeles Dodgers: Los Angeles, CA
In 2019, the Los Angeles Dodgers offered special military pricing.
$10 Off Loge MVP seats (1, 2, 3 & 4 Star Games Only)
$10 Off Reserve MVP seats (1, 2, 3 & 4 Star Games Only)
$10 Off Right Field Pavilion seats (1, 2, 3 & 4 Star Games Only)
They may be purchased at any ticket booth, two hours prior to game time until 60 minutes after the first pitch, with proper military ID. Valid for up to four (4) tickets per ID.
Miami Marlins: Miami, FL
For all Monday home games in 2019, the Miami Marlins offer two complimentary tickets to veterans, active duty and retired members. This offer is only valid for pick up at the Center Field Entrance, starting 90 minutes before the first pitch on the day of the game.
Milwaukee Brewers: Milwaukee, WI
The Brewers offer half-off tickets to select home games for the 2018 season in partnership with ID.me.
New York Mets: Flushing, NY
Active military personnel attending a Mets game between Monday and Thursday can receive a complimentary ticket at the ticket office in the Jackie Robinson Rotunda. Must have a valid and active military ID on the day of the game. Non-military persons must purchase regular tickets.
Philadelphia Phillies: Philadelphia, PA
Active duty members, veterans, their families and friends can receive discounted Phillies tickets for select regular season home games.
Pittsburgh Pirates: Pittsburgh, PA
The Pirates offer discounted tickets to all military members and their families. Service members can save up to $10 off Outfield Box tickets, up to $6 off Infield Box tickets and up to $3 off Grandstand section tickets.
San Diego Padres: San Diego, CA
For most 2019 home games, the Padres are offering two different military discounts. For every Sunday home game, military members and their families can purchase half-priced tickets while supplies last. For all other home games there is a 25 percent discount on tickets.
St. Louis Cardinals: St. Louis, MO
For the 2019 season, the St. Louis Cardinals are offering one complimentary ticket to active, reserve and retired U.S. military personnel. Tickets can be picked up one hour before game time at the Clark Street Box Office and are based on availability.
Washington Nationals: Washington DC
The Washington Nationals offer military personnel special ticket pricing of up to 28% off all season long, plus a $10 credit for food, beverage or merchandise. You must be verified thru GovX to claim this offer.
Did we miss any? Let us know in the comments!