This is my second home purchased using my VA loan benefit. The first time I purchased using another company, it felt like I was back in the military, "hurry up and wait, that is just the process." With Veterans United, the process was seamless, information was clear, explained thoroughly, and the timeline they set was met as promised.Their team of professionals work hard for you and pair you with a motivated realtor who is able to help you find the home perfect for you. If I could describe Veteran's United in one phrase, it is simply Best In Class, deserving of a 5 star rating for integrity, professionalism, and service. Outstanding job Veteran's United.

Verteran United is definitely for the veteran or the person buying the house! All you have to do is read and sign the documents everything is prepared on their end! They really do the Work for you !!! Simply Awesome








They was extremely helpful and knowledgeable about the process. They helped me through the Lighthouse program all the way through till we signed for the house. A outstanding performance.

You're next!
Join the ranks of our 200,000+ Proud Veteran Homeowners nationwide.


DONT USE ANYONE ELSE!!!!!





Excellent online home loan lending service. I will use it again. Thank You



Great and hassle free experience down to the last item!


Veterans United is an unbelievable advocate for veterans during the home buying process. The quality of the representation that we received was 10 out of 10.We honestly were concerned that we were not going to be able to buy the house we wanted, but through all of their input, Credit Services, and guidance not only did we get the house of our dreams, we got it for an amount that we could afford. We actually saved almost $100 a month from what our rent was costing.The number one, "Area for improvement" in their process, is that more veterans need to be made aware that Veterans United exist and can get them into a house with the least amount of pain and the most amount of support humanly possible.Notably, the "To Do" checklist and notification processes, and Paperless Electronics filing, electronic signatures and other Technologies dramatically reduce the amount of time, and stress that the home-buying process caused for us versus out last home purchase.I wish we would have known about Veterans United for our first house. What a world of difference!Particular thanks Matt E., Lynn, and the entire Veterans United team!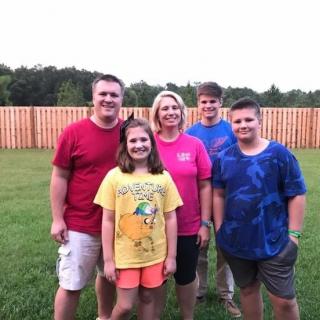 I want to give a big shout out to Veterans United and say thank you! You made our family dream come true and made it a reality. In May we started the buying process with a local lender and a few weeks into the process I found out that he was not very familiar with the Va loan process. So I decided to go with Veterans United and boy I'm glad I did. We started the process on June 16th and we closed on July 14th. I had a few obstacles to overcome and the other lender I started with made it look like a very long process but Veterans United took my concerns, listen to me and made the process go smooth. I was a first time home buyer and I had no idea what to expect but Veterans United helped make the America dream come true and now I'm a proud homeowner and boy that sure has a nice ring to it. :) Jon, Ashton and the entire team was wonderful throughout the entire process and again words can't express my thanks and I close this post out by saying keep up the great work. Thank you from the Watts Family.

This was a fast, effective and efficient home buying experience. Sean Riley and his team provided me with world class red carpet service. I was closing on my new home in only 25 days! This team worked seamlessly with my real estate agent to ensure I found the right home and got the best deal. I'd recommend Veterans United to anyone who wants great service backed by years of experience and expertise.




Even throughout all these difficult and extremely stressful times Shane and his team was respectful and caring. I'd recommend a 100 if I could!!! Fantastic job yall! Thanks so much for understanding and reacting appropriately!