A positive attitude from friendly professionals helped to make my home purchase experience memorable.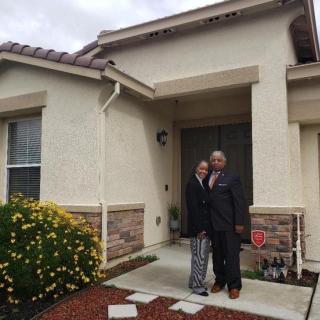 My experience with Veterans United Home Loans was awesome, painless and educational. The team at Veterans United understands the customer's needs and goals, basically the mission at hand. They listen and take the information needed to achieve the goal by relationship building. I would truly recommend them, because they are committed to excellence!

I would definitely recommend Veterans United to vets i know who would like to purchase a home.


I hope that I won't be in the house buying process for a long time from now. We are thoroughly enjoying our new home. Veteran's United made it possible for my family to purchase the home that seems made for us.

Veterans United is the way to go if you are hoping to purchase a home. Their process is simplistic, the webpage is easy to navigate, but most importantly, their team of professionals work tirelessly to assist you. The level of professionalism and dedication they have to your home-buying process is what makes it an enjoyable experience.


You're next!
Join the ranks of our 200,000+ Proud Veteran Homeowners nationwide.

An overall, 10/10! I will certainly be a returning customer!

It has been great working with Veterans United. I have had nothing but positive vibes from their team. I will continue to do business with them.



Alex Herbel is the BEST loan representative anyone could possibly ask for with loan assistance. This is our third loan with Veterans United and have only used Alex Herbel due to such OUTSTANDING service experience when purchasing our home two years ago.We have refinanced twice since then for even lower rates and the experience has been wonderful.


Veterans United was great during our initial home loan process and the experience was just as easy with our current refinance. We will stick with Veterans United if they maintain the level of service they have provided up to now.



You're next!
Join the ranks of our 200,000+ Proud Veteran Homeowners nationwide.





As a U.S. Air Force Veteran of 27 years, I am beyond satisfied with the way Veterans United handled the purchase of my first home. The entire staff pitched in on various levels to ensure a smooth and hassle-free process, didn't miss a single beat and kept me abreast of things I needed to do to stay on course. Thank you for making our dream come true, Danielle and I could not be happier with the results.