There is a reason Veterans United has the strong reputation it does, because of the folks who serve day in and day out for those of us who answered the call to duty. To say that I had a great experience with VU would be an understatement. It was simply amazing, it honestly couldn't have been better. Thank you all, thank you to whoever created this for us veterans and all who continue with its mission. God bless you all. You're all angels in my book!



N/A

Great and fast experience. Watch the teaching videos they are great. The loan team was great to work with. The real estate agent VU recommended was awesome.

Even with my absence, everybody on the team made this process easy.

This was our second home loan with VU and we don't plan to finance a VA loan through anyone else. Love the website and easy interface throughout all steps of the process.

Rob is the bomb!!!! The process was easy and quick.


Veterans united made the home buying process a breeze. Every one was very professional. They helped walk through the process. Answered all my questions. They explained everything very through.

You're next!
Join the ranks of our 200,000+ Proud Veteran Homeowners nationwide.




Erin and Grace were such a pleasure to work with. From the pre-approval process, all the way through closing day, Erin and her team kept me up to date and thoroughly explained any questions I had. After renting for close to 10 years, and with how drastic Colorado property values were increasing, my wife and I figured we should try and buy a house. I was pre-approved in about thirty minutes and was able to buy my family a beautiful home near the mountains in a quiet neighborhood. What more can a man ask for? It was a truly surreal experience and I highly recommend Veterans United, and specifically Erin Craig, and her team.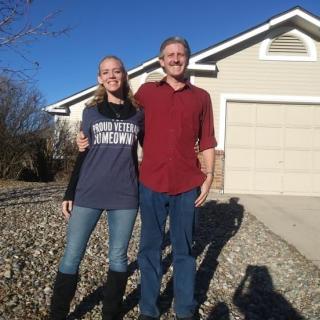 Hey Veterans, If you're looking for your first home or your next home, I highly advise to go with Veterans United for their expertise, diligence and professionalism. Thanks to my teams hard work and attentiveness, my family and I are now pleasantly living in our first home! Thank you Veterans United, we couldn't be happier!




My home loan officer, Eli Ahn, did an outstanding job! He was very knowledgeable and super helpful in making my military move from NJ to CO run smooth. He is a true professional. I'll definitely be recommending Veterans United to all of my friends. Thanks Eli and Veterans United!

I would definitely recommend Veterans United to any Veteran or Active Duty service member who is looking to buy a home. They truly will work with you to get you the best mortgage that fits your needs and takes the fullest advantage of your VA Benefit.










Danielle was great too. She helped me understand the preliminary closing disclosure and how the numbers were generated. When you're spending that much cash and in-debiting yourself for several decades of your life, it helps to have someone explain the process and assuage anxiety over a lifetime purchase.