I would tell everyone about how easy it was to get our VA loan.

The Veterans United Home Loans team worked well together, on our behalf, to provide a fast, efficient process in getting us qualified for a home purchase. We've worked with Veteran's United 3 times over the last five years. Each encounter was a unique, smooth and positive experience. Cody Smith and team went beyond getting us qualified for a home purchase. Continuous communication, efficient collection of sensitive information were some of the high points of our process. Our needs and questions were fulfilled and answered quickly and completely. Thank you Cody Smith and the Veteran's United Home Loans team. Craig and Tandy
I bought a home in FL while on extended visit in Canada due to COVID19. I'm a vet and a US citizen and I work remotely. There were several circumstances, guidelines, restrictions that could have derailed the whole process. But, I believe the team I was working with Tom Champion, Corey Jackson in particular with whom I spoke with regularly, went to bat and really helped to keep the process on track. To a future home buyer I'd say you're in great hands with this team and Veterans United as a whole. Thank you.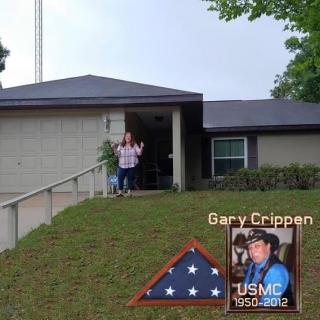 I always heard that buying a home could be a long, hard, and scary process. Working with my team at Veterans United, made my first home purchase so much easier than I could have ever imagined. They gave me all the information, and tools I needed to understand the process. They referred me to a realtor in the area in which I was looking, who is very knowledgeable in VA Lending and finding the perfect home for me! From beginning to end they were all courteous and professional, answering my many questions every time I called. I can't think this team enough, Jason Chronr, his assistant LeighAnn, and my realtor Tracie Raffulo. And I thank them all for everything they do for veterans and their families.






You're next!
Join the ranks of our 200,000+ Proud Veteran Homeowners nationwide.

Not my first home buying experience, but this was the time working with Veterans United. The experience was informative and pleasant; the process was simple and intuitive. I will gladly promote Veterans United to friends, family and colleagues starting the home buying process.


We would highly recommend Veterans United. They made buying our home stress free. Our loan specialist Sam was exceptional. If your a Veteran and want to buy a home you can't go wrong using Veterans United, they are the best!






Veterans United is an amazing and easy company to work with. They take care of those that have proudly served this wonderful Country! Thank you Veterans for helping me get in my dream home.

You're next!
Join the ranks of our 200,000+ Proud Veteran Homeowners nationwide.







We couldn't have had a better experience than we did with Veterans United. They listened to all of our concerns and patiently explained what was required for us to get approved.
We highly recommend them to other Veterans and their families.


Thank you Steph, Jennifer, and Tara for helping me through this process to secure my new home.