Veterans United is the best way to go to buy your home, if you are a veteran. They are the best. Veterans United informs you every step of your journey with patience and kindness until you are a home owner.


Believe me don't loose hope VETERAN UNITED IS HERE GIVE A TRY.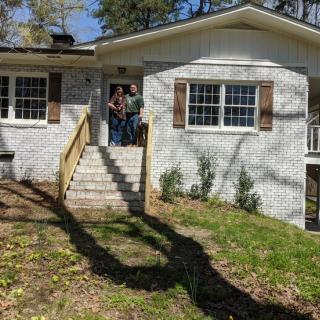 Craig Anderson was absolutely phenomenal! We've already suggested him to three of our friends that's going to be looking for homes in the next year or two. Our realtor is very hard to impress and she was blown away by the dedication Craig had as well. Life is stressful enough as a disabled veteran, Craig took away so much stress from my wife and myself through this process. If there was a way to recommend him for employee of the year we would!





Don't pass this group over veterans when it comes to your home purchase, they are the best.

You're next!
Join the ranks of our 200,000+ Proud Veteran Homeowners nationwide.
HIGHLY Recommend Veterans United! Professional, caring mortgage lender who walked me thru the entire process with courtesy and care for my best mortgage interests!



The home buying process with Veterans United was the best experience in home buying we've had in 3 buying experiences. Thanks!


As a first time home buyer Veterans United did a fantastic job helping me understand the process and my loan specialist Don Scott was a pleasure to work with. He was very responsive, always eager to help me understand, and genuinely cared. I would definitely recommend Don and Veterans United to any buyer.





You're next!
Join the ranks of our 200,000+ Proud Veteran Homeowners nationwide.
If your looking to purchase a home. Make sure you check out Veterans United. They have an impeccable reputation that will supersede any expectation you may have. The level of professionalism and personal commitment to their clients is phenomenal. I will always use them for future home purchases and I will recommend them to family and friends. I want to thank Shawn and his team for treating me like family.




Outstanding knowledgeable and friendly service very helpful and professional


Veterans United cares about the vets and will do what it takes to earn your business, it is a great company. If you decide to give them a shot you will not be disappointed.



Great organization to work with. Tremendous help every step of the way. Highly recommend!!!