Looking for a home and getting approved for a mortgage loan was just so easy with Veterans United. They do all the work, all you need to do is pick out the home you want and in a couple months, you are the new home owner.
It was that easy.
Do yourself a favor and go with Veterans United.

Everything went smoothly from start to finish and the Veterans United team were quick to respond to any questions I had along the way.


I'm a first time home owner and I couldn't believe the ease of the whole process!!! I would absolutely recommend this to anyone!

We had a good experience with Joe. He would answer our questions quickly. He also would respond via text, phone call, and email. He responded to things timely.We had many issues with our loan coordinator, Markita Rosenberg. She never called back even when we left multiple voicemails. She never returned calls from Progressive our home owners insurance company. They had to go through me to get questions answered which I feel is extremely inappropriate. She did not give straight answers via email. She did not respond to emails timely. I felt the communication was extremely poor and I was not pleased with that. However, I'm glad we were still able to pse on time.
Response from Veterans United
Ryan, thank you for taking the time out of your day to share this information. It is our goal to provide expert and reliable communication through a dedicated Loan Specialist. We would like to learn more about your experience and find out what may have prevented the process from getting off track. A member of our Client Advocate team is available to you for help improving our service for future customers. Thank you again for your service.



I recommend everyone contact Veteran's United Home Loans for assistance in getting a Veteran's loan. Top notch professionalism with very personable staff doing a great job!
Leanna Moss and her staff deserve A Very Well Done! Thanks Once Again.
Best Regards,
Michael L. Horsch


You're next!
Join the ranks of our 200,000+ Proud Veteran Homeowners nationwide.

This is my second time using Veteran United, Your mortgage team will work hard for you so that you will have limited or zero stress. No other company can compare remotely close to Veteran United and their mortgage specialist, they truly have mortgage loan down to the science. Veteran United will treat you as part of their family instead of a customer or clients.

I had a extraordinary experience with Veterans United and my loan team. the only reason i scored this a 9 is i think more could be done for first time home buyers. As one that approached this with out the knowledge of what to ask when to ask I.E. taking the loan and needing extra for upgrades for the home
J.R.


Mama always told Me that "buying a home is tedious and aggravating". I've never called my mother a liar but Veterans United make Me want to challenge her claim. Veterans United made the process of home ownership convenient and challenge-free. I faced many obstacles in the process but Veterans United would never let Me give up. I HIGHLY recommend to all veterans to consider Veterans United Home Loans for your home buying process. You will not be disappointed.

Veteran's United made the home buying process simple, efficient, and, dare I say, fun! The decision to buy a home is one thing, but having a dedicated team behind you in the process if priceless. We could not have done it without them!


Very professional

Great organization


You're next!
Join the ranks of our 200,000+ Proud Veteran Homeowners nationwide.



They are very professional and actually care about you. They keep you informed and work quickly to correct any issues.

The process is very easy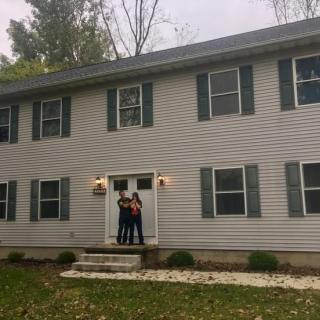 Those concerned about the time frames of a VA loan need not to worry. I know experiences may vary, but my entire process; from getting my pre-approval was 35 days. That is including things that were out of Veterans United's control. Otherwise the timeframes could have possibly been even less. Thank you again Chrystal Franks, her team, and Veterans United.




My experience with Veterans United was simply outstanding. The real estate agent, Karen Walls was an expert who handled everything perfectly. Rob Hayward was on top of things every step of the way, keeping us informed and moving the process along expertly. I would go to battle with this team anytime.

I thank you so much for your help on loan. You folks are wonderful team.