As a first time homebuyer I thought the process would be extremely difficult that is why I never purchased one before. Veterans United was extremely helpful in explaining the process as well as getting me in contact with an extraordinary agent and helping me through any problems that came up.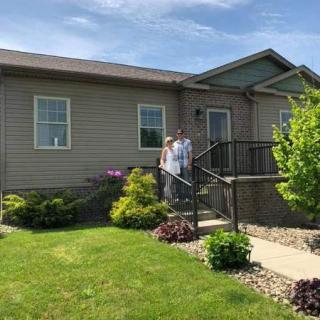 I would recommend Veterans United to anyone. I've been in the military for over 16 years and I know the stigmatism of most Veteran organizations. This one truly is here to help. From the first day I had an inquiry to the last day of my home closing, they were there for anything I needed.


if you are a veteran and dont think you could get a home loan for you and your family get ahold of veterans united they are very professional and know what to do to help you through your home loan experiance


Working with Julie is the best experience I had during this loan process.


You're next!
Join the ranks of our 200,000+ Proud Veteran Homeowners nationwide.
Probably the easiest process I e ever done.

Second loan through Veterans United and I have been left impressed each time.

I give Veterans United my highest recommendation. They make the purchase of a home and a re-fi ( if desired) as stress free as possible. The agents are quick to respond to any questions you may have.


I will be recommending to all my fellow veterans






You're next!
Join the ranks of our 200,000+ Proud Veteran Homeowners nationwide.
If you are unsure your credit is where you need it, they will work with you. Helped me get from a 420 to 620 in 5 months. Just got our forever home signed on!









They made the experience a breeze and understandable. I learned so much through Veterans United that I wish i had used them the first time.