It was an amazing experience as a first time home buyer to work with this company. They treat you with respect and sincerity. They are always quick to answer any questions, and explain things with great detail. It was a smooth process, and I will definity be recommending them.
I personally want to thank my agents Angie Sanders and Holly Wettlaufer. Thank you so so much for being kind and super helpful. My wife and I are so happy. God Bless!!

You want a easy and enjoyable experience in home buying ? Veterans United is the only way to do it.! Give them the chance to put you in your dream home ! It's never to late ! Thank you.... Veterans United. !!


IMO, don't waste your time looking around for a good VA loan company !! Veterans United Home Loans is THE BEST !! And yes. i know this because this was my 5th VA loan !!!


The team works so hard to make sure that our transition from the military life to civilian life was easy. Honestly the hardest part about all of this was just cleaning the house! Many thanks to everyone involved in helping make our dream come true.

My overall experience, each step of the way, was outstanding. The transaction coordinator, and the rest of the team that was with me through this whole process set my mind at ease over purchasing my first home. If I ever purchase a home again I know exactly who I will be going with and will certainly recommend Veterans United to any veteran I know.

You're next!
Join the ranks of our 200,000+ Proud Veteran Homeowners nationwide.

Very happy with the loan process. Many people who help you along the way.



Totally a first class experience. Sam Branson and Justine Farnen were the best!!!


Even though this was during the active covid era of quarantine, Vishal Patel and his team were available to answer questions whether by phone or email. These were "trying" times and I appreciate the hard work they put toward making my families' dream house come true. It was a great first time experience for getting a veteran loan. Thank-you to all that had their hand in making this happen.

A very outstanding group of people to work with
they went all out to get are home for us.



You're next!
Join the ranks of our 200,000+ Proud Veteran Homeowners nationwide.

Everything went smoothly and we are in our amazing new home now. Still waiting for it to "sink in".



Veterans United is the best VA home lender experience you could ask for. Not just helpful but totally there for you every step of the way. They take the time to make sure you know all that you could ask them or of them. They are prompt with responding to any questions you may have and leave you feeling like you are #1. Keep up the great work VU! You rock!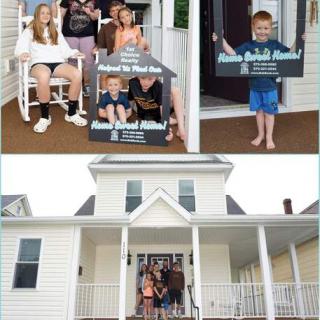 I was told by another company that I was unable to obtain a home loan. I put in a call to Veterans United and asked them to see if they could do anything for me, and less than 3 months later I was moving into my new home! Don't mess around with anyone else, come straight to the pros and get it done!


It was a great experience. Very knowledgeable and they kept on checking up to make sure everything was ok. I would recommend them.