The whole team was great.





It was a great experience. The staff was easy to work with and very knowledgeable. The whole process was quick and painless. I would recommend Veteran's United to all vetrans and have already recommend them to my grandson.



There should be a check list for vets. That way we can get all the paperwork together. I was getting stuff submitted at the 11th hour.
Then I didn't know what I was bringing to closing until three hours before.
Response from Veterans United
Dwayne, Thank you for letting our team have direction on ways to improve our loan process. Details like this help us maintain great communication and skills to provide better customer service to our veterans. We will be looking into ways to assist future veterans and details like this help our teams be more helpful. We would like to thank you for choosing Veterans United and thank you for your service.
Veterans United is the best route for a veteran to purchase a home through their bulletproof system. They are there to serve you in the greatest purchase of your life. This is your hard won benefit of Service. Trust them. You will be blessed by their expertise.


I talk highly of Veteran's United and will continue to recommend to all my friends and family.

Outstanding company. The faster you get the documents, the faster the process goes.

Words can't say enough about the people on my team that helped me get the loan. So thankful for all the guidance and hard work.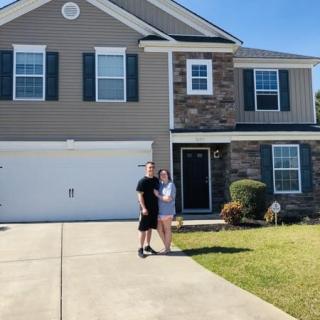 Kaylee and Julia were absolutely phenomenal from the moment I first spoke to both of them. I will recommend Veterans United and Kaylee specifically to all of my friends and family! We would have never imagined that it would be so easy to buy a home - especially at the age of 22! We love our Veterans United family!

Great awesome helpful made it easy going

This was easier then buying a car and less stressful because of the team at Veterans United Home Loans. When it comes time to buy the next house, I'll be back to use them again.

By far the most convenient and pleasant lender we have had the opportunity to work with. Quick reply time, easy platform to upload needed documents, and the team was so helpful. We couldn't be happier! This is definitely a lender that puts their clients first!

I highly recommend Veterans United for your home buying experience ! They are wonderful! They work with you every step of the way through the process of the purchase your new home! Your team is friendly and professional and most definitely fun to work with I had the best experience ever !


You're next!
Join the ranks of our 150,000+ Proud Veteran Homeowners nationwide.


I would also like to recognize Morgan Crane who also assisted with our loan. She was wonderful.

Would recommend to anyone looking to buy a home with a Veterans loan.

Veterans United is an outstanding organization.
For the very best home loans


They were very resourceful and they care about the veterans. Thank you for all you have done for me and my family.

Great company to have guide you through your VA loan process. We have now used them twice and are very satisfied with the service provided to us!