We are completely pleased with our service. We look forward to our continued relationship with VU.

The entire Veteran's United Home Loans process was very smooth from start to finish.Our Loan Officer, Josh Capron and his entire team: (Molly Nelson, Austin Plummer and Meghan Cupp) are top-notch Veteran's United teammates who were all extremely professional and knowledgeable; responsive to our many questions; and very pleasant and easy to work with.
This was our 2nd home purchasing experience and this one was much smoother and less stressful than the 1st.
We will recommend Josh & his team to all of our family and friends who are in the market for a VA home mortgage!We worked with a Veteran's United recommended real estate agent to purchase our home in Hampton, VIrginia. Veteran's United suggested Ms Mary Peak Mills from Abbitt Realty. Mary Mills and her partner, Terri Ashe, were an exceptional team for us to work with. Mary was alway responsive to our many questions. Since we were traveling from almost 2 hours away to look at homes Mary was able to coordinate for us to view all 10 homes that we wanted to see in one day. With the home that we ended up purchasing; Mary was able to negotiate with the Seller's Agent just to get us the opportunity to see the house even after multiple offers had been received. Mary shepherded us through the entire home purchasing process in a smooth, efficient manner. Mary also provided us with recommended vendors in the local area for some projects that we want to complete. This was our 2nd home purchasing experience and Ms Mary Peak Mills' real estate expertise and knowledge, outgoing personality, customer service skills and patience helped to make this home purchasing experience a success for the Johnson family! Thank you Mary & Terri!!!We Highly Recommend Veteran's United Home Loans for your VA home purchasing experience!Sincerely,
Randy & Melissa Johnson
U.S. Army Retired

The entire loan team was outstanding.

If you are a veteran and need to buy a home Please contact Veteran Home Loans , and Janet Bowe, Amelia, and the young man whom I first spoke to please forgive me I forgot the name but all of you is to be congested for the work you did for me and I'm forever grateful Robert Jones.

This company was the absolute best in every way to us during our 1ST home buying experience.




It was my first experience with a Veteran's Loan, and I would say that Veteran's United definitely goes the extra mile to get things done.I am very please with the communication process, and bottom line the result. Today we are very happy and satisfied customers, thank you VU.


You're next!
Join the ranks of our 200,000+ Proud Veteran Homeowners nationwide.






Thank you for making this as easy of a process as possible. Especially during these difficult times.

Adam and Amanda were outstanding to work with through my loan process. They were very professional and worked hard getting my loan done in time. Highly recommend Veterans United!


I could have asked for a better team to work with. One of the best experiences I had working with a loan specialists.

You're next!
Join the ranks of our 200,000+ Proud Veteran Homeowners nationwide.

Very easy process. Very smooth transaction and no gimmicks or slight of hand.



Veterans United and their team was wonderful to work with while initially purchasing our new (to us) home, then with refinancing it. I would recommend this company to any Veteran!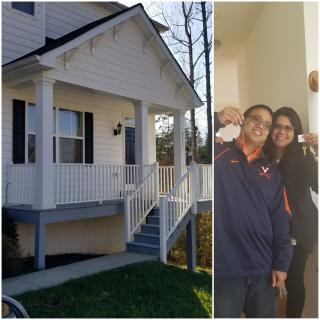 Chance (and Tyler) worked so hard to keep us on track with the loan process. We had many questions because we were first time home buyers but he remained patient with us and answered all our questions. He is very knowledgeable and stayed positive the whole time. There are times we doubted ourselves but he believed in us and helped us all the way to the very end. We truly appreciate the team's hard work in helping us make our dreams come true! A shout out also to Sam who helped us bring our credit to a good spot so we can get started.


Thank you! Please help us win that $75,000.00 give away. We just love you guys!