I feel like Veterans United is the first company that has ever acknowledged my service and helped me with anything. I was in the Army Reserves and most people do not acknowledge this as "real" military service

They offer the best assistance and we had a very smooth and fast process of home buying them. Being first time home buyers, we truly appreciate all of their efforts and assistance to us.


it was amazing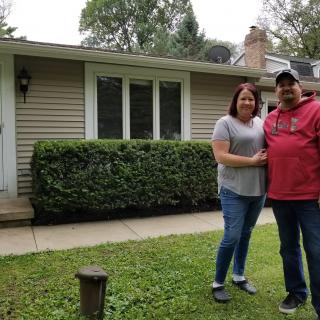 My wife and I worked with Veterans United to purchase our first home and really can't say enough good things about it. They are knowledgeable, personable, patient, and incredibly generous with their time. They answered every question and explained every form and every part of the process clearly and thoroughly. Buying a home is challenging, but working with Veterans United made it as painless and straightforward as possible. We highly recommend them!






You're next!
Join the ranks of our 200,000+ Proud Veteran Homeowners nationwide.

Greg and Britney were really great. I appreciated the constant communication and how they spelled things out at the beginning. It made the whole process flow all the way through. The "to do" list is a great feature. It may not be new but it was new to me and it made it easy to complete all the tasks needed. Thank you for helping me with my home purchase!!

I will always be grateful to Veterans United for making posible our family dream. Will recommend to anyone to give them a chance for all your housing needs.

Our experience could not have been better. The Concierge and Insurance personnel were both extremely professional, timely and honest when delivering their services.Veterans United is an extremely professional organization that demonstrates professionalism and a strong desire to assist veterans professionally and in the veteran's best interest. I will recommend Veterans United to any veteran.



VU is a great company to work with and to get the home you are lo


the process was very easy and accessible with having things available to do on my phone. We always had a prompt response to any questions and always knew what the next step of the process was going to be. Even with needing to work on our credit score just a bit, they made you feel good about the process.

Thank you for the smooth and fast process!


You're next!
Join the ranks of our 200,000+ Proud Veteran Homeowners nationwide.


If you are a veteran and buying a home, this is the team you want. Straight talk and no surprises. Just the way it should be when doing business of any kind, especially when purchasing a home.


A+

Nothing but 5 star service I would definitely recommend Vetrans United Awesome awesome awesome