I just want to say thanks again to Craig Brumfield, Rain Mitchell, and the entire Veterans United team for helping my wife and I secure our dream home!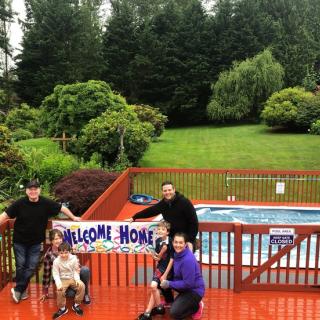 Veterans United was wonderful in walking us through each and every part of the process. Our loan officer Ella is a star in our eyes. She was professional and helpful in areas where we were confused or having any sort of problems. We recommend Veterans United to anyone looking to buy a home, they made it actually enjoyable-even the paperwork.


Veterans United I would recommend 100% be in disable American veteran they made the process so easy seamlessly and a great service to our veteran community I think them very much...Ken Hall


Veterans United got me and my family approved and into our dream home at a great finance rate! It was a long difficult process! But we are finally in our forever home!

They make the process simple and go out of there way for the Veterans.

You're next!
Join the ranks of our 200,000+ Proud Veteran Homeowners nationwide.

If you want to buy a home from Veterans United Home Loans, please give Jake Powers a call. He will make your purchase very smooth easy, and quick. He will also ensure that your journey is stress free.




See above

Veterans United is the way to go for an almost effortless home buying experience. We couldn't have asked for a better team!

You can't go wrong with Veterans United. I've never had a Mortgage company work for me like they did!


We ran into a couple of set backs and the team went out of their way to get us back on track and we closed on time! Thank you

You're next!
Join the ranks of our 200,000+ Proud Veteran Homeowners nationwide.



veterans united is the way to go they make it easy they break it down and they communicate which is what we as service members like I would definitely recommend and veteran or service members to use them

Thank you; I look forward to receiving my funds back from my closing soon.