Without a doubt Andrew Nelson was the deciding factor with me choosing VU. I did some extensive research prior to selecting a lender. Narrowed it down to three lenders based on my needs. For me it came down to two lenders (VU and Rocket). With all things being equal and only $100 separating the two lenders, Andrew just simply stood out ahead of the others. His prompt responses, knowledgeable answers and personable mannerism won my wife and I over. From start to finish Andrew was a man of his word. Even when the other lender told us we would be about 45 days to close, Andrew ask that we let him go to work and get his team to work. Never promised he would get it done in 45 days but assured me, if I responded to their request promptly, he would get it sooner than later. Thou our amazement, we closed in astounding 3 1/2 weeks of putting in an offer. Andrew you are the man. Thank you sir.



Marjory was fantastic. She made the whole process easy and was extremely professional. Many thanks to her and the entire team.



Easy! Highly recommend. They also helped me get a 2.25% interest rate. No complaints. Great service, easy to contact, and very friendly and kind.



My husband and I cannot say enough positive things about our experience. We were given a true 5 star experience and were in disbelief at how smooth the process was. When we purchase another home in the future, Veterans United will be our first phone call!!

You're next!
Join the ranks of our 200,000+ Proud Veteran Homeowners nationwide.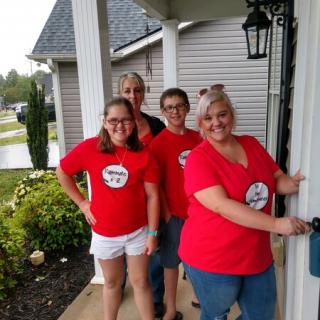 From my first phone call to them I felt so connected, as if I was their only applicant. They were always there to answer my calls/texts/emails whenever I needed them... even on their days off! I am still amazed at how smooth they made everything... now I just need them to come unpack for me and I'll be set! Lol

Both my loan officer and my realtor were fantastic. They should honestly team up more because they made my homebuying experience excellent


I appreciated the ease of Veterans United's online loan process. I applied for a loan while moving back stateside from overseas, and the checklist format helped us move quickly and smoothly through what might otherwise have been a cumbersome and stressful process. The loan officers and specialists answered questions quickly and were very professional throughout. Their positive attitudes helped! I'd definitely recommend VU for any future homebuyers.


Many thanks to the entire team at Veterans United! We're living our retirement home and their teamwork and professionalism we're key to a swift closing!

You're next!
Join the ranks of our 200,000+ Proud Veteran Homeowners nationwide.
I appreciate the assistance provided and I understand that there are some things put of all of our control

Veterans United made my home buying experience so smooth, they all were knowledgeable, pleasant, and patient. I would recommend them to all my friends!

We recommend Veterans United 130%!! If you are a veteran, there should be no other place to turn for finding a new home. Our interest rate was more competitive than local banks and the whole process was fast, easy, and super helpful. Marlon and his team responded to us at every turn within MINUTES!! Best decision we ever made!





Home buying can be very stressful, but working with Veterans United took away a lot of that stress. The team really cares about their clients, they were on top of all that needed to be accomplished and were very quick and knowlegable when responding to questions. Even though it took about 7 months to close on our new house and had many challenges along the way the team never sounded down or discouraged. In addition to all that, after our loan was approved our Loan Officer sent some very nice wine glasses as an early house warming gift. Working with Veterans United has truly been a white glove experience!

These guys were better than my previous loans when I worked with other lenders and bought houses. VU was streamlined and they didn't badger for documents repeatedly. Their underwriting was solid, without the hassle. Overall very good experience with VU.

My experience with Veterans United was seamless and smooth, could not have asked for a better team!