It has been amazing working with my realtor Amalia Nungaray along with Erin Craig and her team from Veterans United! Together they help get me an amazing home! The entire experience from start to finish has been truly amazing as everything seemed to happen on schedule without any issues at all! I feel like I just hit the lottery as a first time home buyer! This all still seems to good to be true!!

To my brothers and sisters in arms I highly recommend this company as they will go out of their way to make sure that your needs are taken care of. As of home buyer for the first time I had lots of questions and concerns, they went above and beyond to make sure everything was taken care of and that I purchased a home that I truly wanted.



We had great experience with veterans United. It was the best choice to get our mortgage with them. If we going to buy another house in future we will definitely go with veterans United again.

My team that I communicated with were Greg Heins and Caitlin Goodwin. I can't say enough positive comments to communicate their service to me and my wife. They helped us with the hurdles of self employment. Not to mention the nightmare with the IRS not processing our returns. We did have proof of filing though! Their professionalism showed every step of the way along with encouragement that was much needed when we hit the wall with the IRS transcripts. Working with Veterans United was as easy and simple as the new Banking laws will permit. Thank you we love our new home and YOU helped us get there!! I will remember these two people for years to come.Sincerely ,
Mort and Paula Hudson


It is a great honor to have serve my country and a greater honor to know there are services waiting for my brother's and sisters when they return home or discharge from the military, God bless all who assist our defenders.

Than you!!! Job well done!!

Definitely a better overall experience than I was anticipating. Thanks again for all the help.


Going with Veterans United was a great experience for me they made buying a house
an easy process . Well worth the time .


Ready to see for yourself?
Experience first-hand why 168,004 homeowners give us a perfect score!
Check My Eligibility →
This is the best way to go for veterans, they treated us with dignity, respect, and professionalism. They got the job done with class!



My loan team made the process extremely easy, and they was quick with closing. Thank you, you all are amazing.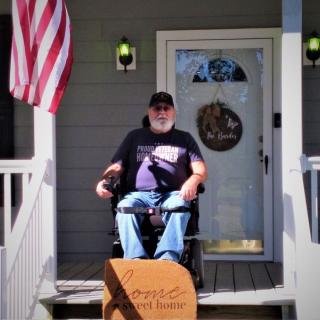 This is a wonderful organization and would give it a 10. Will recommend it to everyone we know who needs help. Give Veterans United a call and let their team help you through an easy transition of buying your new home. My team was awesome, they help us dot all of our "i" and cross all of our "t" which made it very easy for my wife and me. Great shout to Mike Patzius and his team.


As a veteran I felt that Veterans United Home Loans assisted my wife and me to obtain a low interest loan, and they had our back throughout the process. This is an excellent company to assist any veteran with the purchase or refinance of a home. I plan on sharing our experience with all of my veteran brothers.