My experience with Veterans United was absolutely phenomenal! They educated my family on what we needed to do and got us to the finish line with ease! I'd recommend anyone to this company! 10 out 10



After many years of trying, only to have the embarrassing moments of yes, you can buy a home. Then at the signing table, the very last moment having it denied, I'm finally a homeowner!! I still pinch myself wondering if this is real.
I now know it is. And I've had a great experience with everyone involved. This is the lender that all veterans who are looking to buy a home should work with.
Veterans United made me feel like I'm family that they care about and it was a much smoother process than conventional loan. I 100% thank you all for everything



The second time I have used veterans United. They made the experience as painless as they could. I hope I get another shirt!



You're next!
Join the ranks of our 200,000+ Proud Veteran Homeowners nationwide.
We highly recommend Veterans United for your Home buying Financial needs. At first we hesitated to buy a home during the pandemic, and been overseas during the process, but we couldn't be happier. Everything went so smooth from the begging until closing. We are happy home owners! Thank you Veterans United!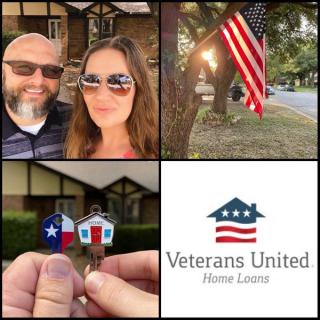 Veterans United made a process that I have always been apprehensive of an easy, painless, and ultimately rewarding experience.My Loan Specialist, Rob Hegstrom, was an absolute rockstar from start to finish. As a first time homebuyer I had plenty of questions. Rob took the time to explain the entire process to me and continued to keep me informed of any progress throughout the loan lifecycle.Veterans United also provided me with a realtor referral, Jason Todd. Jason Todd and his team were fantastic. I enjoyed working with them so much, I am referring my parents over to him to find their new home.In addition to all of the above, Veterans United provided a loan concierge of sorts that would frequently check in on me to make sure everything was moving along smoothly. They even provided me with links to all my utilities and services at the new house that I could choose from.Awesome experience.



Veterans united make the home buying experience a seamless process. I never felt forced or rushed and the rates that they provide are second to none.



You're next!
Join the ranks of our 200,000+ Proud Veteran Homeowners nationwide.


They made my home buying experience easy. They were very specific in the the information needed to make sure i was able to make it through the underwriting process. I would definitely recommend.

First time home buyer with a lot of anxiety over the process of buying a home. My brother recommended Veterans United because they listened to his concerns and made the process of home buying as stress free as possible. Best advice I have taken from him.I would recommend any veteran or active duty military member entering the home market to give VU the opportunity to make your dream of homeownership a reality.

We were not able to close until a week past our contractual date due to the inebt underwriter