I felt like they worked for me with my families best interests in mind.


The entire experience was great and handled with ease. Questions were answered in a timely fashion and explained throughly.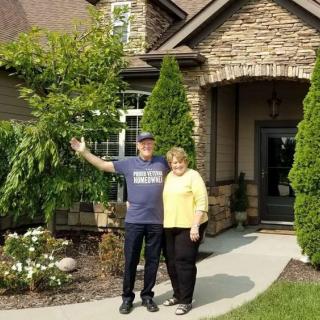 Our VA mortgage we obtained through Veterans United was the most efficient and effective mortgage we've ever experienced in over 40 years of mortgaging homes both while in the military and since retiring. We attribute this extremely positive experience to the professional and technical expertise of Steve Kincheloe and his team of mortgage professionals. We would strongly recommend Veterans United and Steve Kincheloe anytime someone is purchasing a home or refinancing their current residence.


Overall the process went well. We hit a significant snag with underwriting and communication could have been much better with this department.

Started the process very early (3 months) in advance so that most paperwork could be completed early. Was told that once my firm job offer was received, it would take underwriting about 5 days to approve the loan. Once I received the "final document" it took an additional 4 weeks and a plethora of documents to close on the loan, most of which could have been prepared and provided to me during the first two months. During this time I had to resubmit several documents which had been previously submitted and "green checked" as reviewed and accepted. This lender does not understand lateral job transfers between federal agencies, and that you are continuously on the fed. payrolls without break in service when you transfer. This was my fourth house purchase using a VA loan, and by far the most difficult experience. The only reason Joe didn't get 10 is because it took a week for him to order the appraisal after I called to order it, and because his assistant seemed extremely disorganized and confused every time I spoke to her about about loan documents and status. It was easier to resubmit documents at her request than to argue that it was already received and approved in the online system. Anytime I spoke to Joe directly he was very helpful, and easy to work with, however most contact was with assistant, which proved to be somewhat frustrating.

If I had to purchase another home it would be with Veterans United.!!




I would recommend Veterans United to all of my fellow Veterans for their home buying needs. They are very professional and courteous to their Customers.

Working with the united team was a pleasant experience.


Great overall experience

I recommend Veterans United Home Loans to all my military friends and fellow veterans because VU has demonstrated to me both times that I've refinanced a home loan with them that they are professionals who know are honest and know what they are doing.



My overall experience with VU was a great one. The communication when I went into underwriting was great. I was able to obtain a 2.25% 30yr loan, which is the best around. The real state agent that was assigned was awesome. Because of his recommendation I ended up with a great house in a very competitive market (Phoenix). I would definitely recommend VU for your next home purchase.