We really were glad that VU even helped us with getting good insurance at great rates. A HUGE added bonus!!!


Usually, senior citizens are looking to downsize from a house to a small apartment, however, my wife and I wanted a nice small house to spend our golden years. Veterans United helped us to achieve our dream.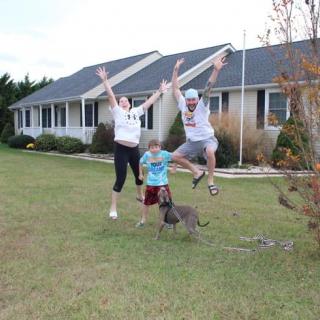 Veterans United made the home buying process for us first time home buyers very easy! They helped us with everything along the way, including setting us up with a realtor in the area we were looking in! They stayed on top of everything and made sure that we were prepared for everything along the way! I love how everything can be done online, the to-do list made things so much easier for me, being able to see what still needs to be done and what has been completed in such a user-friendly fashion. I don't have any other company to compare them to, but we had such a great experience that I'm sure if we ever buy another home, Veteran's United will have our business again!


We did close 04/24/2020 on our dream house but the experience to say the least was one we never want to go through again nor would we want any one else to go through. Our lending team was unprofessional, non collaborative, and so disconnected from our house buying experience. Most of the information we obtained about the VA process came from the FB pages of many veteran home buying programs and other outside sources not directly from our lending team. At some point during the process we experienced our loan officer (Jason) being rude, disrespectful and on many occasions he acted as if he were doing us a favor. He never built a rapport with us which made it hard for us to trust what he was telling us nor did it help us to believe that he did the best he could do with our loan. He never advocated for us in fact he wanted our realtor to withdraw our contract when we hit our first bump In the road (but Marilyn Mills believed in us and didn't give up on us). I read on your(VU) FB page some of the experiences that people have had with their lending team especially their loan office but I am sad to say that was not our experience, no where near it. Maybe a little cultural sensitivity training could help or retraining course on professionalism. And it may help to remind oneself about why they chose to help Veterans obtain a home using their VA benefits.....
Response from Veterans United
Freddie, thank you for your detailed feedback, and for contacting our Client Advocate team. We remain available to answer any follow up questions or concerns you may have.

The team members at Veterans United truly work as a team where their main goal is to make the experience of buying a home as stress free as possible.

Mark helped tremendously and did the rest of the team. Highly recommend!





They kept me informed, answered all my questions in a timely manner and when the COVID 19 virus hit during my loan approval process, they never missed a beat and we even closed 11 days early. They are the best, highly recommend.

It's been a great experience both the initial purchase and the refinance.

Kathy and Nick always answered any and all questions I had. They where patient even when i hard to get a hold of. Everyone knew their job and did it well.


Choosing to refinance, we are faced with many options. I had the pleasure of choosing Veterans United. The team got the ball rolling fast, efficient, and resulted in positive results which yielded the most return for my investing in Veterans United. Bottom line, they helped achieve my goal all while having a great time while doing. The representatives care more about their customers and it certainly showed. In my opinion, their only one choice when it comes to refinancing...Veterans United!

We worked with Veterans United to not only purchase our first home but to refinance that home almost 2 years later and every single step of both processes went amazingly smooth and so quick! My husband and I can't stop raving about Veterans United and the amazing representatives that helped us get from completely lost first-time buyers to experts in this home ownership game! Everything about the process working with Veterans United has been amazing! These guys are so knowledgeable, friendly and super helpful representatives that were ready and willing to help us from day one. Plus the ease of getting from point A to point Z in the process was top notch. We actually started the home buying process with a different Veteran owned company that had some shady ways about them and treated us like we were more of an inconvenience than customers deserving of a home. So I reached out to Veterans United just to get some basic information after seeing the company name pop up on the Internet several times and within 24 hours they not only had an offer letter ready for us but a real estate agent listed and ready to a video walkthrough of a home we found online on our behalf since we were out of state and couldn't view it ourselves. Veterans United did more for us in 48 hours than the company we originally started with almost month beforehand. Needless to say we fired the first company and never looked back. I truly believe you can't go wrong with using Veterans United for any of your homebuying needs!


You're next!
Join the ranks of our 150,000+ Proud Veteran Homeowners nationwide.
My interaction with Mr. Thomas Purk on two loans has been truly outstanding. I could not have asked for a more knowledgeable professional. Highly recommended.

Had some hiccups with a prior lender who I dealt with for 10 years with my personal banking. Decided to give VU a chance and thankfully I did. Zach and Sean made sure everything was taken care of, answered all my questions, and made things happen for my home loan!Any issues that came up like any other real estate transaction they took care of quickly and professionally so I didnt lose my home!

Veterans United is the way to go!!!



A very professional, transparent, knowledgable, helpful, and respectful of the veteran experience!!! Thank You for giving Hope Back!!! #evergrateful