Melissa Logston was equally helpful and informative.



Veterans United was great. Closed on my California non -conforming/jumbo loan in less than 30 days with and got me an exceptional rate when other lenders where not even writing these type of loans during the coronavirus pandemic.






Would definitely recommend you guys to all my veteran friends!

You're next!
Join the ranks of our 200,000+ Proud Veteran Homeowners nationwide.
Awesome customer service.

After trying twice before with another company, one time being told I couldn't use my VA loan. I checked out Veterans United and within 2 months I bought my house. Thank you guys! You're awesome!

This is our second experience with VU and both were excellent! They are professional, honest and kind which makes the whole experience more pleasant! They work quickly and thoroughly to make your home purchase go smoothly. You will enjoy working with them and we highly recommend them!

My loan team, Rob and Kelly, at VU was fantastic. I thought I wouldn't be able to get approved to buy a house but they got me approved and I closed on it. They answered any questions that I had and were very timely with their responses. I used my own Real Estate Agent instead of one that VU would have provided and they communicated with each other easily and everything ran smoothly.

The Veterans United portal and To-do list are excellent. They do a great job demystifying a complex process, especially for first time buyers, and are intuitive to use. It makes staying on track a breeze.

I would highly recommend Veterans United for buying a home. Everyone was friendly and very helpful. They had very good video's on each step process to watch that explain the steps of buying a home. Especially for first time home buyers. We found these very helpful.



Thank You!!!


You're next!
Join the ranks of our 200,000+ Proud Veteran Homeowners nationwide.
I would definitely recommend them for their great work.

If you're thinking about buying a home, do nothing before you contact Veterans United Home Loans, I am only sorry I waited so long to do so. It's as easy as can be when you work with Veterans United Home Loans, they take care of all details and handle you with kid gloves, smooth sailing all the way home.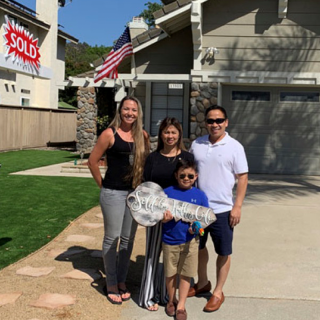 When we first met Travis Ward, he was just a loan officer. After a few months of interaction with Travis, he became our trusted friend. Travis is warm and articulates. He knows his product very well. He took his time to explain all of our questions within 24 hours. Besides those outstanding attributes, what stand out the most about Travis are he is very patient and his ability to listen to our questions/concerns, he waited for us to finish our questions completely before he responds. Travis never once (never) jumped in the middle of our sentences. We would definitely refer him to our friends and family members for VA home loan. It would be a mistake should Veterans United not to retain his service nor inadequately compensate base on his outstanding skills, personal and professionalism!! Warm Regards,Khoa, Susan and Nhat Huy (from San Diego, CA)


We can't thank our Veterans United Home Loans enough for making our dreams possible in getting our very own home. We appreciate everything and all the support throughout the process. I hope with this review it benefits everyone involved in our process, thank you!