I love that Everything is digital & in one place. Everything is organized through the whole process! Would definitely use veterans United again and recommend them



Everyone on the team was great to work with, I had no issues and they were there with me every step of the way. I really appreciate all their hard work!


My experience with VU was exceptional and easy.




Every single person I talked to from loan to insurance ect.. associated with Veteran's United were very nice and professional

You're next!
Join the ranks of our 200,000+ Proud Veteran Homeowners nationwide.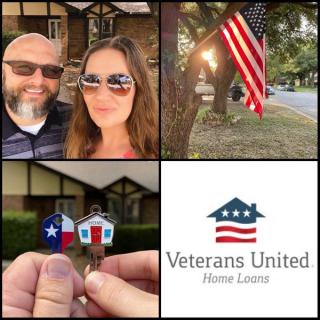 Veterans United made a process that I have always been apprehensive of an easy, painless, and ultimately rewarding experience.My Loan Specialist, Rob Hegstrom, was an absolute rockstar from start to finish. As a first time homebuyer I had plenty of questions. Rob took the time to explain the entire process to me and continued to keep me informed of any progress throughout the loan lifecycle.Veterans United also provided me with a realtor referral, Jason Todd. Jason Todd and his team were fantastic. I enjoyed working with them so much, I am referring my parents over to him to find their new home.In addition to all of the above, Veterans United provided a loan concierge of sorts that would frequently check in on me to make sure everything was moving along smoothly. They even provided me with links to all my utilities and services at the new house that I could choose from.Awesome experience.



The entire team at VU is awesome! We will be using VU again when it is time to purchase our next home. I have already recommend VU to several friends and family that are looking to purchase a home. Keep up the great work you all were awesome!


They made the process very easy by guiding us along every step of the way. My husband and I are living in our first home and we want to thank our loan team at Veterans United.

You're next!
Join the ranks of our 200,000+ Proud Veteran Homeowners nationwide.




Our Loan Specialist was pivotal in helping us get into our new home. At the beginning of our journey, we were working with USAA but near the end, there was a lack of communication and we were feeling uneasy about how things were being handled. We decided to look elsewhere so I made a call to Veterans United, I let them know I had two weeks until our closing date and I needed help as soon as possible. To add even more stress to the situation we just had our second child the week before. The Veterans United representative I spoke with quickly assigned our Loan Specialist, I then received a call shortly after from him. He analyzed the situation and took immediate action as there was no time for delay. Through the entire process he was very friendly, respectful, displayed great communication, answered all of our questions as we were first time home buyers, and truly cared about us. I can't thank him enough for everything he did for my family as we were able to get into a new home on time. Thank you, Dan!!!

I lived on the 3rd floor apartment the last two years and was planning to rent a house. Then I took a chance and entered my info to see if I could get preapproved. Jon contacted me and told me I was preapproved. That allowed me on the road to purchase rather than continue renting. I am so Thankful to Veterans United and Your whole team including Bobby Schembre.

Amazing service all around!

As a first time homebuyer I could not have asked for a better experience. My team walked me through every detail of the home buying process and was always available to answer questions, even after business hours. The website was very easy to use and the videos were extremely helpful. I highly recommend Veterans United and can't wait to work with them on my next buy!