Customer Profiles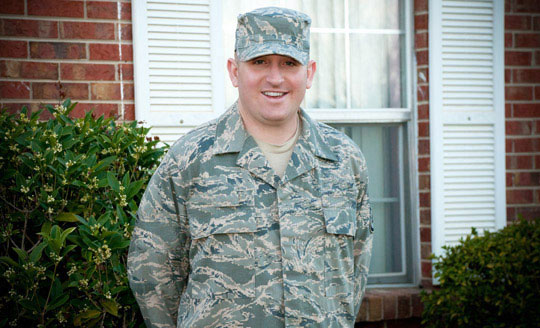 Veterans United Home Loans helps Air Force Load Master Cameron Calhoon become a first time home buyer.
Cameron Calhoon: Air Force Load Master Utilizes BAH on this VA Mortgage
Destin, Florida — Military service was always a likely path for Staff Sgt. Cameron Calhoon.
Homeownership seemed much more uncertain.
Growing up in California, at the southern edges of Sequoia National Forest, Cameron heard stories of his great-grandfather, a Navy sailor, and his grandfather, an Air Force fireman. By the time he turned 21, Cameron was ready to continue the family tradition.
He enlisted in the Air Force and was stationed at Pope Air Force Base in North Carolina.
But he soon learned his stay at the sprawling base would be limited. Days after his arrival in the fall of 2005, Pope AFB landed on the Base Realignment and Closure (BRAC) list of installations to be shuttered.
Cameron had planned to buy a house near the base, but word of the BRAC decision forced him to reconsider. He didn't see a lot of sense in moving forward, given that he could get reassigned at a moment's notice.
Instead, Cameron spent the first two years living on base before moving in with his sister, who lived in nearby Fayetteville. Three years passed.
Finally, Cameron, a C-130 load master, received his new orders in December 2009. He would be moving in 12 months to Hurlburt Field, in the shadow of Elgin Air Force Base in northwestern Florida.
The shift would bring newfound certainty. The nature of Cameron's job meant that Elgin was the only base in the country where he could work. There was little doubt he would be there for years to come.
Starting the Home Search
He started looking for homes online in February, but the process got off track when a 60-day specialized training regimen ballooned into 120 days. He finished the training in August. With just four months until his move, Cameron ramped up his home search.
He had heard of the VA home loan program but didn't know much about mortgages and buying a home. Most of what he found online only confused him.
So, it was with some relief that his online search led him to Veterans United Home Loans. He decided to call and talk with a VA loan specialist.
Cameron was connected with loan officer Mike Mange.
His confusion and questions were put to rest.
Mike walked Cameron through the process of loan preapproval. Cameron learned within minutes that he was eligible for a VA loan and had a solid sense of how much home he could afford. While he had saved a solid chunk of cash over the last five years, Cameron would be able to purchase a home with no money down and no need to pay closing costs out of pocket.
He would also be able to use his Basic Allowance for Housing to defray some or all of his mortgage expenses. BAH payments represent a verifiable and reliable income stream that can be used to calculate a prospective borrower's debt-to-income ratio, a key factor in loan underwriting.
Mike then connected Cameron to a Destin Realtor through Veterans United Realty, a network of more than 1,400 real estate agents nationwide who specialize in helping veterans and active duty military members purchase homes.
Borrowers who purchase a home using a VUR Realtor receive up to $500 upon closing.
Cameron spent a week in Destin in the fall. He looked at more than two dozen houses in a two-day frenzy. One of the first houses he and his girlfriend viewed left an impression. The original owners had done a great job keeping the home up to date.
On his third day in Destin, Cameron decided to make an offer on the home. He received and accepted a counteroffer of just $600 more.
As the home-buying process moved forward, Cameron again found guidance and constant updates in Mike and Veterans United.
"He's the most helpful person I have ever encountered," Cameron said. "I would always be able to reach him, every time I needed to talk to him."
BAH Pays the Bills
The home passed a couple inspections, including one for wind mitigation, a necessity in hurricane-prone regions. Cameron closed in early November, a few weeks before his scheduled relocation.
Cameron's BAH completely covers his $871 monthly mortgage payment, leaving enough to pay his electric bill. His flight pay covers the rest of the utilities.
He has friends in nearby apartments who pay more per month in rent than his mortgage.
And he has one piece of advice for veterans and active duty military personnel considering a home purchase: "I would send them to Mike," Cameron said. "They just need to call Veterans United. That's way easier."
Ready to Get Started?
or call us now to speak to a VA Loan Specialist 800-884-5560
The Nation's #1 VA Home Purchase Lender*
A VA approved lender; Not endorsed or sponsored by the Dept. of Veterans Affairs or any government agency.