Customer Profiles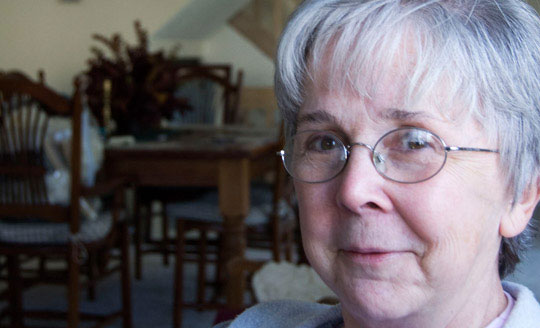 Read about long-time Army Nurse Jacqui Conte and her return to Massachusetts a homeowner thanks to the VA loan program
Jacqui Conte: Army Nurse Returns to Massachusetts a Homeowner Through VA Financing
Ashland, Mass. — An Army brat born and raised in Europe, Jacqui Conte joined the Army Nurse Corps while in college.
After completing her training she traveled to Vietnam to work in a military hospital during the height of the conflict. Once her tour was complete, Jacqui was ready to start a family.
But that choice wasn't compatible with Army life at the time. So she left the service and returned to Boston to begin a new chapter.
About a decade later, the Army eased its restrictions on women and families. As Jacqui's children got older, she started to miss the travel and excitement of military nursing. So, in 1979, she jumped back in and spent the next decade crisscrossing the country as an emergency room nurse.
She spent time at Fort Benning, Fort Bragg, and Fort Lewis before taking a teaching post at the Army's Academy of Health Sciences at Fort Sam Houston. The academy, known as the "Home of Army Medicine," trains the Army's medical personnel and is the largest medical education campus in the world.
A Northeasterner at heart, Jacqui settled into the slower pace of Texas life and spent the next five years teaching future generations of Army nurses. She transitioned into the civilian world and worked another 15 years with a military contractor before retiring in August 2010.
Returning Home
Family members soon started wondering if she would return to Massachusetts after spending so much time away. Jacqui embraced the idea of a homecoming and knew she wanted to have an actual home there waiting for her.
She was familiar with the VA loan program after watching an ex-husband use his entitlement years earlier. Back in Massachusetts, family members started scouting properties. Still in Texas, Jacqui started looking for financing.
She went online and found the website for Veterans United Home Loans, a leader in the VA Loan industry.
Jacqui was a little leery of potential paperwork hassles and bureaucratic nightmares with the VA loan program. But Veterans United loan officer Doug Howes walked her through the process and made sure she knew what to expect and when.
"He was very organized and kept me organized," Jacqui said. "It was so much easier than I ever expected it to be."
Family members went to open houses, searched through listings and narrowed down the field of possibilities. They sent pictures and descriptions, and Jacqui eventually found one she liked and made a successful offer.
She closed on the loan in late February 2011 and moved back to Massachusetts a week later.
But it wasn't the last time she would hear from Doug.
Additional Savings
Six months later, she got an email alert from him about a potential refinance. She purchased at a 4.8 percent rate but now had the chance to lock in a much lower one.
Jacqui bombarded Doug with questions: What would her new monthly rate be? How long would it take to recoup the closing costs? Is this a smart move?
Doug patiently answered each one. A few days later, Jacqui locked her new rate at 4 percent. She signed the new paperwork, and Doug sent a notary to her home.
Jacqui closed on the refinance within the month. Her monthly mortgage payment dropped $100, and she will recoup the closing costs in about four years.
"The whole process was painless," Jacqui said. "They just made it so easy and non-stressful."
Ready to Get Started?
or call us now to speak to a VA Loan Specialist 800-884-5560
The Nation's #1 VA Home Purchase Lender*
A VA approved lender; Not endorsed or sponsored by the Dept. of Veterans Affairs or any government agency.