Customer Profiles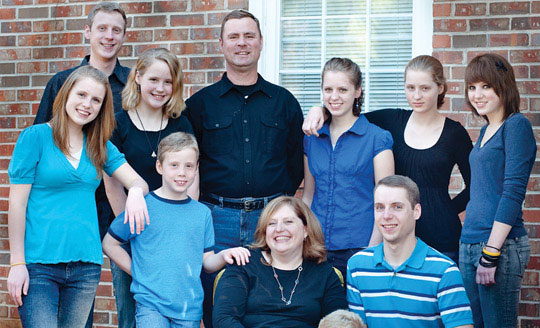 Read the story of the Fontenot family and how this family of eleven found the home of their dreams with Veterans United.
The Fontenot Family: Years of Renting Led This Family to Use the VA Home Loan Benefits
Smyrna, Georgia — After nine years of proud service, Staff Sgt. Todd Fontenot was ready to leave the Air Force and return to civilian life.
The biggest draw: Greater stability and certainty for his growing family.
Todd began his military career as a single 18-year-old at Tyndall Air Force Base in Florida. He left his final assignment — a two-year stretch in Turkey as part of Operation Provide Comfort — a married father of four.
Todd and his wife, Karen, returned to their hometown of Smyrna, Georgia, in 1994, and moved into a surprising rental: The parsonage belonging to Karen's long-time church.
Todd floated between jobs for a stretch but found steady side work doing lawn care for a local firm. He soon found himself in high demand and decided to open his own lawn-care business in 2003. As a sole proprietor, Todd eventually picked up a second, part-time job at UPS to secure health benefits.
All the while, business wasn't the only thing growing. By the summer of 2005, the Fontenots were a family of 10 — two adults and eight children — with child No. 9 on the way.
After 11 years, the family had all but outgrown the 2,000-square-foot parsonage. At the same time, a new incoming pastor wanted to live on the church grounds. That confluence of events prompted Todd and Karen to start looking for a home.
They worked with a local conventional mortgage broker and put offers on a couple homes, but problems with the properties — water leakage, termite damage — ultimately turned them off.
The real estate market was still booming, and the Fontenots struggled to find a home that could fit their space needs and price range. Their real estate agent dropped them as clients. They eventually found a sprawling rental through a friend from church.
Five years passed, and the family grew into the home.
Revisiting a Home Purchase
In the spring of 2010, the owners of the rental contacted the Fontenots with some surprising news: They planned to hike the rent to $1,200 per month from $750.
Stunned, Todd and Karen started to rethink a home purchase. The housing market had changed drastically in the last five years, certainly for the better for prospective home buyers.
Karen went online to search for homes and found an advertisement for VA loans and Veterans United Home Loans. She thought about Todd's military service and decided to fill out a simple form on the Veterans United website.
Loan officer Brandon Severino called her within minutes.
"She couldn't believe how fast he responded," Todd said.
Brandon explained the benefits of VA loans and the loan approval process.
The VA Loan Guaranty program allows qualified service members to purchase a home worth up to $424,100 without a down payment. VA loans typically feature lower rates and more buyer-friendly terms than conventional financing.
Brandon also connected the family to a local Realtor through Veterans United Realty, a network of more than 1,400 real estate agents nationwide who specialize in helping veterans and active duty military members purchase homes. Borrowers who purchase a home using a VUR Realtor receive up to $500 after closing.
Still, both Karen and Todd were filled with anxiety as first-time buyers. They would sometimes call Brandon two or three times a day with questions or concerns.
"Just talking with Brandon made the whole process easier," Todd said. "I was wound up tighter than a jackrabbit on caffeine, and he was always cool and calm."
Landing Their Dream Home
Brandon preapproved the couple for a $140,000 loan but told them he would need tax returns and other information to fully verify Todd's self-employment and part-time income.
While Veterans United loan specialists worked to gather Todd's financial documentation, the couple found the house they had been waiting for, a massive two-story on four acres.
There was just one problem. The home was priced at $160,000, almost 15 percent above their prequalification amount. Todd and Karen put in an offer at their $140,000 maximum. The seller countered at $150,000.
All that separated the Fontenots from their dream home was $10,000.
Karen called Brandon in tears, afraid they would lose their only shot.
Brandon told the couple to rush them Todd's tax information so he could get it reviewed by Veterans United underwriters. An underwriter examined the file and alerted Brandon that based on Todd's verifiable income the pre-approval amount could be increased to $150,000.
And with that, the Fontenots became first-time home buyers.
They closed in early October 2010. Their monthly mortgage payment is less than the $1,200 they would have been paying in rent.
Best of all, they didn't wind up spending a dime out of pocket to buy their first home. They utilized the VA's no-down payment benefit and were able to recoup $500 in expenses because they used a Veterans United Realty agent.
"During these economic times, you guys were why we were able to buy a house," Todd said. "It's nice to know I won't get a phone call and someone's going to tell me I have to pay more in rent. It's nice to know that we're in control."
Ready to Get Started?
or call us now to speak to a VA Loan Specialist 800-884-5560
The Nation's #1 VA Home Purchase Lender*
A VA approved lender; Not endorsed or sponsored by the Dept. of Veterans Affairs or any government agency.