Customer Profiles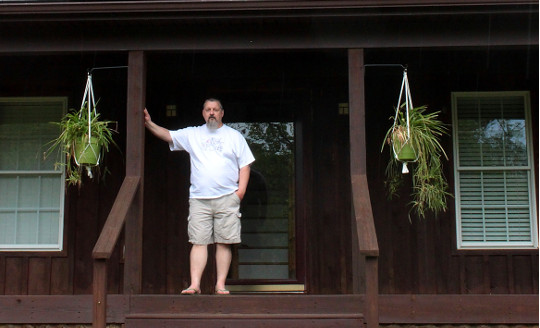 Veterans United's Lighthouse Program Helps Joseph Lantz Repair His Credit and Prepare for Homebuying.
Joseph Lantz: Marine Corps Veteran Escapes Apartment Life for Wilderness, Serenity
Apartment life isn't for everyone. Joseph Lantz knows that all too well.
Before this retired Marine moved into his new home in 2013, there wasn't much elbow room, he couldn't customize the place and he paid extra to have his pets around.
"The total rent was more than what I am now paying for a mortgage and homeowners insurance combined," he said. "I look back and think it is insane."
Removed from the hassles of apartment living, his new home in central Kentucky is surrounded by acres of woods, wilderness and waterfalls. It's a place of serenity for him.
But 30 years ago, as a teenager in Ohio, he was hoping for the opposite: uncertainty and adventure. That's one of the reasons he joined the Marine Corps.
Setbacks and Successes
When Lantz enlisted in the Marines as a teenager in 1982, college wasn't much of an option. The service was an opportunity for exploration, and adventure wasn't something he could pass up.
"I joined the Marines at age 18 looking for travel and to see the world outside of what northwest Ohio had to offer," he said.
While he easily adapted to military life, a slight handicap, colorblindness, kept him from the technical MOS he was gunning for. Lantz was moved into administration, where he worked as a diary clerk and updated personnel records for his unit.
"I didn't mind that, but I wanted something more," said Lantz. "After a year or two, I got my wish."
He was transferred to sea duty with the Marine Detachment aboard the USS Carl Vinson, a supercarrier based in San Diego with regular trips in the Pacific.
"That gave me the opportunity to see the world as I had wanted," he said. Lantz left the Marines in 1995 as a Sergeant (E-5).
After the military, things didn't slow down much for Lantz. He kept the same disciplined pace in the civilian world as well.
He shares custody of his two daughters, Shelby, 21, and Olivia, 16, with his former wife, and rented an apartment nearby while their kids grew up. His priorities changed as time marched on.
"A slower pace of life has given me the opportunity to find that piece of property that I have wanted for a long time," Lantz said. "Of course, now I have to mow a lawn, but I have found I missed the yard work and the pride of owning a home."
'Only a Phone Call Away'
Lantz knew he had the ability to use his VA benefits to purchase a home with no money down. There were a few things to get in order before he could purchase a new home, so he put his trust in Veterans United Home Loans to help.
"My credit was not stellar, to say the least," he said. "So the first process was to get that straightened out."
With the know-how and tenacity to guide their borrowers out of credit crises, Veterans United's Lighthouse program stepped in to help Lantz. Lighthouse credit experts provide the expert information borrowers need to develop a plan to repair their credit and get on the road to homeownership.
Anne Billington, Lantz's Lighthouse credit consultant, guided him through the process.
"She had the ability to not only tell me what I needed to do, but also advise me why," he said. "She is amazing. She is a cheerleader and a person who truly cares."
After Billington helped Lantz obtain a qualifying credit score, Veterans United Loan Officer Adam Crutchfield took over. He devoted his time to getting Lantz into a home and exhibited endless patience, Lantz said.
"There were challenges with my own financial history, but they were resolved," he said. "Veterans United helped me out all the way. They were available and only a phone call away."
Once his home loan was preapproved, he set out to find that dream home. The process of tracking down his new home was a family affair.
His new place, a three-bedroom home with cedar siding, front and back porches and a long, gated driveway, sits on three acres. He doesn't have any direct neighbors, and is surrounded by woods and wildlife – and that's just the way he likes it.
The same is true for his daughter Olivia, a competitive pistol shooter who needs extra space and privacy to practice.
Just a few years ago, Lantz didn't think he'd be able to make it out of the apartment complex to his dream of wooded acres, wildlife and Saturday night bonfires with his daughters.
"Veterans United took such good care of me," he said. "They treated me right and educated me through the entire process. Let them work with you and find out what you can buy. They will treat you like a veteran should be treated – fair and like family."
Ready to Get Started?
or call us now to speak to a VA Loan Specialist 800-884-5560
The Nation's #1 VA Home Purchase Lender*
A VA approved lender; Not endorsed or sponsored by the Dept. of Veterans Affairs or any government agency.