Customer Profiles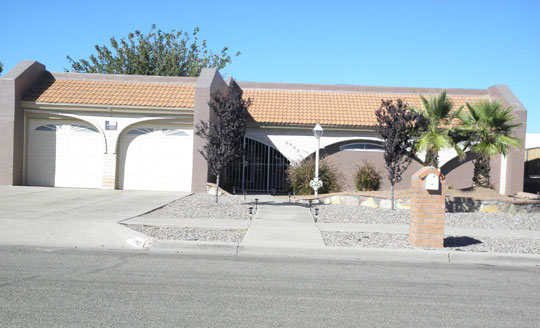 Read about Jerry Lantz and how Veterans United Home Loans helped this Army Vet into his first home.
Jerry Lantz: Veterans United Home Loans Guides Army Veteran to Boost Credit Score
El Paso, Texas — Jerry Lantz always had a rocky relationship with credit.
But hard work and help from an unexpected source ensured he was able to capitalize on the home loan benefits earned by his service.
After his seven-year Army stint ended in 1983, Jerry took a job with the city of Longview, Texas, building and maintaining sports fields. He loved the work, but a divorce a decade later left him ready for a change.
He moved back home to Arizona, where he hadn't lived since an Army recruiter helped him enlist on his 17th birthday. He found work as the head of irrigation for a local golf course and later worked as the head of grounds for a school district.
Jerry also remarried during that time, and after his mother died, he and his family moved to El Paso, to live near his wife's family. A lifelong renter, Jerry returned to Texas vowing to become a homeowner.
He knew about the VA loan program from his Army days and went online in search of a lender. Jerry found the website for Veterans United Home Loans and filled out a form.
Over the previous few years, Jerry had worked hard to improve his credit score after some tough times and a divorce took their toll. But it wasn't quite good enough, and Jerry's request for loan prequalification was denied.
Rebuilding Credit
His phone rang less than 30 minutes later. On the other end was Dorothy Topa, a home loan consultant with Veterans United's Department of Secondary Approval, a unique group that works one-on-one with veterans to help repair their credit score.
Dorothy explained the DSA mission and told Jerry she wanted to help him get prequalified for his first-ever mortgage.
"I said, 'Ma'am, if you can help me get to that point, you're going to be one of my favorite people,'" Jerry said.
Dorothy examined Jerry's credit and financial situation and offered some concrete tips for boosting his score. She told him to lower some of his credit amounts, refrain from applying for new credit and keep a close eye on his reports for any unusual activity.
Jerry diligently followed her advice. Five months later, during a check-up call, Dorothy asked if she could run Jerry's credit report again.
He nearly fell out of his chair when the number came back. His score had jumped about 40 points, enough to prequalify for the home loan he wanted so badly.
A Home for the Holidays
Dorothy passed Jerry onto loan officer Eric Wessel, who started working immediately on Jerry's loan approval. She also connected Jerry to a local real estate agent through Veterans United Realty, a national network of more than 1,400 agents who work routinely with military borrowers. Borrowers who work with a VUR agent receive up to $500 after closing.
A disabled veteran, Jerry found a ranch home with a great yard and a Jacuzzi tub in the master suite, a key selling point because of his bad back. He quickly came to an agreement with the sellers, who agreed to make some small upgrades identified during the home inspection.
The process went just as smoothly on the lender side. Jerry closed on the home in late September 2011, less than a month after signing the purchase agreement.
That left him with plenty of time to prepare for the first holiday gathering in his new home.
"I get to host Thanksgiving this year for my wife's family and my daughter," Jerry said. "It was a goal I had set for myself to get us to a point where I could buy a home. Dorothy's advice honed everything in for me. Veterans United just put us both in a happy, happy spot."
When it comes to giving advice to future military homeowners, Jerry keeps it simple: Listen to the credit and loan experts at Veterans United Home Loans.
"These people are very knowledgeable and are there to help," he said. "If they listen to Dorothy, they will get their goal and dream of owning their own home."
Ready to Get Started?
or call us now to speak to a VA Loan Specialist 800-884-5560
The Nation's #1 VA Home Purchase Lender*
A VA approved lender; Not endorsed or sponsored by the Dept. of Veterans Affairs or any government agency.