Customer Profiles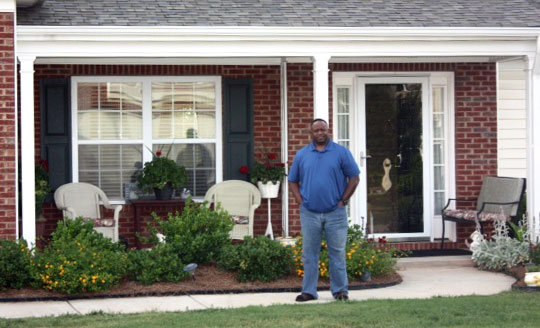 Read about William Peay, an Army Veteran that used his Cash-Out Refinance to lower his payments and make a "world of difference".
William Peay: USAF Veteran Saves $900 A Month with VA Cash Out Refinance Loan
Simpsonville, S.C. — William Peay entered an Air Force ROTC program during his freshman year of college, hoping to follow in the footsteps of his father, a 20-year Air Force veteran.
William's path veered the following fall when he transferred to a new university without an Air Force program. He spent his final three years of school in Army ROTC.
The next six belonged to the government.
William was on active duty for four of them at Fort Bragg. He made captain after three years and spent the latter half of his stint as a communications platoon leader in the 82nd Airborne.
But when the time came to re-up, William decided to pass on a military career. He jumped into the civilian world but kept a toe in his old life, joining the Army Reserves.
A job with one of the nation's premier textile and chemical companies brought him back home to South Carolina. He bought his first house in 1987 using his VA loan entitlement.
Tough Loan Terms
William used that benefit three more times over the next 20 years, amid job changes, relocating to Delaware and an eventual return home to Simpsonville. He and his family struggled at times during that stretch, as the manufacturing industry in South Carolina took a beating.
Unfortunately, so did William's credit.
He didn't have a high enough score to qualify for a VA loan when he moved back home in 2007. Instead, he purchased a home with an FHA loan, which came with monthly mortgage insurance and an 8.375 percent interest rate.
The payments were brutal.
William dedicated himself to improving his credit score. He paid off debt, kept his balances in check and scoured his credit report for errors. It took a few years, but he finally felt ready to apply for a VA refinance loan, which would mean a lower interest rate and a lower monthly mortgage payment.
But lender after lender turned him away. Some balked once the home appraisal came back. Others even said he was no longer eligible for a VA loan.
William refused to stop searching. He went online to do some research and found the website for Veterans United Home Loans. William filled out a form and quickly received a call back from loan officer Steve Staszcuk.
'A World of Difference'
Steve listened to William's story and then gave him the good news: He was eligible to refinance his onerous FHA mortgage into a VA loan using a Cash-Out Refinance loan. The program allows qualified borrowers to secure a lower interest rate and extract cash from their home's equity. Veterans with conventional or FHA loans can also use the Cash-Out Refinance program to refinance into a VA loan and capitalize on the benefits earned by their service.
Steve explained the refinance process in detail and asked William to gather pay stubs and other financial information.
"Steve did a yeoman's job of keeping me abreast of what's going on," William said. "I understand the importance of being able to take care of customers and give feedback, and your crew did a great job for us."
Since it was still valid, Steve had William's last VA home appraisal transferred to Veterans United. That saved William about $400 in new appraisal costs. Only a recent VA appraisal can be transferred from one lender to another.
With everything in place, William locked into a 30-year, fixed-rate VA loan at 4.6 percent, which cut his monthly mortgage payment by almost $900.
He rolled his closing costs into the loan and didn't have to spend a dime out of pocket.
"It's been a long road, but it was well worth the travel," William said. "It's going to make a world of difference for us."
Ready to Get Started?
or call us now to speak to a VA Loan Specialist 800-884-5560
The Nation's #1 VA Home Purchase Lender*
A VA approved lender; Not endorsed or sponsored by the Dept. of Veterans Affairs or any government agency.