Veterans have spent a vast majority of their life giving back to this country and dedicating their life to serving others. Only one percent of our country has dedicated their lives to giving back to this country in the way that veterans have.
There are many programs for Veterans that focus on giving back to our heroes in some shape or form. The Entrepreneurship Bootcamp Program (EBV) for Veterans happens to be one of them. This program's mission for disabled Veterans is to open the door to economic opportunity by developing competencies in creating and sustaining an entrepreneurial venture.

History of EBV
EBV is a multi-phase program for post-9/11 veterans with service connected disabilities and a passion for launching new businesses. The Entrepreneurship Bootcamp Program was founded in 2007 at Syracuse University, and has since expanded to other universities across the country. These universities include:
University of Missouri
Texas A&M
Purdue University
UCLA
University of Connecticut
Louisiana State University
Florida State University
Cornell University
Saint Joseph's University
University of Missouri EBV
Entrepreneurship Bootcamp for Veterans with Disabilities announced in 2015 that the Robert J. Trulaske, Sr. College of Business at the University of Missouri would now be included as apart of the program. There are 3 different phases of the program.
EBV 3 Phase Approach:
Phase 1. 30-day instructor led, online course focused on basic skills of entrepreneurship and the language of business.
Phase 2. Nine-day residency at an EBV university where students are exposed to over 30 accomplished entrepreneurs and entrepreneurship educators from across the U.S.
Phase 3. 12 months of support and mentorship delivered through the EBV Technical Assistance Program (EBV-TAP), a robust, comprehensive network of mentors, resources and national partnerships
Brant and Jennifer Bukowsky are founding sponsors of the organization at the University of Missouri. In 2015, the program received a $450,000 donation from the Veterans United Foundation that was designated for launching and initial program support.
For 2019, the Foundation, fully funded by Veterans United Home Loans and its employees, has pledged to donate $168,000.
Program Success
There have been a total of 1,236 veterans that have successfully completed the EBV program from all across the nation. Ivory Harlow was of the participants of the program in 2016 that successfully completed the program through the University of Missouri, and has since gone on to do some pretty incredible things. Dickie Bird Farm, LLC is a livestock and forage operation in Appalachian, Ohio.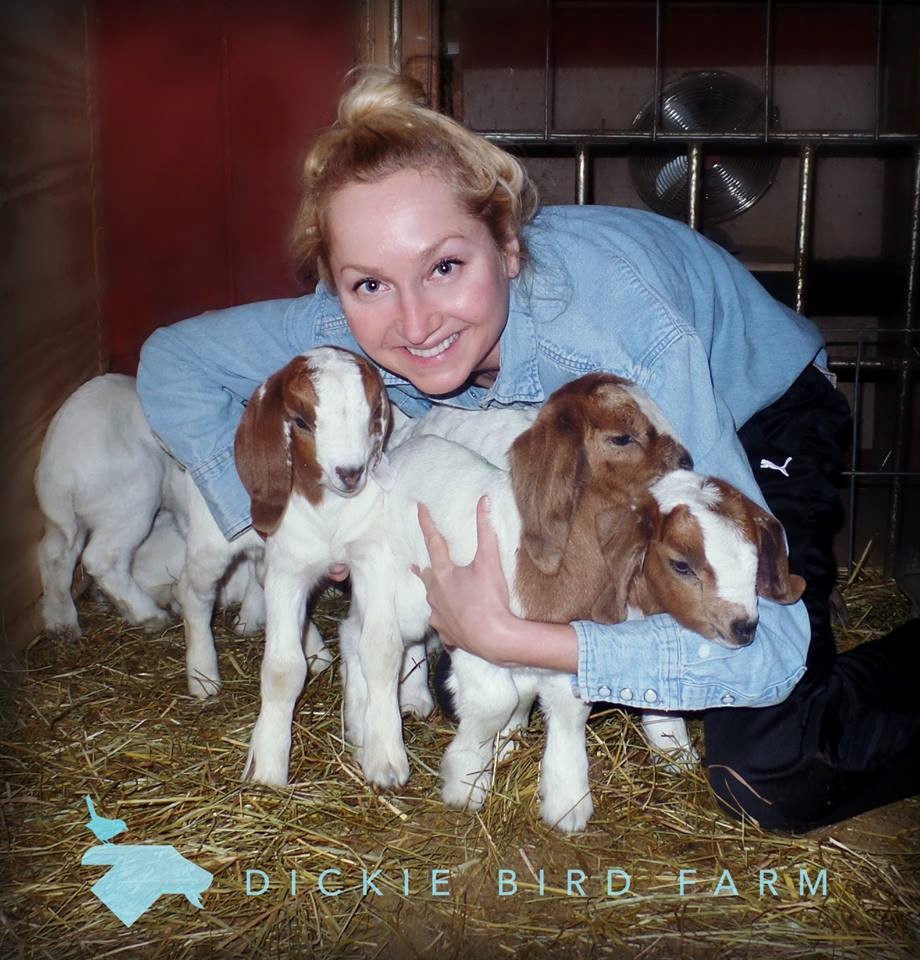 Co-owners and husband and wife duo, Ivory and Kipp Harlow represent the 40 percent of our U.S. military members who grow up in rural parts of the country. Ivory was raised in Minnesota where her family raised horses. Kipp grew up in Texas, where his family raised hogs and cattle. The two met at Lackland Air Force Base while serving the Air Force. In 2012, the Harlow's bought land to start a farm together raising chickens and selling poultry and produce. But in 2016, Dickie Bird Farm hit a pivotal point- it was sink, or swim.
We asked Ivory what it was like going through this Veteran-only program, led by an Army Veteran himself, Dr. Greg Bier.
Today, the Harlow's have 57 total acres. They own 40 and rent 17. Their business has transformed into raising and selling show goats, meat goats, cattle and game birds. Their cattle is grass-fed and they sell direct to consumers within a two hour radius of their farm. Additionally, they have had a wait list for their beef since it started! Their game birds are raised right there at Dickie Bird Farms and they sell to private landowners, growing the birds exactly the way they want them.
Check out the 2019 Program Agenda
FRIDAY, MAY 31, 2019
Meet veterans at airport
Registration
Welcome and Dinner
SATURDAY, JUNE 1, 2019
Welcome/Orientation
Idea Experimentation – Greg Bier
Introduction to the Business Plan/Canvas – Collin Bunch
Legal Issues in Small Business – Jim Niemann
Legal Issues in Small Business – Jim Niemann
Failure Management – Greg Bier
SUNDAY, JUNE 2, 2019
Transition
Depart for campus – meet in hotel lobby
Mentoring – Greg Bier
HR and Other People Issues – Kat Cunningham
Lunch - D. Rowe's
Understanding the Numbers – David Beach
Social E-ship – Eric Staley
MONDAY, JUNE 3, 2019
Biz Data/Resources – Gwen Gray
Understanding the Market/Marketing for Entrepreneurs – Wayne Keene
Understanding the Market/Marketing for Entrepreneurs – Wayne Keene
TUESDAY, JUNE 4, 2019
Human Resources – Courtney Mudd
Veterans Legal Issues – Angela Drake and Brent Filbert
Pitch Development
Entrepreneurial Strategy and Social Media Marketing – Sarah Crawford
Biz Marketing Tools and Basics of Search Engine Optimization – Sarah Crawford
WEDNESDAY, JUNE 5, 2019
Scaling and Financing Your Venture – Bill Turpin
Risk Management/Insurance – Fred Travis
Benefits/Resource Planning – Russell Sickles with Griffin Hammis
Pitch Development
Entrepreneurial Grit – Cory Crosby
Suggested activity – Pitch Development.
Russell Sickles is also available to meet with you regarding veteran benefits.
THURSDAY, JUNE 6, 2019
Validating your Idea – Jeremyah Grigery
Pitch Skills – Greg Bier
Pitch Development
Your Ventures Cash Flow – Collin Bunch
Veteran Business Resource Center - Darcella Craven
EBV TAP – Misty Stutsman
FRIDAY, JUNE 7, 2019
Pitch Prep
Final Pitches
Reception/Headshot - Dress in Business Attire
SATURDAY, JUNE 9, 2018
Depart for airport – meet in hotel lobby Check in for flights home
Check out of hotel for those driving
Congratulations and have a safe journey home!