I prefer the text feature that his team uses. If my intended recipient was on another phone call or out of the office, the text service they had insured my question was addressed by someone on Jared's team in a reasonably expected time.



Please make sure the property you buy is really what you want ask friends and family what they think.


I understand that the company may be busy at this time, but I did not feel like a valued customer throughout the process. I feel like I had to jump through a lot of hoops to give you my business when it could have been avoided. On a good note, I really enjoyed the accessibility of the website and how easy the pre-approval was.

If anyone is looking for a great lender, I'd definitely recommend Veteran's United.
They made the home buying process less stressful. Having knowledgeable staff, that always made time to answer our questions in regards to getting financed and providing guidance the entire way through the home buying process. 100% recommend.




I had a great experience with Veterans United! They are professional, knowledgeable, efficient, and assisted me every step of the way in the loan and home buying process! I would definitely recommend them to anyone looking to purchase a home!


Veterans United made the whole experience of buying a home seamlessly and I felt at ease during the whole process.



My home buying experience was very smooth and my Veterans United team were fantastic!

I think Veterans United would be great for military members stationed in the US. I wouldn't recommend them for those that are trying to purchase a home from overseas or for first time home buyers. Their support is based mostly on mostly telephone calls. We ended up spending a lot of time and money on international calling for issues that could have been resolved via email. When we did handle things over email it would take a couple of days for them to respond to my emails and when they did many times they would not address my questions or concerns.

very nice people, friendly and helpful, I could do everything I needed on my phone.


Veterans United is a very good Company determined to achieve a very pleasant experience for all of our Veterans and make their dream home become a reality. Thank you Veterans United for all you did for my family.



Great for first time home buyers!Everything was extremely simple and straight forward with regular communication between myself and my loan team.Harris G (my loan specialist) was extremely helpful and responsive. He answered all of my questions and regularly checked in on the progress of my paperwork. All of this made my first home buying experience super easy and simple.Closed on time!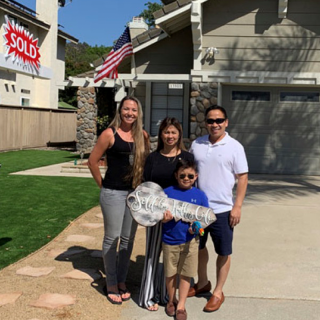 When we first met Travis Ward, he was just a loan officer. After a few months of interaction with Travis, he became our trusted friend. Travis is warm and articulates. He knows his product very well. He took his time to explain all of our questions within 24 hours. Besides those outstanding attributes, what stand out the most about Travis are he is very patient and his ability to listen to our questions/concerns, he waited for us to finish our questions completely before he responds. Travis never once (never) jumped in the middle of our sentences. We would definitely refer him to our friends and family members for VA home loan. It would be a mistake should Veterans United not to retain his service nor inadequately compensate base on his outstanding skills, personal and professionalism!! Warm Regards,Khoa, Susan and Nhat Huy (from San Diego, CA)

Our whole experience has been amazing. Everyone was friendly and helpful through everything. All communication was done quickly and uploading documents was simple. I've already told my brother-in-laws to use Veterans United when they get ready to buy!

When they hire an inspector they should make sure he knows how to do a good job.