At a Glance
The VA doesn't have a minimum credit score requirement. Most lenders do, but it's often lower than their cutoff for conventional loans. A new survey shows many Veterans overestimate the kind of credit score they need for a VA loan.
A good credit score is an excellent starting point for anyone considering a mortgage, including a VA loan. However, one of the best benefits of the VA loan program is its relaxed credit requirements.
Potential borrowers don't have to possess blemish-free credit reports and elite credit scores to secure VA financing or get advantageous rates and terms. The VA loan program seeks to accommodate as many military buyers as possible with a simple and accessible mortgage.
What is the Minimum Credit Score for a VA Loan?
The VA doesn't set a minimum credit score for VA loans at the program level. Instead, the VA relies on lenders to ensure borrowers are a satisfactory credit risk.
VA lenders typically require a FICO score of at least 620. High loan amounts, such as those exceeding $1 million, may require a higher credit score.
Some lenders may approve lower scores, but it's common for these borrowers to face additional financial scrutiny and requirements.
At Veterans United, we typically look for a minimum median FICO Score of 600. If your credit isn't quite up to par, don't worry. We've got a team of credit consultants to work to improve your credit score — no strings attached.
As you'll learn below, a 620 score isn't exactly top-tier credit. VA loans were created to help make homeownership more accessible for Veterans and service member. Flexible and forgiving credit guidelines are one of the big ways this benefit program puts homebuying in reach.
But half of all Veterans either don't know what kind of credit they need for a VA loan or expect to face much higher benchmarks than what's common. That's according to a new survey of Veterans and active duty service members conducted in October by Sparketing.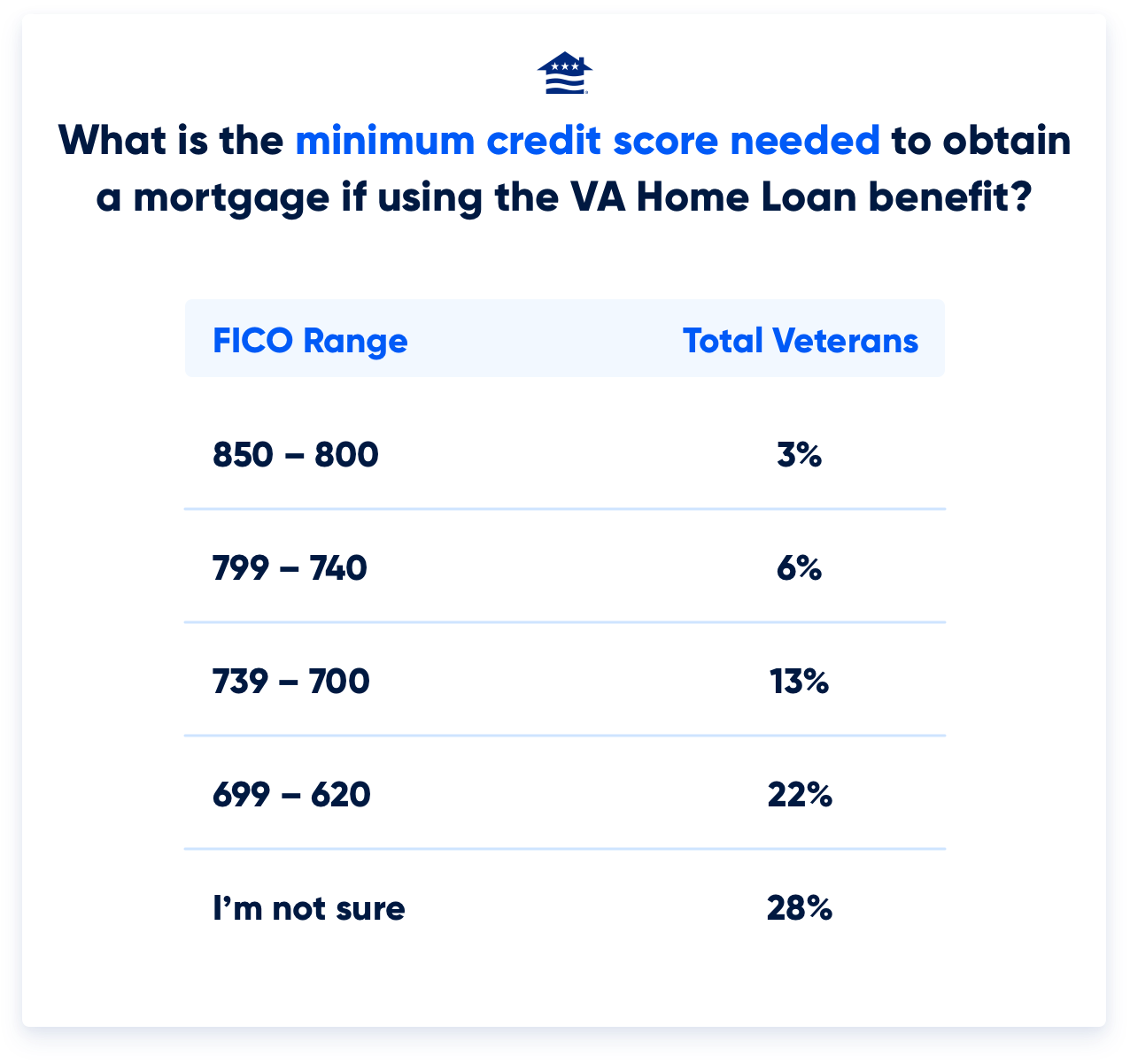 To be sure, credit score minimums can vary by lender and other factors. But a nagging misconception about VA loans is that Veterans need great credit to get them, and that just isn't the case.
In fact, that common 620 score cutoff falls into the "Fair" credit range, which is a step below "Good," two steps below "Very Good" and three tiers below "Exceptional," according to FICO's categories.
VA Loans Credit Requirements Compared to Other Loan Programs
FICO® credit scores range from 300-850. FICO® no longer releases the median nationwide score, but Experian released a report on February 24, 2023, showing the national average FICO® score remained unchanged for 2022 at 714.
Keeping that in mind, a 620 minimum is fairly borrower-friendly. It's not necessarily an easy score to obtain, but it's an accommodating benchmark.
Below are common benchmarks for other loan programs.
Conventional loans:
The government does not back conventional loans. Since lenders are at greater risk without a government guarantee, conventional loans are tougher to obtain. Bigger down payments and higher credit scores are usually required to snag conventional financing.
According to John Councilman, federal housing chairman for the National Association of Mortgage Brokers, a credit score below 740 could bring on added scrutiny and sizable fees in the conventional lending market.
As a result, most conventional borrowers maintain impressive FICO® scores. According to mortgage software provider ICE Mortgage Technology, conventional borrowers in 2021 boasted an average FICO® score of 757.
FHA loans:
Like VA loans, the federal government backs FHA loans. Requirements from the FHA allow lenders to go down to a 500 credit score with a 10% down payment and 580 with a 3.5% down payment.
Year-to-date Home Mortgage Disclosure Act (HMDA) data for 2023 shows that nearly 82% of FHA borrowers had a credit score of at least 625, compared to VA loans at 92.4%.
While credit score requirements are typically lower than VA, FHA loans come with additional fees and often less favorable rates. Aside from a 3.5% or 10% down payment, FHA loans require an up-front mortgage insurance premium and monthly mortgage insurance, which runs for the life of the loan.
It's also not uncommon for FHA lenders to have a higher credit score minimum than the program itself.
USDA loans:
USDA loans are yet another government-backed option, but they're only available in rural areas.
The USDA does not enforce a minimum credit score, but like other government-backed options, lenders often do. Most USDA lenders want a 640 FICO®. 640 is the cutoff for lenders to use the USDA's Guaranteed Underwriting System.
See What You Qualify For
Answer a few questions below to speak with a specialist about what your military service has earned you.
VA Loan Credit Score FAQs
Below are common questions around VA loans and credit.
Why doesn't the VA set a minimum credit score?
It's important to understand the VA's role in the VA loan process. The VA doesn't set a minimum credit score requirement but instructs lenders to make sound judgments.
The VA's role is to oversee the program and guarantee a portion of each loan in case of default. But the VA does not issue loans, and the agency does not enforce credit score minimums. Private lenders handle both of these duties.
Most VA lenders use credit score benchmarks. Applicants with scores below a lender's standard usually can't be approved for VA financing. That minimum will vary from lender to lender.
What if I don't meet the lender's credit score requirement?
Potential VA loan borrowers needn't abandon their dreams of homeownership due to a low credit score. The best feature of credit is its fluidity. Your credit changes constantly.
Improve your fiscal habits, and your credit score will gain positive momentum. But knowing what improvements to make can be tricky. Should you pay off high-interest debt? Should you cancel certain credit cards? How should you handle that bankruptcy looming over your credit report?
If you're considering a VA loan but need help navigating your credit options, get help from the Veterans United credit consultant team.
Our credit consultants work with Veterans to improve their credit and get on the path to loan preapproval. This complimentary service has helped more than 50,000 Veterans boost their credit and ultimately close on a home loan.
Survey Methodology
National survey of 300 respondents, split evenly between active duty service members and Veterans, conducted in October 2023 by data and analytics firm Sparketing on behalf of Mortgage Research Center, LLC.