They are the best to work with.
After filling bankruptcy, I had a two year wait time to rebuild my credit.
When I got my credit score up and two years where up, I looked at several places but didn't like the location and prices of the houses in the area.
I am thankful my landlord sold me the house I was renting off of him.
I worked with Mason Maddock and his team and in about 45 days or less, was able to close the loan on my house.
Want to thank Veterans United, and Mason Maddock's, team for making my dream come thru.




Sarah Litton deserves 10's across the board. She was great getting through this process. Just wonderful attitude energetic to help. Much love to Erica Haynes and Sarah Litton ❤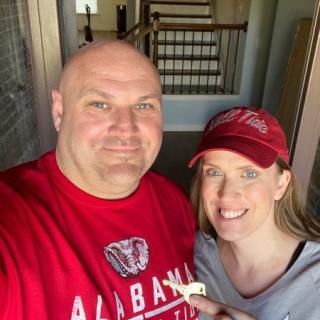 Buying your first home is a major life event that can be incredibly stressful and maybe even a little scary, right?! That's what we were expecting at least. But our experience with Veterans United was the complete opposite. Our Loan Officer, Titus, walked us through every step of the process and made it as quick and painless as it possibly could have been. From escrow to Clear to Close in about 30 days. Thank you, Titus, and Veterans United for helping us purchase our first home!!! I will be recommending Veterans United to all eligible friends!!!

Our loan team was AMAZING. They were available and helped us through every step of the way!

Great working with the team again. Thanks for fast tracking the mortgage loan in such short notice. Unfortunately, we still had to wait anyways, for the sellers. God bless!

I still cannot believe how smoothly the whole process was. I am still in shock! Veterans United is the best!

The team that assisted my husband and I were extremely professional and knowledgable. The experience was like riding in a limousine with a certain millionaire quality added.


Ready to see for yourself?
Experience first-hand why 168,897 homeowners give us a perfect score!
Check My Eligibility →
The Veterans United team will walk you through the entire mortgage process in an effortless and fast way.

This is the second loan through veterans United and it's been wonderful

Veterans United is the best place for veterans such as myself, and anyone who wants to buy a house with the assistance of true professionals. You all ROCK!!!!!




Great experience! Easy to work with. Janeanne was very helpful and patient. Very professional and knowledgeable.

All of jimmy.stranz@veteransunited.com team did a outstanding job. I will recommend them to any vet.



Ready to see for yourself?
Experience first-hand why 168,897 homeowners give us a perfect score!
Check My Eligibility →

The only inquiry that I would say about is the interest rate(s). As a new home buyer, I would of liked to know how many days I have to lower the interest rate before the final closure (i.e. settlement). If I knew that I had to notified the loan officer at least 3 days prior to the settlement, I would of called to lower the rate (from 2.500 to 2.225).



We had an awesome experience with Veterans United. The entire staff was helpful friendly and always willing to help us.
Thank you
Katie Rose and Katie Willis

Five star service




Veterans United Home Loan is by far the best lending company I have ever work with. The staff members are professional, caring and they work hard to ensure your loan is process expeditiously. I highly recommend this company if you are looking for a home loan and want fast and friendly service. I personally recommend getting in touch with Wendy Pulliam and Samantha Lennox, they are the best! Thank you so much.
Annette & David Hurdle