I was a little skeptical clicking the link to Veteran's United, having never heard of them, but I'm glad I did! The process could not have been easier and the VU team was great to work with.Go ahead and call. You won't be sorry!



Without Veterans United we would still be paying outrageously high rent payments in California. We now have our own home with no threat of rent increases or having a months notice to move. I feel we have security that we haven't had in many years.
And the icing on the cake,,,,Our mortgage , Insurance payment is half of what we had been spending monthly on rent.The team effort was exceptional and we are very happy with the results and interaction provided by United Veterans!


Thank You Ben and Lauren



I recommend every veteran to use Veterans United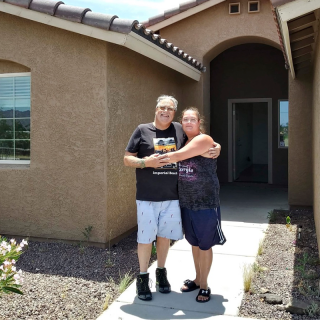 Travis ward was our loan specialist. He did absolutly more then we could ever have asked for he helped us understand what was going on with our loan and we did not have a thousand things to send in for our loan. The whole process went very smooth and quickly we started the process April 13, 2020 and closed May 13, 2020. Fastest home buying ever but worked out perfectly! We love our new home so much!


This experience was great. The whole team that helped me was great. This was my first home buying experience and I knew only a little about this. The team made this stress free and also a fun experience. I liked how they were able to clear up any of my confusion and answer any questions quickly, and helpful no matter the current global situation. I would highly recommend Veterans United Home Loans to any veteran looking to buying a home.

All is well.

Loan process was fine until we got to underwriting and title. New requirements seemed to come up every few days which delayed the closing as well as increasing closing costs. For example, lender was not aware there was a well on the property and required a well inspection (understandable circumstances). However, they could not tell us which water tests needed to be done. This was 2 weeks before closing, we had the well tested, had to expedite it (more out of pocket costs) and test for organisms as the lender could not identify the needs of the test. Despite the last-minute requirements, we were very proactive and meet all requirements upon notice.
Unfortunately, it seems they were doing their best to try and disqualify us from refinancing. For example, just before closing a requirement for getting documentation from Tesl,a our solar panel company, to provide documentation. My husband called Tesla and let them know what was needed and they provided the documents swiftly, of course at an additional fee. Whereas it took 3 days for underwriting to call and ask for the same documentation. It seemed like there was an invented delay at every whim. I will not go through this company again for finance or refinance. The only reason we stayed is because we had no other option, as closing took so long it would have been almost impossible to get another lender in time and at the rate we were looking for.
The point of the refinance was to get money out to upgrade our home. When we purchased our home in 2016 it took less than 4 weeks to close whereas with VU it took just over seven weeks. The whole process was very stressful and unnecessary.
Response from Veterans United
Enrique, Thank you for sending back this honest feedback on your loan. We do understand that the underwriting process can be at times very stressful and tedious. We would like to express that frustration by letting you know that our underwriting team is very knowledgeable and have to be very thorough. The team goes through all conditions and regulations to provide our clients with the best product for them. this ensures the client has a fantastic loan for the future. We thank you for your service and thank you for choosing Veterans United



Videos were great!


I wanted to thank the entire team for making this process effortless and easy. My wife and I are so happy with our new home.

You're next!
Join the ranks of our 150,000+ Proud Veteran Homeowners nationwide.
Extremely grateful to Veterans United, Tony, and Derek. The perfect team for a truly perfect home purchase. You all are true professionals and experts in your craft.

I tried another lender before Veterans United and they were uninvolved and not helpful. Once I started working with Travis and Veterans United the process was painless. I would recommend them again.

Thank you Erin, you dealt with me the most, you're an amazing person and you're team is great to work with. Thank you all.



Great overall home buying process. I'll look to Veterans United for future home purchases or sales.