Thank each of you for your hard work and professionalism.

The Veterans United portal and To-do list are excellent. They do a great job demystifying a complex process, especially for first time buyers, and are intuitive to use. It makes staying on track a breeze.






I closed on my new construction home on June 30, 2020! I was very nervous - as this was my 1st purchase. The company offer easy to follow, informational videos that help potential buyers understand each process, with purchasing a new home. When I did not understand a process and/or I had a question, my Loan Specialist (Ms. Tina and Ms. Sarah) readily answered my questions - either by text, email, or phone call. About 8 weeks before my proposed closing date, a negative report populated on my credit report. The negative report caused my scores to drop! This situation could have caused me, to possible lose my new home and my "down payment" (earnest money). My Loan Specialist quickly connected me, with my assigned Credit Counselor (Ms. Katie). My Credit Counselor help me resolve the negative credit reporting. It put me back on track to successfully secure my home loan! I do not believe that I could have done this without them. They are such an AMAZING TEAM!



You're next!
Join the ranks of our 200,000+ Proud Veteran Homeowners nationwide.


Trust the Journey!!!

Very happy with the overall experience. This was my first time using a VA loan and I thought it would be much more difficult than it was. From preliminary discussions to preapproval, approval, inspection, closing, it went very well.
I will use Veterans United again if I move in the future.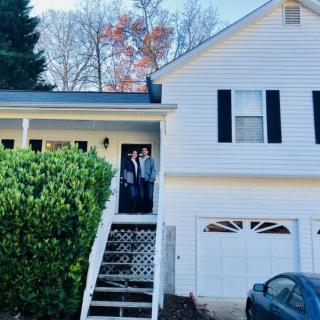 Working with Veterans United while first time home buying was the best choice we could have made. The whole process beginning to end was so easy and informative. We were assigned a realtor who is experienced with VA loans as well as personal loan specialists with Veterans United who really know their stuff. Any questions or concerns we had were promptly addressed. I would highly recommend Veterans United to any Veteran looking to buy a home for the best, stress-free experience.


The whole team did a great job with my loan processing




You're next!
Join the ranks of our 200,000+ Proud Veteran Homeowners nationwide.



I believe that my loan was a bit difficult for anyone. My last loan was taken out in 1983 and I'm still stuck in the 60s. So Tim had his hands full, along with Diana. They were VERY patient with me and earned their pay. 10 plus all the way!

Veterans United provided great service. This was my first experience in using my VA loan eligibility and they guided it well. They closed my loan in 30 days while other companies were quoting me 40 days due to all the current refinancing. I would use them again in the future and recommend them highly.


Great company and team. The loan team helped us navigate many questions and was always available to provide help. In the end, our loan cost was even cheaper than estimated. They definitely under promised and over delivered. It was the best experience I have had with a lender.


This was our second home and there was no question that we wanted to work with Veterans United again. The team is great to work with and we know we can trust them to be up front with us through the whole process.