We are blessed

I highly recommend Veterans United to any fellow vet out there looking for a home loan. This was my first home loan and yet the process was smooth and easy. There are several steps involved, but Veterans United walked me through everything. I closed on time with no delays!





Veterans United should be the first stop for any service member or veteran looking for a home. The team will take great care of you and ensure you walk away happy! Thanks again VU!

This was the best Home Loan process I have ever been through! Thanks!


Ready to see for yourself?
Experience first-hand why 168,824 homeowners give us a perfect score!
Check My Eligibility →
Shane and his team did an outstanding job providing me services and help guided me throughout the entire process smoothly.Thank you for an excellent job well done.




The entire VU Team kept me informed and updated. It was impressive how the VU Team kept the ' communication loop' tight- no breaks. Awesome job!!!

My agents Kevin and Shantel Payne have been awesome but my loan team (Marlon Galbreath and Kim Snyder) were a challenge to work with. My loan team struggled to communicate with me even after I left several voice-mails and emails over the course of 3-4 weeks. Their procrastination and lack of communication also resulted in our closing date being pushed back by 2 days and pushed into a new month which resulted in our closing cost nearly doubling since it was pushed from the end of the month to the beginning of a new month. Extremely stressful time working with them. I felt they were very unprofessional, and my agents hold the same sentiment for the loan team. I would not recommend working with this specific team. However, my agents were amazing to work with and would recommend them!

Veterans United is a wonderful service and I highly encourage anyone that can use their services to use them. They take a seemingly complex process and create many goals to simplify the process so anyone can follow along. They are always quick to get any questions answered along the journey. Really great service! Highly recommend!




Ready to see for yourself?
Experience first-hand why 168,824 homeowners give us a perfect score!
Check My Eligibility →

I can't understand why race would have anything to do with your home-buying experience.I didn't really like E-sign because changes could be made without your knowledge. For example, I wasn't aware until closing that I would be responsible for taxes on 3 parcels instead of the 2 that actually came with my home purchase. Also it's crazy that the percentage rates applied makes your actual loan amount almost 2 times the worth of your home. Most of your money is applied to interest instead of the principal amount


While I had an overall positive experience, last minute request and requirements made the experience a little nerve wrecking.

As a first time home buyer this process was very enjoyable and actually a lot quicker than what I had intended. I am so thankful to be a customer of veterans United and I hope that this won't be the last time.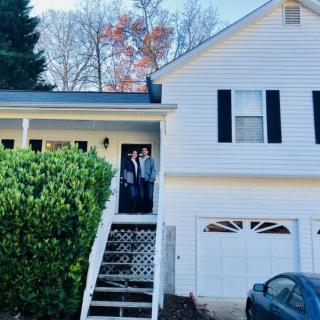 Working with Veterans United while first time home buying was the best choice we could have made. The whole process beginning to end was so easy and informative. We were assigned a realtor who is experienced with VA loans as well as personal loan specialists with Veterans United who really know their stuff. Any questions or concerns we had were promptly addressed. I would highly recommend Veterans United to any Veteran looking to buy a home for the best, stress-free experience.


This was not my first home purchase but it was my first one using my VA benefits. And it maybe my forever home. I had a great experience and I think all Veterans should take advantage of the organization.



This is my third loan the Andy and Veterans United. The process is easy and the team is always available for questions. I will continue to use Veterans United for all my home loan needs.