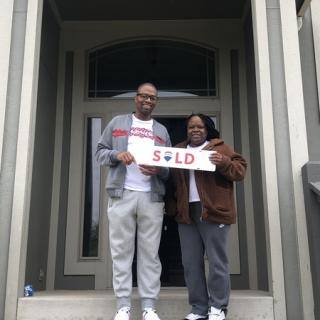 My loan officer was the best. She had faith when I didn't. I'm glad Aimee put up with me and my attitude when I had doubts. She was very knowledgeable and HONEST!!! My husband and I appreciate her very much. I highly recommend her and wish I could do/give her more. Aimee made my experience a lot better. I'm glad I trusted her to get the loan sealed!!!

My transaction coordinator, Rebecca, is who I worked with the most out of this entire experience and she was amazing! She kept things clear and made getting all the documents needed super easy. Rebecca was quick to respond to emails and always kept my mind at ease :)



Veterans United will always be my choice from now on!

Brad was very nice and professional and so were the members of his team!

You're next!
Join the ranks of our 200,000+ Proud Veteran Homeowners nationwide.

The organization and their representatives were there for us every step of the way. We made it more difficult by selling our home in New Hampshire and purchasing our new home in Kansas. We accomplished this all in approximately 2 months. Thank you Veterans United, especially Jake.



Veterans United did an excellent job of carrying us through the process. It took us over 6 months to find a home with many failed offers and even one closing falling apart. Despite it being a COVID19 market with crazy regulations VU, and Ryan Sherman, took great care of us along the way. I never went a night upset that I didn't get a call back and the advice given to us by Ryan and his team always worked out! Thank you so much for helping us find our dream home! -Matt, Sonja, Priya, and Liberty the Wolfhound

Don't be afraid to let Veterans United manage you're VA home loan process.


Mr. Brumfield and Rain was awesome to work with. Fast responses with any and all questions we came up with. And Rain kept not realtors on a track to close.THANK YOU.



You're next!
Join the ranks of our 200,000+ Proud Veteran Homeowners nationwide.

Thank you so much Veterans United for allowing my family and i to purchase our first home!





It was an overall great experience