I used Veterans United because they're passionate about what they do, they deliver results with integrity, and they enhance lives of people like me every day. More than that, they're a company that looks after their own, and they mean a whole lot to a very big community. VUHL really seems like the genuine article, and after going through the home buying experience as both a borrower and an employee, I 100% recommend them to any veteran looking to purchase or refinance a home in the United States.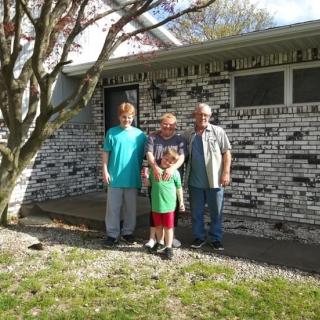 The whole process was easier than what I thought it would be. When the loan specialists would ask for something as long as I got it to them in a timely manner it all worked out well! Everyone I dealt with were polite and knew that this was our first time of trying to buy a home and they were patient!!! Absolutely LOVE LOVE LOVE our VU team!!!


I just want to say thank you again, this was an easy transaction relatively speaking. Your process is so easy and seamless that we didn't have any problems getting the documentation we needed and we were able to do so much on line. You guys are doing a great job.


Thanks so much. Couldn't have had a better experience. Will be recommending you all! Again, thanks for everything!


You're next!
Join the ranks of our 200,000+ Proud Veteran Homeowners nationwide.

Veterans United comes highly recommended by this veteran. They are thoughtful, thorough, and tremendous.


Veterans United got me into a home when USSA couldn't! They were very competitive with rates and upfront with costs. Extremely pleased with my experience. I will definitely be calling them first next time I buy!



Chris along with everyone at Veterans United were amazing and made the process of buying a home extremely easy. Thank you all.


This Purchase (from My Mother's Estate) has been ridiculously long & far more complex than Anything I Expected.
Damien and his Team ( Cayt especially)
have been Patient & Supportive thru Contractor
Failures, Deadlines, Rehashes, Document Redos,
Multiple Phone, Text and Emails over this entire period of SIX Months !
I (And the other Estate Beneficiaries) have Seldom, if ever, seen this Quality from Anyone else we've been involved with.
Thanks Damien & Caytlyn


You're next!
Join the ranks of our 200,000+ Proud Veteran Homeowners nationwide.
Alex was excellent through the entire process. Alex and the Veterans United team proactively updated us and walked us through each step, and even after all that effort they were extremely responsive and happy to assist with every question we had. Very impressive & professional team that made us feel comfortable at every step of the process.





From start to finish everything was simple and painless. Any questions that we had were always answered quickly and to the point that a Marine could understand them.
Semper Fi


Veterans United got us into our very first PERMANENT HOME. Being constantly on the move for years, when it was finally time to settle, I am extremely glad we went with Veterans United. Clay Rose and his team of amazing ladies, Lacey and Allyson; made the home-buying process a BREEZE. From answering a million questions, to educating us on the steps, to patience and advice; truly couldn't of asked for a better team to guide us through. We had a few hiccups a long the way (not due to the Veterans United team or us as buyers) and they were there to reassure and keep everything going smooth as butter. We are truly grateful. Oh! To add some sugar on top - they sent us a family game night package with age appropriate games for our children, which REALLY helped raise our spirits during the Covid-19 Stay-At-Home Orders. Honestly we will rave on Clay, Lacey, and Allyson ANY DAY. Thank you Veterans United!

Adam was great, highly recommend!

They did everything in their power to insure we get our home with as little issues as possible! Fantastic service from everyone!