Don't bother calling anyone else. They truly put the veteran first.

I've used VU for my past two home purchases. In my 8 years as a Realtor, I'd dealt with many mortgage companies and certainly have recommended VU for my Veteran clients... I highly recommend VU to my fellow Veterans.
Respectfully,
Lance Brown (USN Retired)


It felt like we were part of their own family through the entire process.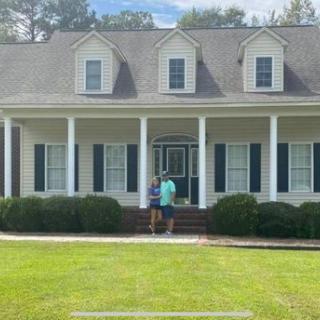 Great rates! My closing company said my rate was the lowest they had seen. Very friendly and courteous staff. Although I didn't really need it, the concierge service is great to offer as well to help with finding local utilities and services. My loan officer Dustin kept me informed and was always available and quick to return calls.
The "To Do" list is easy to use to upload documents.
Would highly recommend.


We had lived happily in the Elon district of Burlington, NC for 9 years in an apartment community. Then new management showed up and the nightmare began. My dear sweetie searched the web and found Veterans United, called and handed me the phone. I was livid! A few months later, we are now living happily in our home thanks to the kind yet diligent effort of Shannon Matlack. Her response time to our inquiries was record breaking. Shannon truly demonstrated the philosophy of Veterans United-she created a seamless homebuying experience by preparing/explaining the process. And to the powers that be of Veterans United: Clone her!



They are a great team and make the home buying experience easy and streamlined. This was my first experience buying a home and it was virtually painless.

Ready to see for yourself?
Experience first-hand why 168,832 homeowners give us a perfect score!
Check My Eligibility →
Great people to work with every step during process.



My team, Blake Cruthfield and Meredith Alley did an extraordinary job. Everything went smoothly, they kept me informed throughout the entire process. There were no surprises. Talking to both of them was like talking to trusted friend. I have never been through a loan process that ran so seamlessly. As a veteran I felt that they really cared about me, and respected by sacrifice.



Great service


It was an amazing experience overall. We did not experience any unexpected issues during the entire loan process. It never ever felt like it was difficult, and from beginning to end was just a simple and well organized transaction.


Ready to see for yourself?
Experience first-hand why 168,832 homeowners give us a perfect score!
Check My Eligibility →



Oustanding, prompt, and knowledgable service provided. The fact that All works in CA made things very easy for me (I live onbthe east coast). We could talk for hours after I came home from work. I never felt I may be the last call of the day.
I would, and have, recommended VU to 2 friends in the past month- 1 elected to use VU and are very happy as well.

Everyone was great!!!

All in all everything went well just took some time but very thankful for everything

COURTEOUS, EFFICIENT & SMOOTH!