We got the job done and I quickly time and manner everything was wonderful it's good I love it it's me

We will recommend Veterans United to our family and friends.

Its really simple GO FOR IT you will not be disappointed.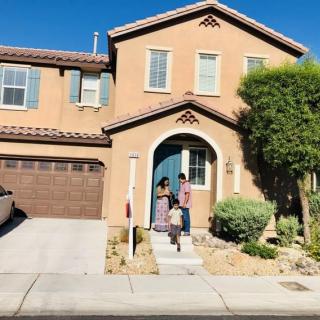 Stephanie Pantaleo and Rachel Bruce were very prompt and patient with me from the beginning through the end of the loan approval and closing escrow process. They made everything easy to understand and uploading the documents to the VU website with your account was unbelievably fast and easy as well secure! I would recommend VU to all homebuyers!



Veterans United is a Great Way to buy a home.Made my home buying so simple, no stress.
JOSH SCHULTZ is absolutely the Best to work with.!!!


I never knew I would be able to be eligible for a loan until I meant Dylan who introduced me to Sean and then Paul. Excellent personnel to work with; they made the process very simple. Thank you Veterans United and honored and we always proud to serve my country.

You're next!
Join the ranks of our 150,000+ Proud Veteran Homeowners nationwide.
Thank you So much ..I appreciate everything Veterans United has done for me.


Overall 10/10 with this home buying experience. Thanks again!


The entire team did a great job, from planning this home buying experience, working on fixing/rebuilding my credit, finding the right home in my budget, and closing in a timely manner even during this emergency from Covid-19. I thank everyone who was apart of this process very much so!


Very professional, didn't waste any time. The Veterans United team works like a well trained squad. Will definitely call them for my next home purchase.

Veterans United is the best! The loan process went very smooth and the company's employees are knowledgeable, professional, and listen and care for military service members and veterans! I am thankful that I decided to go with Veterans United for a VA loan! Awesome company!

All veterans should use this loan service.

Thank you so much!

You're next!
Join the ranks of our 150,000+ Proud Veteran Homeowners nationwide.
The entire process was very professional. The entire team kept me informed. There were no real issues in my loan process. I totally recommend Veterans United to all Veterans and anyone needing a mortgage from a team that will fight for you.

If you work with Nick and his team, I can guarantee that you will be getting a team that will work around the clock to help you find the home for you.

Thanks for everything, you folks were amazing to work with!!



Veterans United is great, don't waste your time anywhere else. Good rates too.
While signing the closing documents the notary mentioned that other Veterans
United customers were always very happy with their service.

Veterans United made my home buying experience easy. Their team was a real pleasure to work with. They made my home buying dream a reality. I honestly don't have the words to thank them enough.


I would like to leave a 10 star outstanding review for my transaction coordinator
Mr. Jon Ouk , If Mr. Steifferman was the conductor , I would say Mr. Ouk was the engine.
Mr.Ouk made sure that we stayed on track, the same page , again if you felt overwhelmed or not quite sure about something Mr. Ouk would let you know to reach out because we all had a common goal as a team. I really appreciated Mr. Ouk guidance as well during this process. There is a reason this company is called Veterans United , they have a Vets back. Thank you again Veterans United