The process of refinancing our mortgage through Veterans United was extremely easy. All the people with dealt with, Matt our loan specialist and a couple others, were very professional and courteous and a pleasure to deal with.



Veteran United is very friendly and professional, but they also made shocking errors in our closing disclosure, which would have shorted us $3,000 if not for our realtor. Our realtor pointed out that they also charge nearly two times for closing costs for homes she was buying for clients through different lenders. I don't know if I would use them again in the future after those glaring blemishes on their record.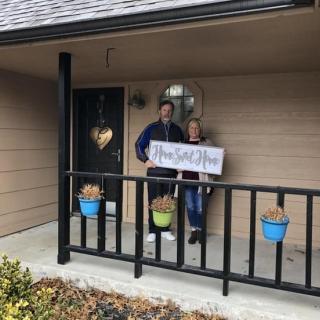 Veterans United was the perfect fit for us! They have a top-notch team that helped us along every step of the home buying process. Ryan, the loan officer was absolutely awesome. He answered all of the questions we had and never left us in the dark. He was always friendly and courteous and took the time to keep us posted on the process. The underwriters (who we never directly talked to) were fast and very efficient. I can't really believe how fast everything really went. Tammy our real estate agent, went above and beyond for us. It took us months to find the perfect house, and she stood by us the entire time. She was always a call or text away. She listened to all our wants and needs and never pushed us in any direction we didn't want to go. First American Title company was fully prepared the day of closing and the staff there was also very friendly and courteous. Overall this experience was flawless. We give them two thumbs up, an A++++ rating, and we would highly recommend Veterans United for all your one-stop shop home buying needs!

Made our first time buying a home so easy! They all truly strive to keep you happy and educated.



This experience has been good throughout. They were helpful, informative, and reassuring.


You're next!
Join the ranks of our 150,000+ Proud Veteran Homeowners nationwide.
Veterans United is a truly service oriented group. They aimed to always make me feel assured of the process and they do a thorough job building your loan profile and keeping you in the loop to avoid surprises or stresses. They are courteous competent and professional.

Very informative in the whole home buying process as a new buyer. Gave all info upfront and notified of any changes/updates. Would recommend to anyone who is looking for their first time!


10 Star experience! I definitely want to thank the team at Veterans United.


Overall it was a much easier process than I was expecting thanks to Veterans United.

Great team Period

Great service and awesome experience,
Could not have asked for a better result.
Keep up the good work, thank you.

They made it happen for me! There were a few snags that had to be worked through and John and his team worked hard to get it done. Even with the snags we closed on time.

I recommend Veteran's United to any of my fellow veterans who are looking to buy a home!


You're next!
Join the ranks of our 150,000+ Proud Veteran Homeowners nationwide.

No additional comments

As this is my first house the whole process from start to finish was ALOT easier than I thought it would be. There were no real hiccups at all and the minor few that happened were dealt with very promptly. I knew what was happening throughout the whole process and any questions that my wife and I had were clearly answered. Will deffinitely use Veterans United again in the future when it comes time to purchase a new home.