Trust in Veterans United. They are true to their word. Thank you again.


If you're a Vet you owe it to yourself and family to trust United Veterans to take good care of you in your home mortgage process!! Everyone I came in contact with was Awesome! They will be there for you and make what can be a very overwhelming process seamless! I would recommend them 100%.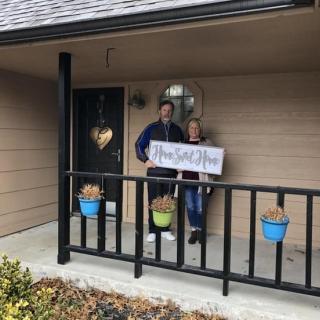 Veterans United was the perfect fit for us! They have a top-notch team that helped us along every step of the home buying process. Ryan, the loan officer was absolutely awesome. He answered all of the questions we had and never left us in the dark. He was always friendly and courteous and took the time to keep us posted on the process. The underwriters (who we never directly talked to) were fast and very efficient. I can't really believe how fast everything really went. Tammy our real estate agent, went above and beyond for us. It took us months to find the perfect house, and she stood by us the entire time. She was always a call or text away. She listened to all our wants and needs and never pushed us in any direction we didn't want to go. First American Title company was fully prepared the day of closing and the staff there was also very friendly and courteous. Overall this experience was flawless. We give them two thumbs up, an A++++ rating, and we would highly recommend Veterans United for all your one-stop shop home buying needs!






Ready to see for yourself?
Experience first-hand why 168,006 homeowners give us a perfect score!
Check My Eligibility →

If my family and I ever decide to move and/or buy a new home, our first phone call will be to Chris Campbell.




If you're a veteran and you want the best rates and great service, choose Veterans United as your lender.



Amazing experience. Thank you so much!

I looked into another highly reputable agency before ultimately going with VUHL and while they were attentive and treated me well, they didn't have nearly as much knowledge about VA loans. In comparoson, VUHL was able to do more and get me more as a prospective buyer. While I would never discourage anyone from shopping around in the name of making an informed decision, I would strongly urge any VA loan elligible persons to give VUHL a try- just like their name says, it's what they do; so they know their stuff!


Ready to see for yourself?
Experience first-hand why 168,006 homeowners give us a perfect score!
Check My Eligibility →