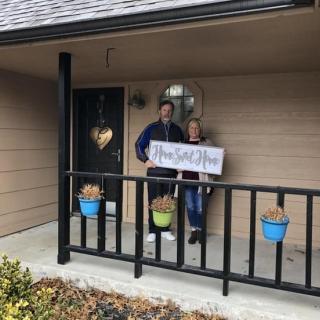 Veterans United was the perfect fit for us! They have a top-notch team that helped us along every step of the home buying process. Ryan, the loan officer was absolutely awesome. He answered all of the questions we had and never left us in the dark. He was always friendly and courteous and took the time to keep us posted on the process. The underwriters (who we never directly talked to) were fast and very efficient. I can't really believe how fast everything really went. Tammy our real estate agent, went above and beyond for us. It took us months to find the perfect house, and she stood by us the entire time. She was always a call or text away. She listened to all our wants and needs and never pushed us in any direction we didn't want to go. First American Title company was fully prepared the day of closing and the staff there was also very friendly and courteous. Overall this experience was flawless. We give them two thumbs up, an A++++ rating, and we would highly recommend Veterans United for all your one-stop shop home buying needs!




Don't let any setback keep you from your dream. Our VU team really did see a problem as an opportunity to excel.

Overall it was a good experience, super tedious but not too bad for my first time! Definitely would recommend but a different loan specialist.

You're next!
Join the ranks of our 200,000+ Proud Veteran Homeowners nationwide.

I would recommend VU 1000 times over.







Tony Dawson is AWESOME!!! Enough said.



You're next!
Join the ranks of our 200,000+ Proud Veteran Homeowners nationwide.


Good experience





Team Presley ( that includes Connor, myself, and my wife and Johnathan) we are an awesome team! Presley is the most cheerful person I met in this business. She is point oriented, making sure the task needed to be done gets done and works hard to achieve that goal! The next stage: Connor! Powerhouse plows thru any question, answers it, and makes sure you know what is expected! Johnathan, we had called in and Presley and Connor weren't available at that time and my wife started in with our process! He was great! Helped us get calmed down as we had no idea what at the time was expected. He took the time to explain this step and made it look easy and totally different than what we made it out to be! And as for us... We love our new home. It is exciting to see us together and empty nested at the moment! No we are not having any more kids we are past that! We are looking forward to more grand kids and lots of visits from them as we feel more able now to help bring our family even closer together than we are! Thank you Veterans United for hiring a great and wonderful team of real people that make this process as painless as possible. I definitely recommend Veterans United to anyone for purchasing a new home! Thank you very much for everything you have done for us!
Robert and Gina!

Very grateful to have the loan team and real estate agent that we did. Smoothest process we could have asked for. Would and have definitely recommended.