Was very pleasant and enjoyable and made our Journey a lot easier for being a first time buyer

I cannot recommend Veteran's United strongly enough. I had a smooth transaction from beginning to end. I received excellent customer service from absolute professionals and I could not be happier to report that I am a homeowner! Thank you, Veteran's United!!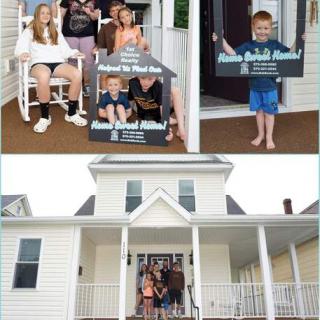 I was told by another company that I was unable to obtain a home loan. I put in a call to Veterans United and asked them to see if they could do anything for me, and less than 3 months later I was moving into my new home! Don't mess around with anyone else, come straight to the pros and get it done!



Your lock in rate guarantee expires before the lock in rate agreement expires, leaving a window where you can't get a lower rate even if it's available on the market AFTER your lock in guarantee expired.



You're next!
Join the ranks of our 200,000+ Proud Veteran Homeowners nationwide.
Working with Veterans United was great! They were all very friendly and quickly responded to any questions I had. They made the overall process pretty simple and explained everything to me, so that it was easy to understand, since this was my first home purchase. I definitely recommend them!

Awesome experience, I would definitely recommend Veterans United to any veteran I come across going forward

Kim was also very knowledgeable and helpful. Truly a joy to work with.



N/A

Veterans United came through with flying colors. They were helpful in every way. It was stressful at times of all the information and things to do. Not many people like paper work anyway. I'd recommend to people to lock in the lowest interest rate as soon as possible. Ask questions and you will get the answers. Thank you! Randy Moser.

I am amazed at the experience with Veterans United. I can't recommend them enough. My wife and I are extremely pleased to have chosen them as our lender.


Above and beyond. Just like I was dealing with USAA. That personal touch and willingness to go the extra mile was awesome!!

Please be prepared to send documents more than once. My loan coordinator, Jenny was good.

I think Veterans overall did a good job, did not like the loan officer. I like people who are responsive and are helpful even if you have to pretend.
Response from Veterans United
Frederick, We learn the most when we listen to our clients, and we hope to learn even more from you soon. Our Client Advocate team is available to talk about what may have created confusion for you near the end. It is our goal to use your feedback to improve the service for veterans down the road. Thank you for your service.
Veterans United and Tony Esposito are a fantastic combination.

I understand the times right now due to Covid, and I'm sure it's placed a nice backlog on the loan coordinators, but I think there should be some more communication, especially with first time home buyers who are buying privately.
Response from Veterans United
Hi Jacob, thank you for taking the time to share your valuable feedback. We appreciate the opportunity to research your experience and learn more. One of our Client Advocate team members is always available to you. It is our goal to promote accountability within our teams and consistently deliver an outstanding client experience.
Thank you for all the work you do! You will not be forgotten by me or my family!


My whole experience with Veteran's United was AMAZING, and I can't thank Tony and the team enough!! It had been a very long time since I owned my own home, and they made the process almost seamless. I definitely would recommend Tony, and Veteran's United to anyone looking to purchase a new home.

Veterans United is the first place every veteran should start when looking to purchase a new home