The only inquiry that I would say about is the interest rate(s). As a new home buyer, I would of liked to know how many days I have to lower the interest rate before the final closure (i.e. settlement). If I knew that I had to notified the loan officer at least 3 days prior to the settlement, I would of called to lower the rate (from 2.500 to 2.225).


Veterans United Home Loan is by far the best lending company I have ever work with. The staff members are professional, caring and they work hard to ensure your loan is process expeditiously. I highly recommend this company if you are looking for a home loan and want fast and friendly service. I personally recommend getting in touch with Wendy Pulliam and Samantha Lennox, they are the best! Thank you so much.
Annette & David Hurdle

Andy Harris was great to work with!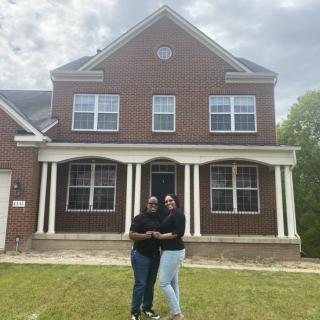 I already recommended Katy to everyone I know. Katy and Danielle were super great they took care of all my concerns and made the process super easy and worry free. This is my 2nd home with this amazing team. If you are a veteran and need a home loan please call the most professional team of all who know everything about your veteran home loan to ensure you get the best loan for you. Call Veterans United I will when it's time for home #3.



Great customer service representation from start to finish. We were always informed and updated on our home buying process. Luke and Amy are 5 stars rated from me! Highly recommend.

This is my first home purchase, and as many may relate it is very scary to get into a loan even if you've had a good standing credit as I did. Veterans United was absolutely helpful in the entire process from getting pre-approved to closing in a house. Their platform online is very easy to navigate and I've read reviews explaining that they were slow in getting stuff done, but I think that's going to depend on how fast you are in getting what they need to get you started, some people just want to turn in stuff at the last minute and expect for them to make magic and get processes done in the same day they receive what they need. Overall, I would recommend Veterans United, and my team, Leanna Moss, Bailey Gainz, and Kim Ahrens were absolutely amazing and would respond to any of my questions promptly. Thank you Veterans United! I am a happy customer and would definitely use your services again if possible! :)


Ready to see for yourself?
Experience first-hand why 168,896 homeowners give us a perfect score!
Check My Eligibility →


Veterans United and the people who represents stands true to it's name and will take care of you.



We were referred to Veterans United...but were skeptical because we are lifelong USAA customers. However, our experience with Veterans United will result in us referring any potential home buyers we come across.

Second home buying through this organization. Respectful of your budget needs and will work hard to find the house you can grow a family. If it ever comes to a third home I will be reaching out to them.




Ready to see for yourself?
Experience first-hand why 168,896 homeowners give us a perfect score!
Check My Eligibility →


Good people... work together

Only issue was the loan estimate of closing costs was about $2300 off from the final closing costs. It was an extra expense I hadn't planned for.


Love veterans United! Thank you for my home!


I highly recommend Veterans United Home Loans! So professional and helpful, I never imagined that buying my first home would be so simple and pain-free.