Billy and Sarah should receive high recognition. They are the gold standard for loan processing.



This is my second mortgage with Veterans United and I couldn't be happier. Great organization.

Only one negative, when selling my old home I was referred to
Matthew Lepore l Realtor®,MRP
Keller Williams Realty - Vestavia
mrlepore@kw.com.com
C: 205.447.7472
Army Veteran
This was the worst experience, he sold the house quickly, but I never felt like he was on my side. Please do not put any more of your customers through this. I recommend that Mr. Lepore is not recommended to anyone in the Birmingham, AL area.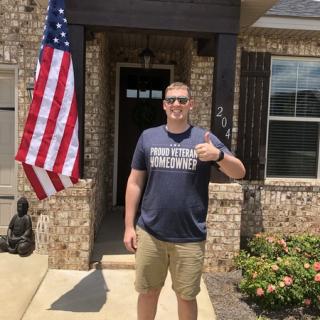 I was stuck deciding between two different lenders. I ultimately decided on Veterans United because my lender, Aaron was super friendly and the website was also very user friendly to upload and sign documents off of. Also, they offered me a credit on closing costs for using my realtor. Great people!


Our family wants to extend our greetings, our thanks, and our warmest regards to all the people who helped make this happen their hard work and dedication and knowledge of the process, guiding us to our new home thank you from our hearts




Ready to see for yourself?
Experience first-hand why 168,897 homeowners give us a perfect score!
Check My Eligibility →
I'm so grateful for Veterans United!!! We got a great loan rate and the process was very smooth. Thank God for zero down and minimal out of pocket cost. Grateful, thankful & blessed!!!

Great job


Veterans United helped me fulfill a lifelong dream of owning my own house. The staff were extremely courteous, professional and comfortable to deal with! Highly recommend.


I am sad to say that my experience with Veterans United was not what I imagined it would be. It stared off bad and I should've decided to go with another company but I wanted to give them the benefit of the doubt.Firstly, my loan officer Zach was quick to tell my husband and I that we wouldn't get the loan we wanted. I applied for a pre-approval and received a call back within a few hours. The loan officer explained that the VA loan wouldn't go through due to the fact that I couldn't prove I'd be working at my current job for another 2 years (yes I do understand that is true). You see, we were moving states because my husband is being stationed in Georgia, so we were looking to buy our home a little early. I tried to explain the him that my company allows teleworking and that I would be doing that when the times comes for us to move. He argued with me for around 30 minutes and got so frustrated that he hung up without saying "Bye" or anything at all. By that time I was already in tears because I make the majority of our income and if we couldn't use that to secure the loan then we would be left without a home.After my conversation with the loan officer, I decided to call Veteran's United and make a complaint about him. Within minutes of my complaint, he called me saying he had a solution for our problem. My question to him was, why did you jump the gun to tell me you couldn't help us, when you could've just looked through everything in the first place and found that solution before getting everyone upset. Even still, I continued to stick with Veterans United, because of the amazing reviews I heard.My first experience with the loan officer sadly wasn't the worst of it all... for the rest of the loan process I couldn't get ahold of any of my loan team when I needed them. I would call, send emails, and even the relator would do the same. She and I were frustrated throughout the whole process, and when we would express that was the only time we would get responses.Other things that added on to this was the fact that they never gave us information on time... If I uploaded a document, they would not tell me until weeks later if it was approved or if they needed another document. This happened more times then I can remember and it caused our signing date to be pushed 10 total days... that resulting in more closing costs, less money for a down payment and the stress of my husband (who is Active Duty military) possibly having no where to live when he arrives at his new Base.Again, I have email proof to backup all of my complaints. I am not complaining just to complain. I spent many nights crying because I was so worried we would not get this home, and I had worked so hard to earn the right to use a VA Home loan. I thought that having a Veteran as our Loan Officer would be amazing, but he truly did not ever make us feel as though he cared about our loan process. I hope this doesn't happen to others who are looking to buy a home, especially those who are out of state and have to find somewhere to live pretty quickly.The only great part of my experience was our amazing Realtor. She did so much to help us, even though we are states away. I can't recommend Karen Dennis enough, and we will definitely use her in the future if we even need to.
Response from Veterans United
Josephine, We want to thank first and foremost for sending in this honest survey. This feedback is very helpful for our client advocate team to assist future veterans. We understand the frustrations with the loan process and are truly sorry that the expectations we pride ourselves on were not met. Our number one goal is to assist our veterans as much as possible. If you choose to share more our client advocate team is always available to learn more. Thank you again for your service to your country.

I highly recommend using Nathan Jackson. With his leadership and following his guidance he will help you get the house that you're looking for.











Wouldn't choose any other than Veterans United.