We did not close on the that was on the contract. We could have lost the home or even our earnest money for breaking contract. The communication was horrible. This is my third VA loan and this was by far the worst experience. The loan officer was a good "salesman" and got me in the door. I will never use this company again or refer anyone. I will refinance asap.
Response from Veterans United
Dean, thank you for sharing your feedback letting us know about your experience. While we cannot make up for the experience you had, it is important that delivering excellent communication remains a top priority for our team. We are always striving to look for ways we can improve. We thank you again for your service and for choosing Veterans United.
To My fellow Veterans if you are looking into buying a home please ask for Zach Nelson. He and his team will provide you any information that you need to help you weigh your pros and cons before purchasing your home. Thank you Zach Nelson for everything!

The entire process was very straight forward and easy to understand. I have bought/sold several properties over the years, but this was by far the best experience I have every had. I highly recommend Veterans United for all your mortgage needs.

We are not tech savvy & were initially concerned about the online process. It was very simple! When we did have questions we called Jeremy, our loan specialist. He almost always answered our calls or got back to us quickly if he didn't answer immediately. The property we purchased had never been VA approved. This added obstacle was also taken care of in a very timely manner. Daniele, the underwriting specialist, also did a very nice job. Also courteous and informative and quickly responded and answered our many questions. We rate their response time an A plus! The process was done in a very timely manner even with the extra step of getting the property VA qualified. Just be prepared for lots of paperwork. A great experience and highly recommend.

Veterans United is a well oiled machine. Everyone worked together and got me through what would have been impossible in less experienced hands. I was likely a difficult case, and Veterans United made it possible for me to own my own home.

If you haven't had the pleasure of working with Veteran's United, YOU are truly missing out. From the beginning to the end, my loan team answered all of my questions and made this the best purchasing experience of my life. My wife and I are more than happy with the professionalism we received from Veteran's United. They are recommended Number 1 on my list.

I was very impressed with Veterans United. The whole process was an effortless Adventure. All we had to do was sit back and enjoy the ride to the finish line. We made it!!!

Great buying experience. Thanks again Veterans United.

You're next!
Join the ranks of our 150,000+ Proud Veteran Homeowners nationwide.
Eva Ottinger is unbelievable at her job if everyone tried to help people as much as her the world would be a better place.

The whole team was great.



Veterans United is the best route for a veteran to purchase a home through their bulletproof system. They are there to serve you in the greatest purchase of your life. This is your hard won benefit of Service. Trust them. You will be blessed by their expertise.


Outstanding company. The faster you get the documents, the faster the process goes.

Great awesome helpful made it easy going

This was easier then buying a car and less stressful because of the team at Veterans United Home Loans. When it comes time to buy the next house, I'll be back to use them again.

By far the most convenient and pleasant lender we have had the opportunity to work with. Quick reply time, easy platform to upload needed documents, and the team was so helpful. We couldn't be happier! This is definitely a lender that puts their clients first!

You're next!
Join the ranks of our 150,000+ Proud Veteran Homeowners nationwide.
I highly recommend Veterans United for your home buying experience ! They are wonderful! They work with you every step of the way through the process of the purchase your new home! Your team is friendly and professional and most definitely fun to work with I had the best experience ever !




Go for it they would walk you through it all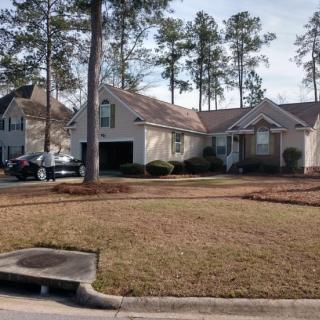 I would like to say if a veteran is out there and may be reading this and follows the instructions, he's doing well. Veterans United will work with you and go over and beyond the call of duty to help in any kind of way to make sure that your loan goes through. I would recommend her anytime. Thank you!

I Purchase and Sold home during my military career, Veteran United was by far the easiest, best and professional institution that I used. my loan team saw potential road block ahead and I was able to fix it before it became and issue. I will recommend veteran united

I would recommend Veteran's United Home Loans to my friends and family. We purchased our house during the shutdowns due to COVID-19, and it couldn't have been easier. Every person I spoke with was so kind and helpful. Moving an entire family can be stressful. Veteran's United definitely eases that stress.

They do a great job helping veterans own a home and make the experience a smooth transition.

Great experience all together