As a first time home-buyer, I was very nervous and had a lot of questions and concerns going through the process. Jamie and his team of professionals made it super easy and convenient and made it work for my schedule. They were always quick to get me the answers I needed and to prompt me for information that they required. They made this process smooth and easy to understand, I couldn't recommend them enough! Thank you guys for everything you all did to make this happen!


Had a very good experience with Veterans United and our loan officer. Thanks for everything

Recommend using Veterans for your loan needs. The folks are professional and flexible to our military needs.

Thank you all so much for all your help!!! Our family couldn't be happier right now.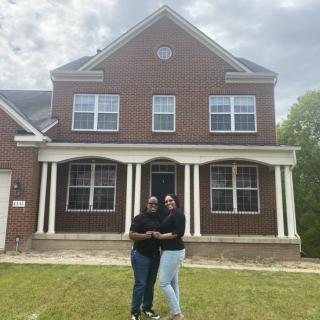 I already recommended Katy to everyone I know. Katy and Danielle were super great they took care of all my concerns and made the process super easy and worry free. This is my 2nd home with this amazing team. If you are a veteran and need a home loan please call the most professional team of all who know everything about your veteran home loan to ensure you get the best loan for you. Call Veterans United I will when it's time for home #3.

I highly recommend. Veterans United really make the process easy and they help you find the documents you need. I didn't have physical copies of tax documents and they were able to pull them up. The fact that you can link all your financial accounts made it easy to determine loan eligibility. The was great.




If this is your 1st home loan then be flexible on your time frame . Get your paper work done as quickly as possible , then wait . 3rd party providers / inspection / appraisal folks will hold things up and push your closing around . However your V.U. team will get it done . DONT PACK EARLY , expect an overlap on current and future bills for your rental . I recomend you use a V.U. realtor that knows vets. There are perks if you do , and most other realtors are not up to snuff with the needs of the home and property. Watch the videos , then do it agian before setting your heart on a home . Your team wants you in a new home so remember they are trying for you.
Response from Veterans United
Paul, thanks for acknowledging this issue so that we might step in to provide further assistance. While Veterans United does not have direct control over the actions of third-party providers, it is important that we work together to promote resolution for you. A Client Advocate member is here for more information and will be available to speak with you should you wish to get in touch with us. thank you for your service and thank you for choosing Veterans United.




It was all good.

I couldn't imagine going through this process with anyone other than Veterans United!

Gina and Adam was a dynamic team. I would and have recommended the company to friends and colleagues.



Everything was great and the process was straight forward!!

You're next!
Join the ranks of our 200,000+ Proud Veteran Homeowners nationwide.


We had a great experience dealing with Mitch and his team in securing our loan and would highly recommend them and Veterans United when looking for a home loan.

Veterans United is a great company to work with when buying a new a home. Very personable individuals to help you through the process and guide you all the way to closing. We really enjoyed working with them and recommend them highly. We love our new home. Thank You Veterans United!!!!!!!

If you are a Veteran and have fears about opening a new chapter in your life call Veteran United Home Loan they are the honest, professional, and they will get the job done in a timely manner. My regards, I am very pleased with the quality and performance.




Top notch service and filled with professionals who make home buying a much better experience.

The Title company process was a bit lacking: we did not know how much and how we were supposed to bring to the closing until virtually a day before, which was a Sunday. This must change.