To my fellow Veterans—do not hesitate to contact Veterans United to start your journey of owing your dream home. They will treat you with the outmost respect and professionalism.

I hope we all survive this virus and life gets back to normal.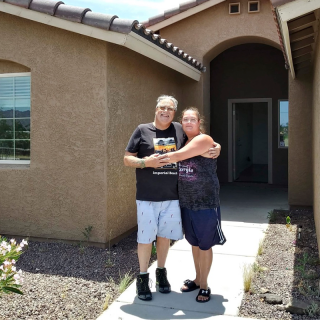 Travis ward was our loan specialist. He did absolutly more then we could ever have asked for he helped us understand what was going on with our loan and we did not have a thousand things to send in for our loan. The whole process went very smooth and quickly we started the process April 13, 2020 and closed May 13, 2020. Fastest home buying ever but worked out perfectly! We love our new home so much!


From me, to the realtor to the title company - we all agreed that this was one of the smoothest transactions any of us had experienced.


I really enjoy working with you guys thanks for all your help.


You're next!
Join the ranks of our 150,000+ Proud Veteran Homeowners nationwide.


Overall it was a super fantastic and smooth process and I appreciate the team that I worked with!



If you want a VA loan try these guys.They are great.
We closed very quickly and this was during the covid 19 pandemic.





You're next!
Join the ranks of our 150,000+ Proud Veteran Homeowners nationwide.



When my family decided to start looking for a home, we started looking at mortgage companies that specialized in VA loans. The initial company we decided to go to by default, noticed we had some credit issues but instead of explaining how to fix them or even how close we where to being able to get the loan they just denied us.
We helped by an individual who directed us to Veterans United, who immediately put us in contact with a Credit Specialist named Tandi Lord, who explained to us what we needed to do to fix our problem and how best to do it. Tandi was very patient and in a short amount of time, we fixed what was needed, with Tandi's expert help and we where eligible to be sent to the Loan Specialist Jeremy.
Jeremy was helpful and he worked tirelessly, with our realtor Dave from Nebraska Reality and my wife and I. If we had a question, Jeremy had an answer to us, frequently within twenty four hours but most often Jeremy would have it the same day we asked. Jeremy, even went so far as answering our emails over the weekends, usually before Monday morning. Like everyone fears that sudden surprise at the end but with Jeremy he was assured that we wouldn't have any issues with the underwriters or anything else and he was right. It was a joy to work with the Veteran United Home Loan and all of its employees, Jeremy Smith and Tandi Lord.

Every interaction I had during the home buying process was a positive one. I greatly appreciate Lenni, Kayla, Bryan, and everyone else who i worked with.



They help me every step