At a Glance
Compared to civilians, Veterans feel more financially stable and more capable of securing a home loan, according to Veterans United Home Loans' most recent Veteran Homebuyer Report, a quarterly national survey of Veterans, service members and civilians who intend to buy homes in the next three years.
During a time of rising inflation, higher mortgage rates and dwindling housing inventory, there's a stark difference between Veterans and civilians when it comes to financial optimism and whether homebuying feels within reach.
Compared to civilians, Veterans feel more financially stable and more capable of securing a home loan, according to Veterans United Home Loans' most recent Veteran Homebuyer Report, a quarterly national survey of Veterans, service members and civilians who intend to buy homes in the next three years.
This latest Veterans United survey found:
Compared to a year ago, more Veterans (46%) feel they're better off financially than civilians (37%)
More Veterans (54%) feel like they can secure a home loan right now than civilians (48%)
Only 27% of Veterans feel stressed about their finances, compared to 42% of civilians
More Veterans (56%) say buying a home feels within reach than civilians (54%)
"There's a significant gap in optimism and expectations between Veterans and civilians when it comes to their financial standing, their spending and debt levels, and their homebuying budgets," said Chris Birk, vice president of mortgage insight at Veterans United, the nation's largest VA lender. "The reality is Veterans and service members feel better prepared for buying a home than civilians in this challenging market."
The third quarter survey also suggests Veteran and military buyers are becoming more comfortable with and accepting of today's higher mortgage rates, even if they're still far above their ideal rate.
Veteran-Civilian Financial Optimism Gap

Civilians are struggling to keep up financially with Veterans. About 30% percent of civilians say they're worse off financially than they were a year ago, compared to 24% of Veterans.
Compared to Veterans, more civilians are spending less money than they did a year ago, experience more stress and pressure around their financial situation, and feel less job security than Veterans.
Looking ahead, civilians also feel more pessimistic about their financial future right now.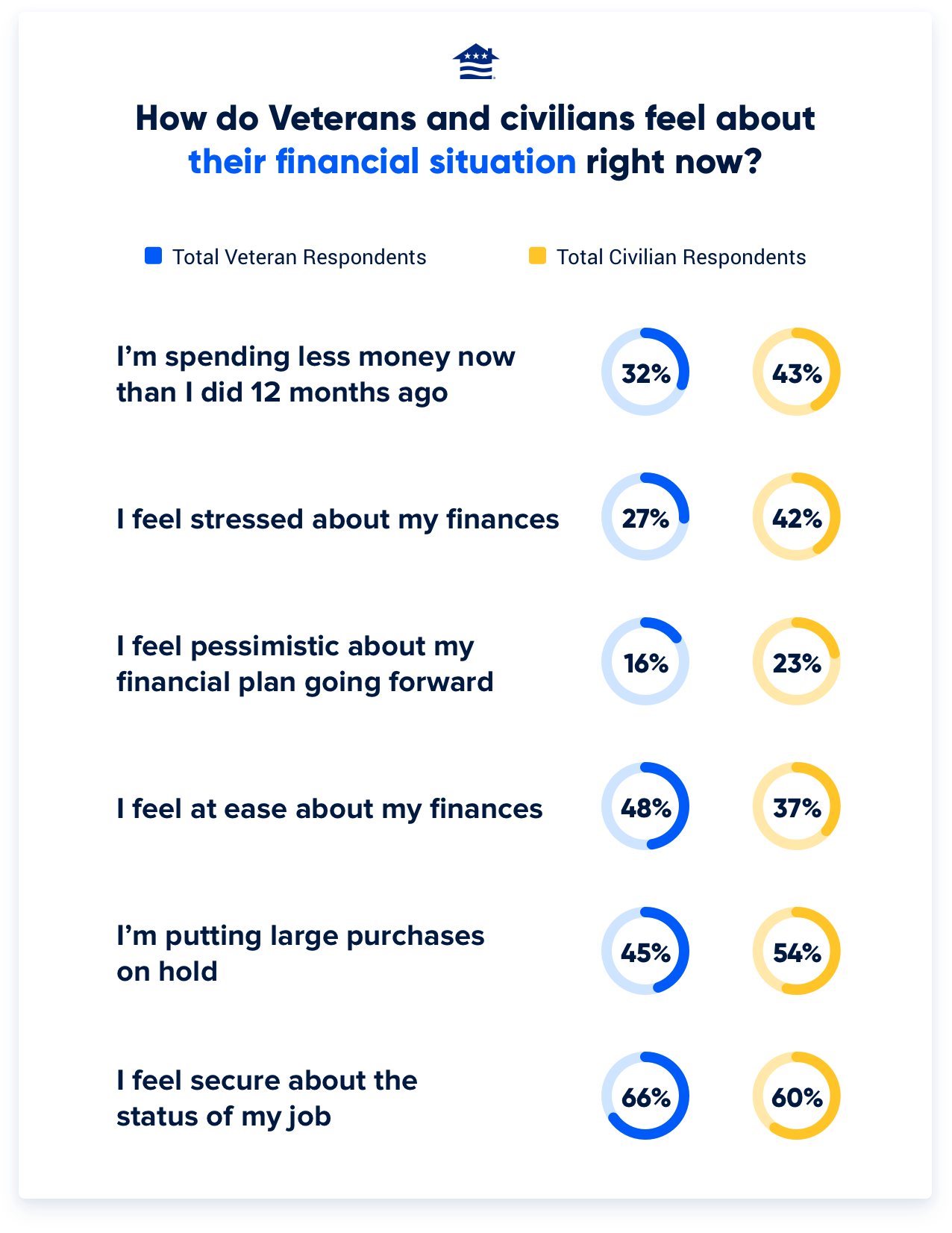 When it comes to buying a home, Veterans' more optimistic financial outlook translates to feeling more confident in their homebuying abilities. They also feel better off than civilians in terms of their current debt load, which can be a key factor in mortgage underwriting.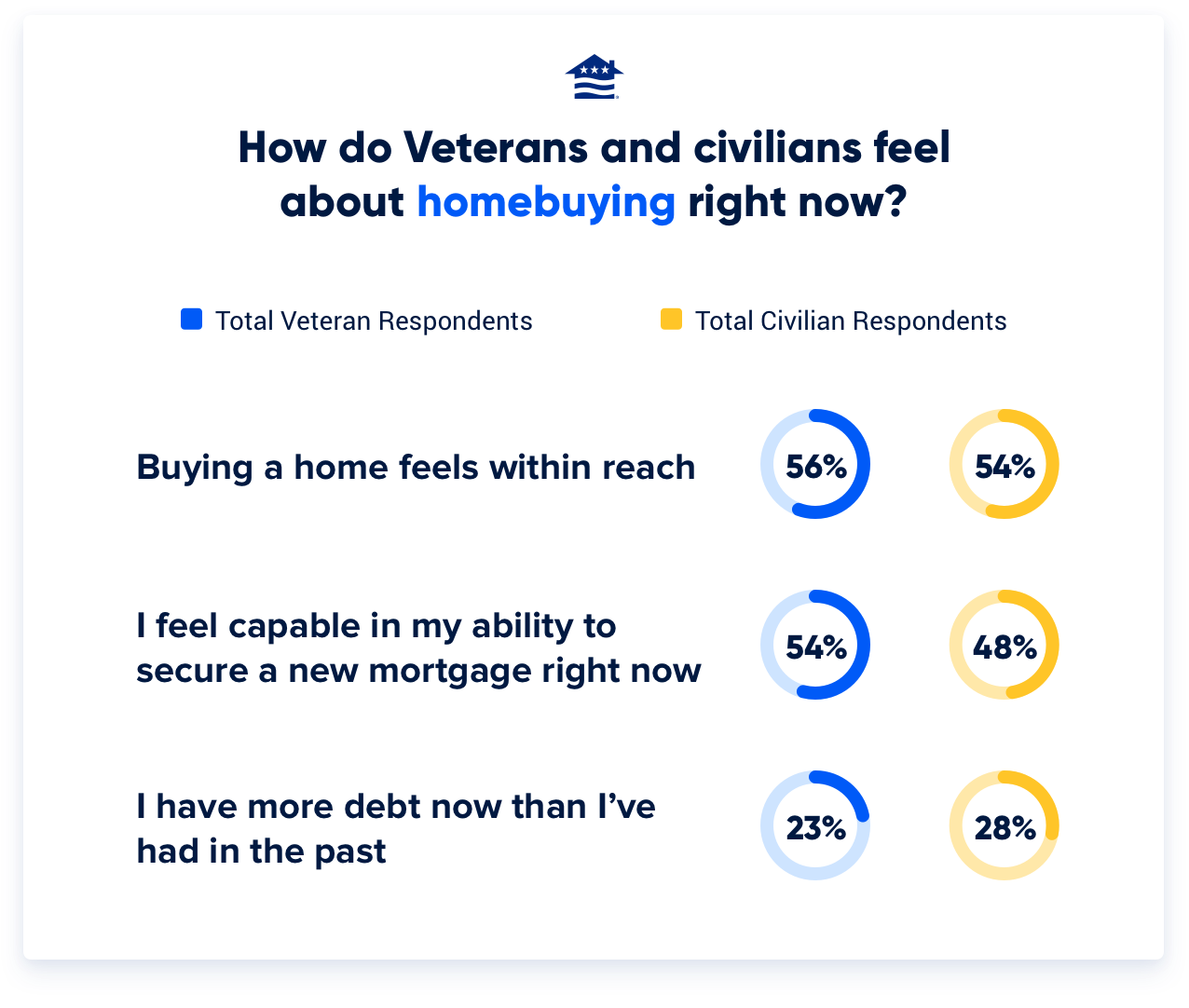 Civilians are also budgeting for a much lower mortgage payment than Veterans. Both groups were asked to estimate their total monthly payment for their planned home purchase, to include taxes and insurance.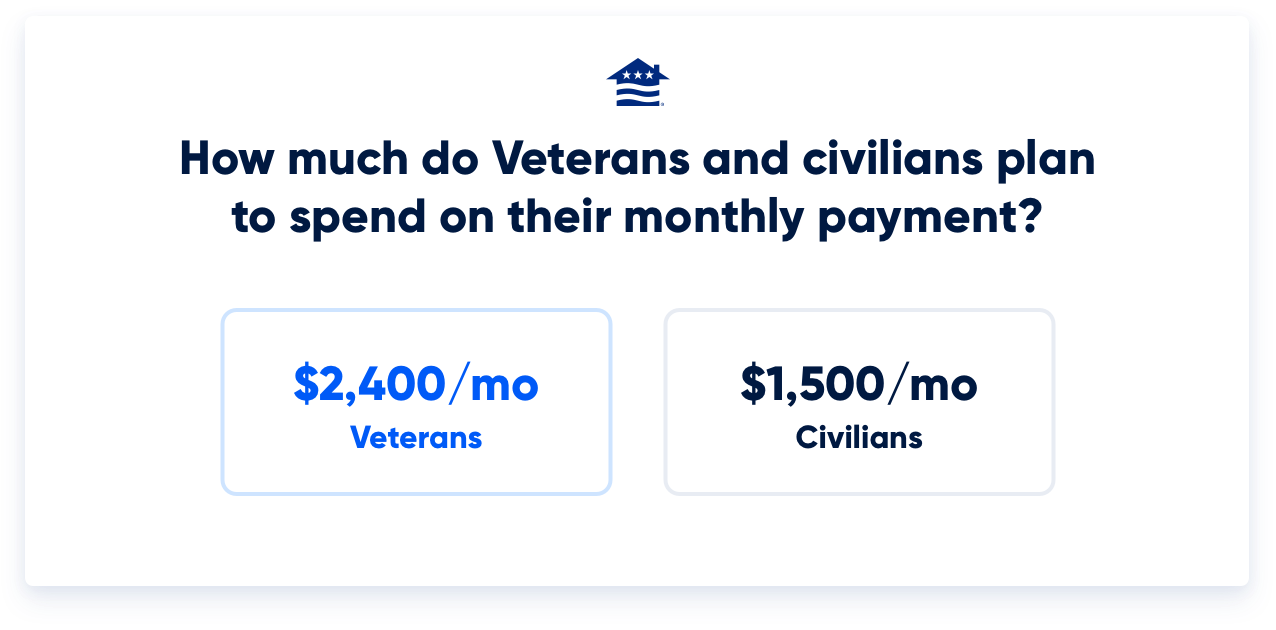 Part of what explains the optimism gap is that Veterans tend to have higher average household incomes and asset levels than civilians. They're also much more likely to be homeowners.
Among Veterans, there's a growing sense that the housing market is leveling off – not getting worse, but not yet tipping in their favor.
More Veterans Push Back Homebuying Timeline
Facing the prospect of higher rates for longer, significantly more Veterans are pushing back their homebuying timeline compared to the second quarter of this year.
The percentage of Veterans who said they plan to buy in the next four to six months fell dramatically quarter over quarter, with a corresponding jump among those saying the seven- to 12-month timeframe was more likely.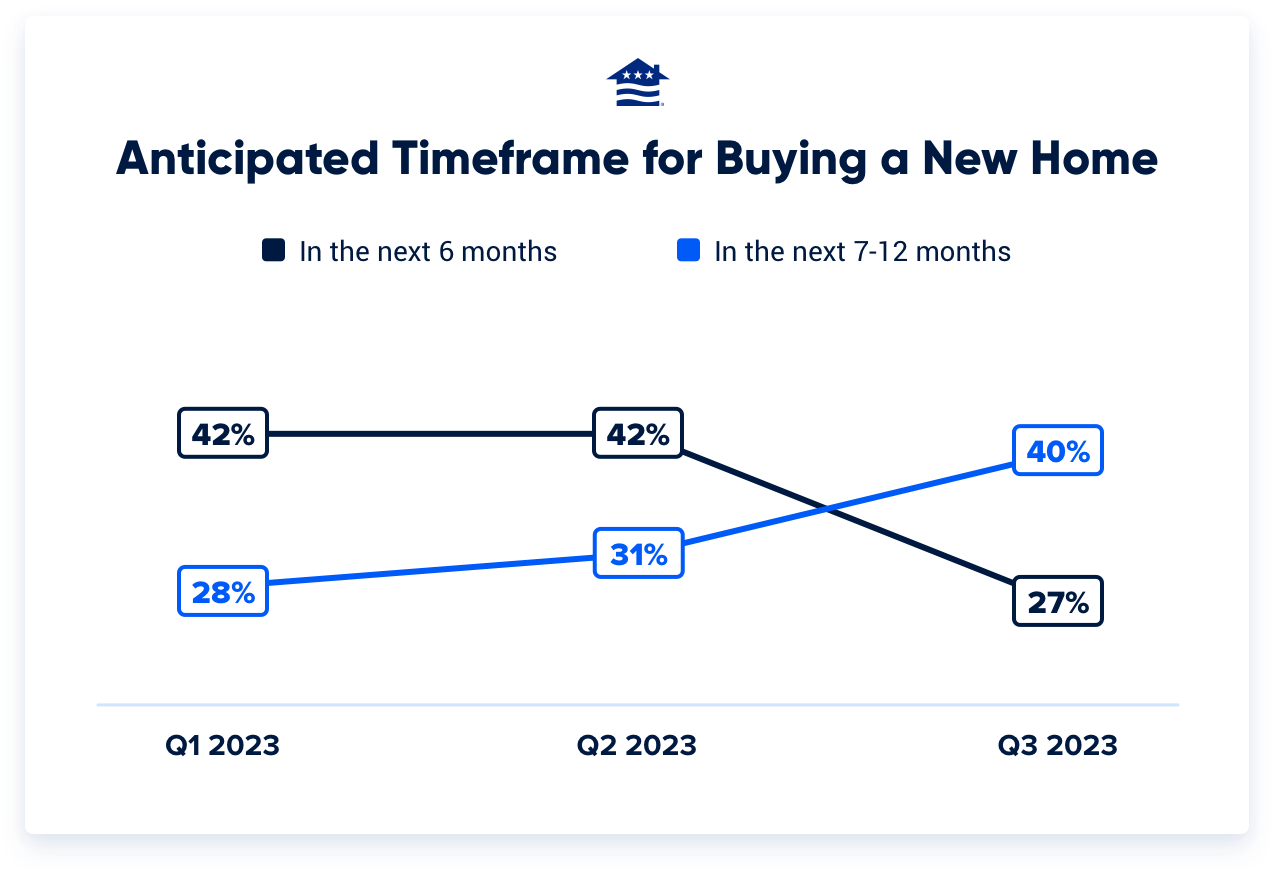 While higher home prices remain a top barrier to homebuying, higher mortgage rates are a rising concern for prospective Veteran buyers. In fact, higher rates and the shrinking homebuying power that follow are now the No. 1 barrier for most Veterans.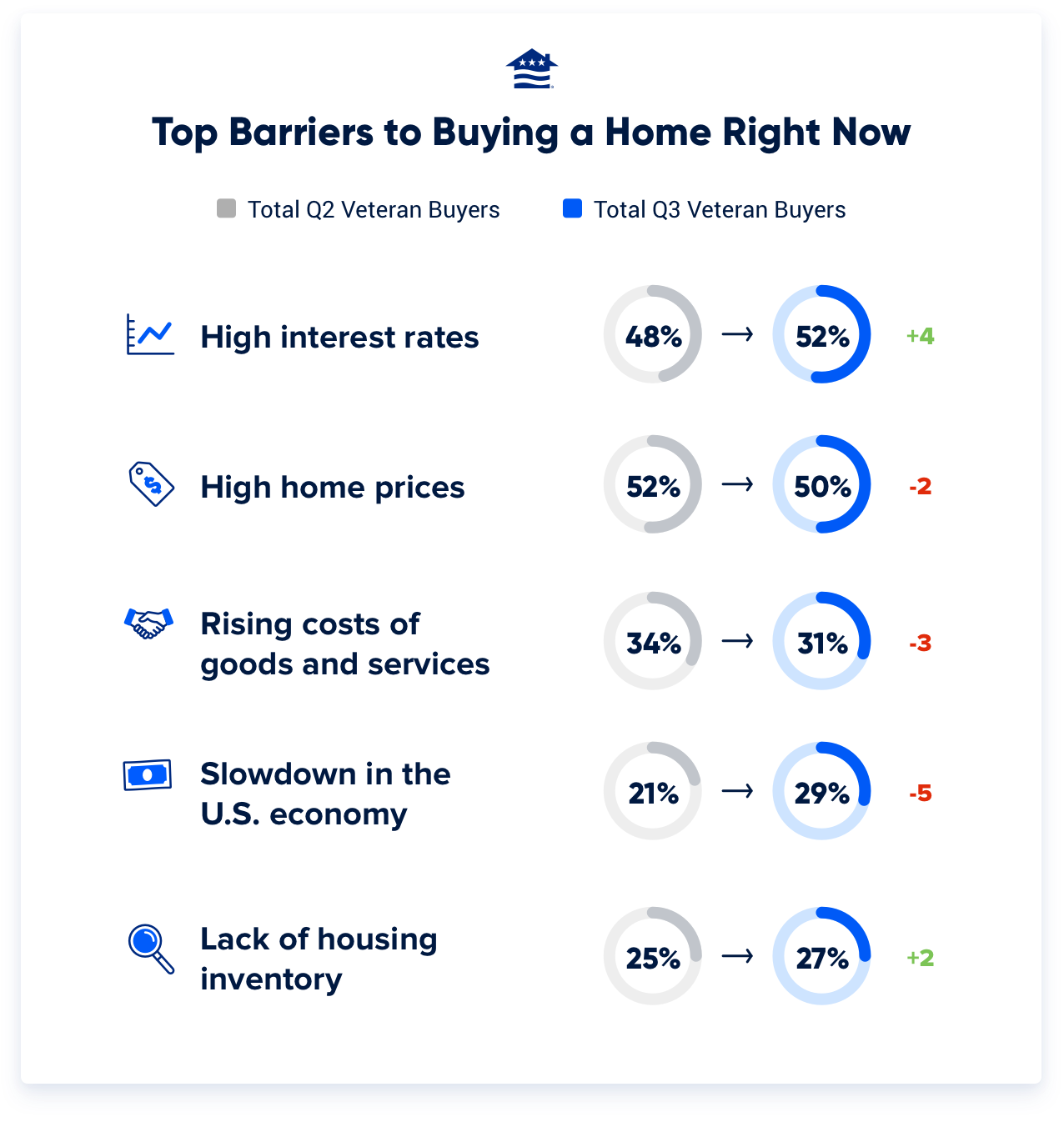 While it's still a middle-of-the-pack concern, the percentage of Veterans citing an economic slowdown has steadily increased as the year has progressed, from 18% of buyers in the first quarter and 21% in the second quarter to 29% in the third quarter.
Most Veterans Expect Mortgage Rates to Rise
More than half of Veterans (59%) expect interest rates to be much or somewhat higher over the next year. That's up slightly from the second quarter, but still more optimistic than Veterans were at the beginning of the year.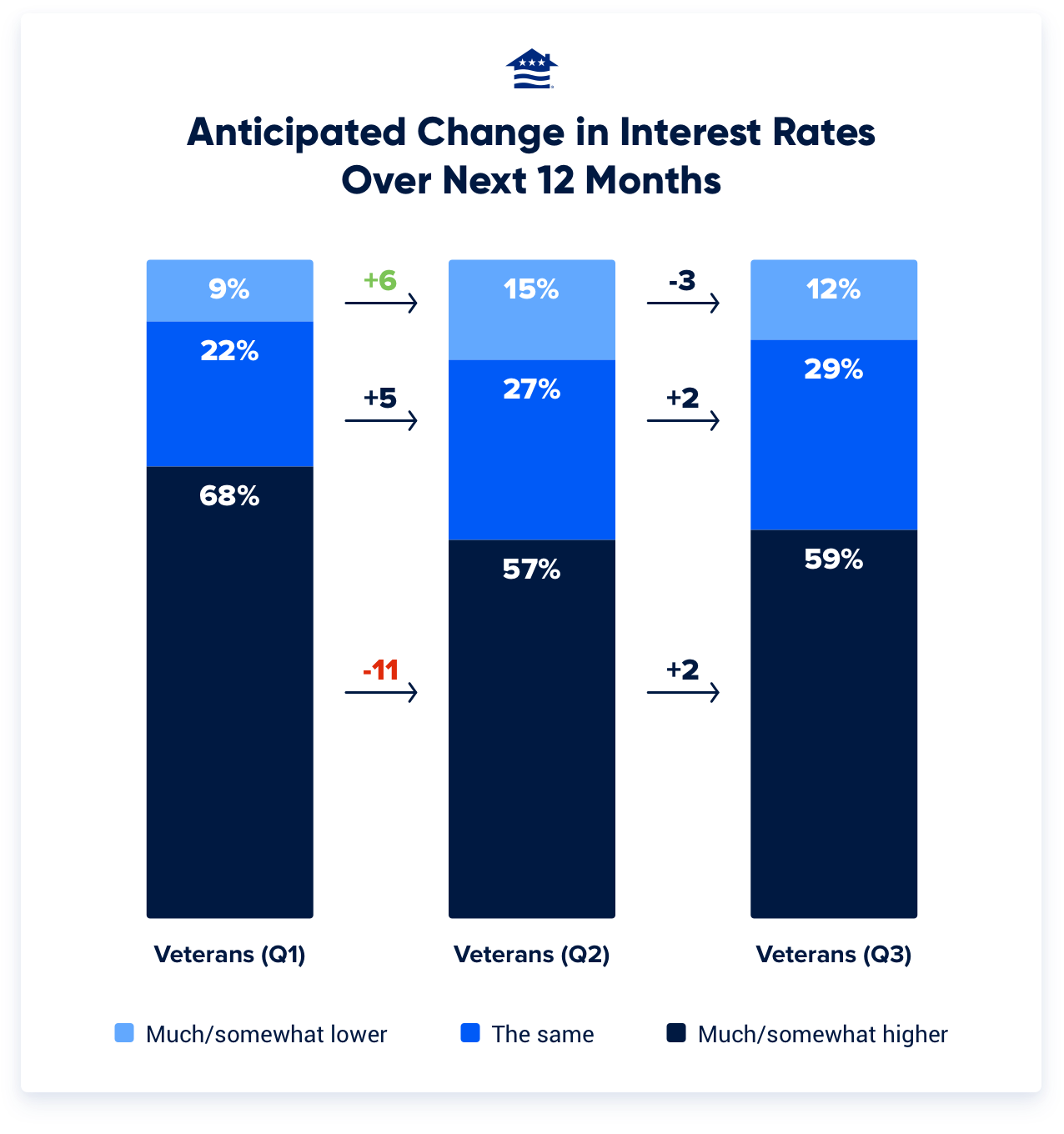 The survey also found would-be military buyers are checking mortgage rates slightly more frequently than they did in the second quarter. Regular rate-watching was more common earlier in the year, but still more than half are checking rates at least once a week.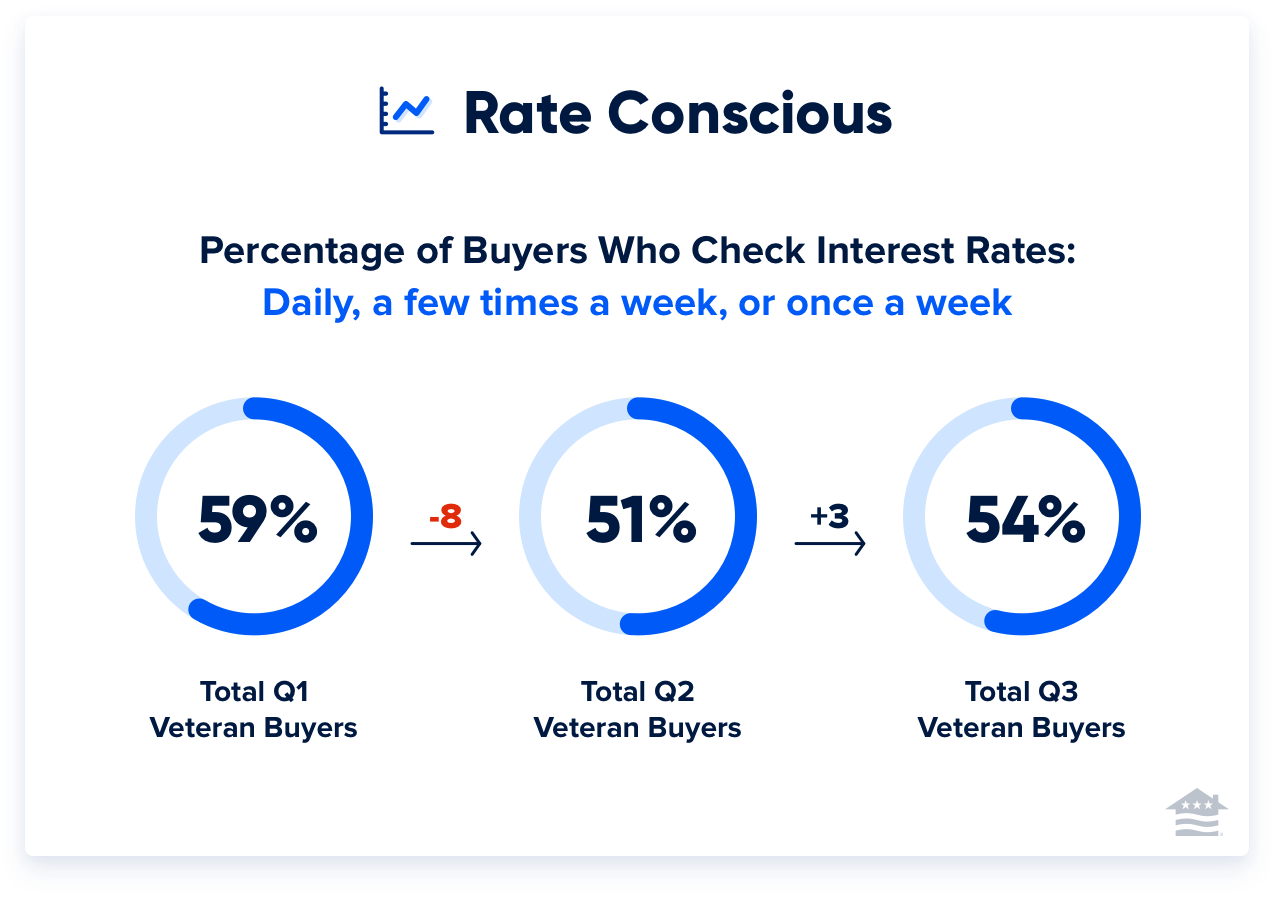 At the same time, the average for what Veterans would consider an acceptable mortgage rate ticked up slightly in the third quarter, to just under 4.5%. Only 1-in-5 Veterans consider a rate at or above 5% to be acceptable.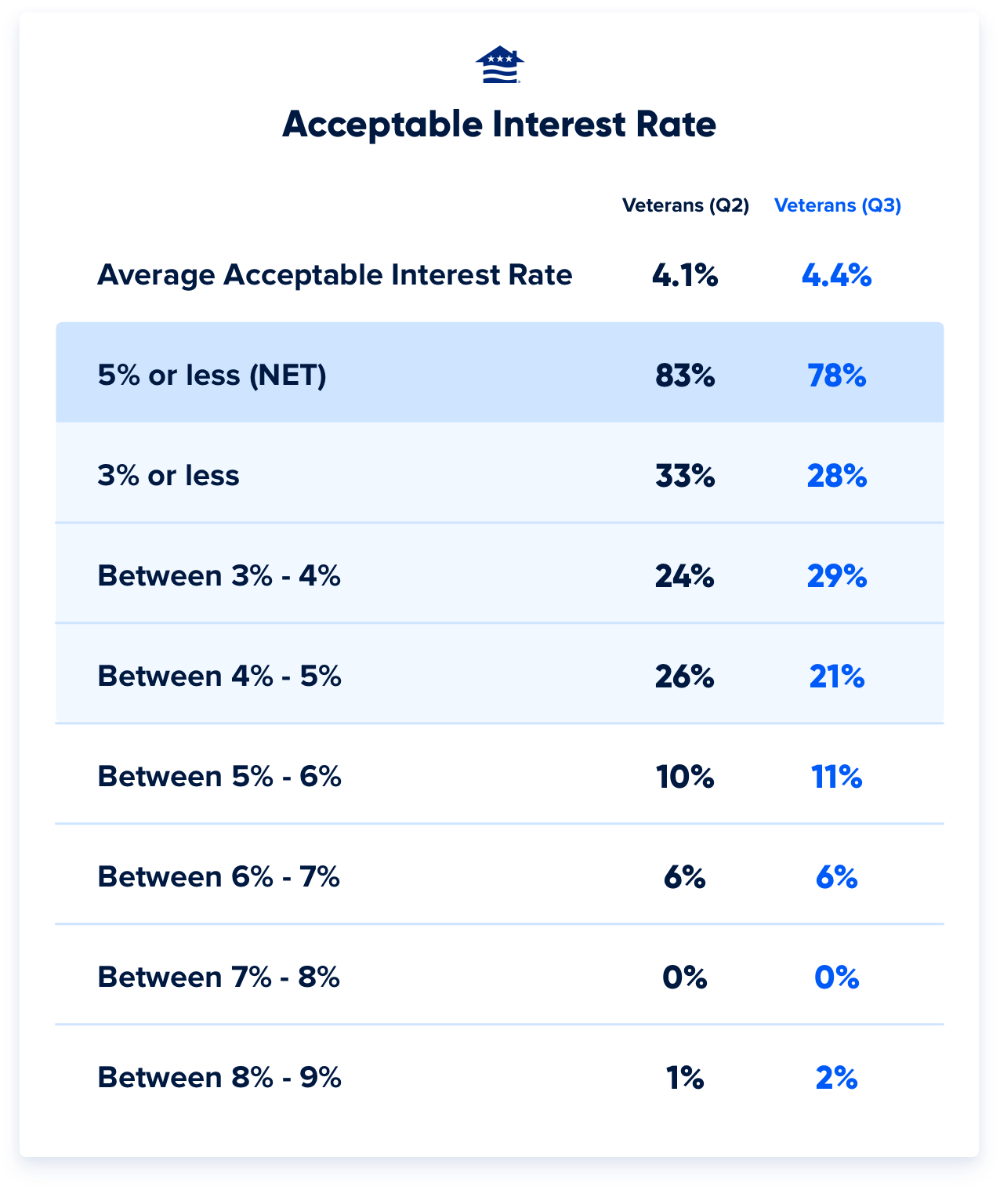 "While they certainly don't like where rates are, many Veterans have basically come to terms with the reality of today's rates," Birk said. "The challenge is that rising or stagnant home prices coupled with this rate environment continues to squeeze budgets and force some Veterans and service members to make tough choices."
Veterans Expect Economy to Dip
Facing a host of mixed signals, many Veterans are left wondering whether the economy has turned a corner and avoided a recession or is headed for a downturn.
Some of that uncertainty translates to more pessimism about where the economy will be a year from now. Still, most Veterans think their personal and the overall economic outlook will be about the same or better over the next 12 months.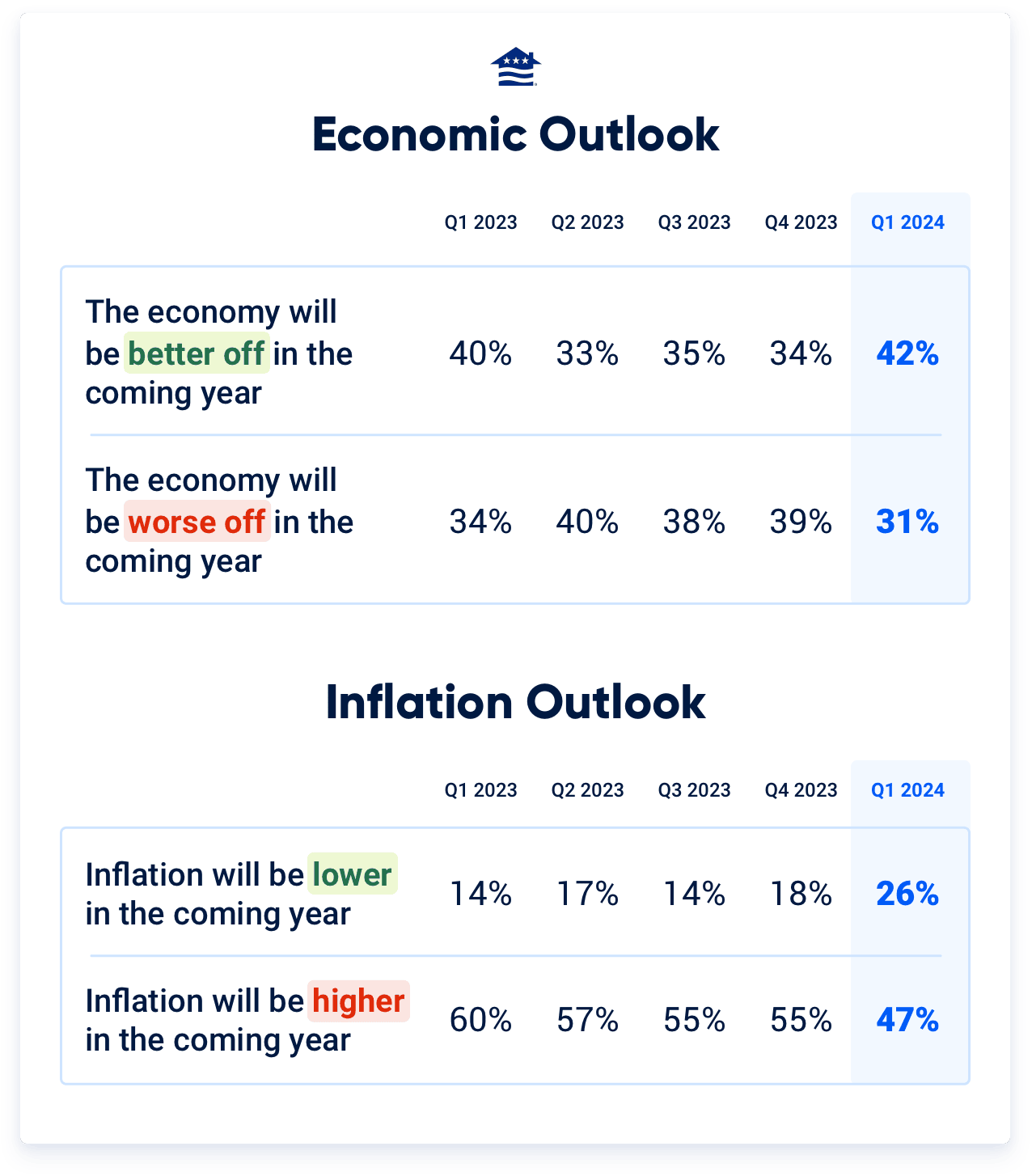 Perhaps unsurprisingly, interest rates and home prices continue to play a key role in shaping Veterans' perception of the health of the economy.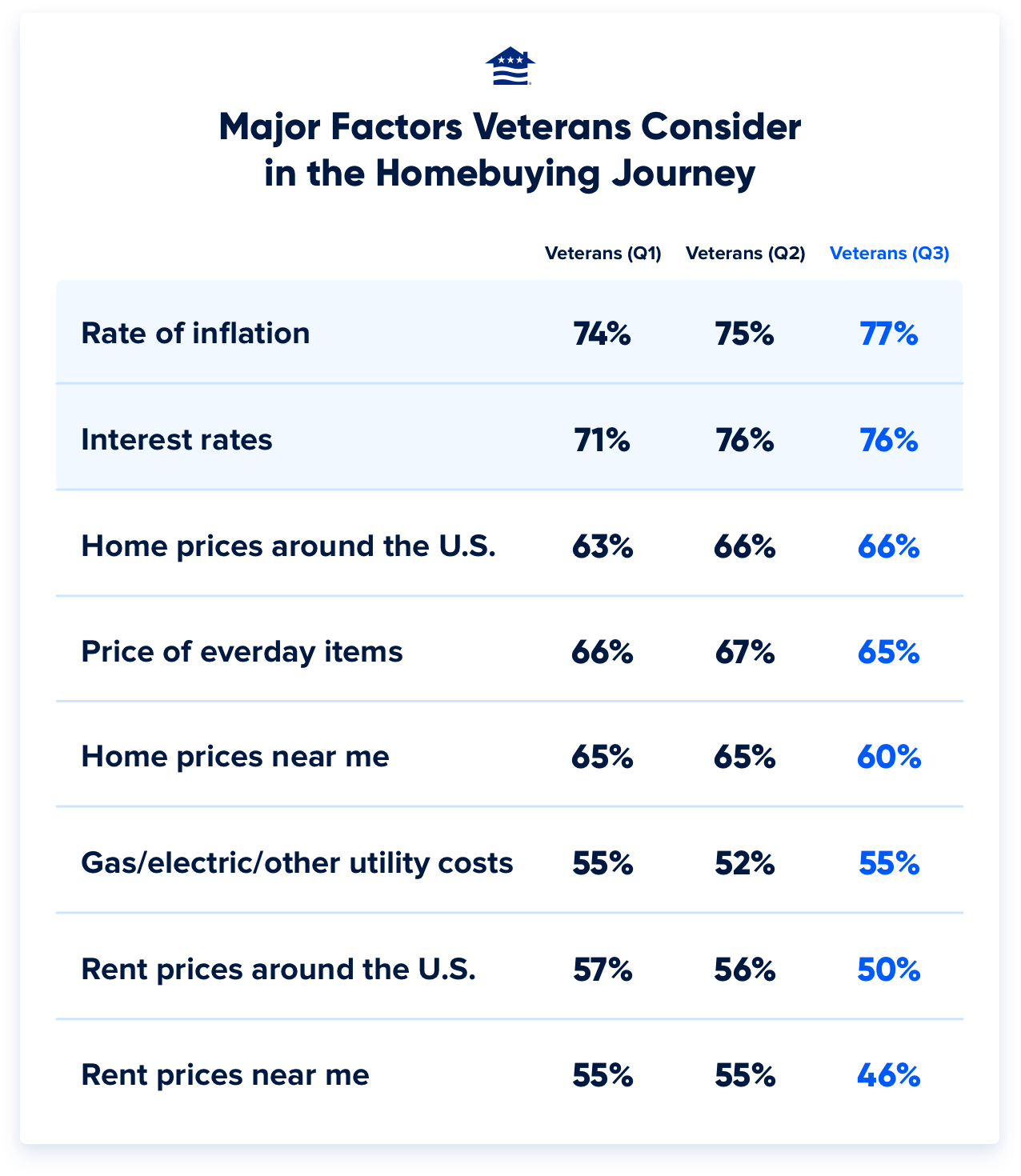 Despite the growing pessimism, most Veterans remain optimistic about homebuying and their personal financial trajectories. They also recognize that improvements like home price declines and inventory increases are likely to be slow moving.
There's an overarching sense that key factors (home prices, rates, inflation) aren't getting worse. But that doesn't mean they're good enough yet to spur widespread movement in the housing market for would-be Veteran and military buyers.
Methodology

On behalf of Veterans United, data and research firm Sparketing conducted an online survey of about 900 Veterans, service members and civilians from late August through mid-September 2023.
We surveyed service members from both the active and Reserve components, as well as Veterans.
For the purpose of this survey, active duty military are full-time members of the Armed Forces. The Reserve component includes drilling National Guardsmen and Reservists. Veterans are military members who have been discharged or retired from the service and no longer serve in uniform.
Past Reports
Data and insights for yearly Veteran Homebuyer Reports vary year to year to reflect the ever-changing environment impacting home purchases and the Veteran and military community. Study methodology and third-party research are also subject to change. Below are links to past annual reports: