Sitting on a sectional in his sunlit office in Los Angeles, Gary Sinise likes to tell stories that enliven the hundreds of framed photographs covering his walls and shelves. The longtime actor becomes especially animated when he leans forward to talk about four black and white photos — one of his grandfather from World War I, two others of his uncles in World War II, and one of his father, who served in the Navy during the Korean War.
His sentiment is fueled by more than nostalgia. Each of these men left a legacy of service, sacrifice and honor. Sinise, who grew up in Highland Park, Ill., continues to be shaped and inspired by their presence in his life. He fights back tears when describing his final days with his Uncle Jack, a navigator on a B-17 Bomber over Europe, who passed away recently at 90 years old.
As much as Sinise takes pride in his nearly 40-year acting career in film and television, he has put much of his heart and soul into another role. He is one of the leading advocates for the men and women who defend our nation through military service.
His commitment to the military community took on new focus in 2011 with the creation of the Gary Sinise Foundation, a unique nonprofit designed to meet the needs of service members, Veterans and their families.
In the midst of his charitable work, Sinise's acting career continues to thrive. His newest show, Criminal Minds: Beyond Borders, debuted in 2016. Brandon Hoops, a writer at Veterans United Home Loans, recently sat down with Sinise to talk about the evolution of his passion for helping Veterans.
Why Support Veterans?
BRANDON HOOPS: Your commitment to supporting Veterans was evident long before your role as Lieutenant Dan in "Forrest Gump." Why has this cause always been so important to you?
GARY SINISE: I have all these Veterans in my family. So it started there. Then I got more involved with supporting Veterans in the early 1980s through my wife's side of the family. Her two brothers served in the U.S. Army in Vietnam. I developed a lot of compassion and learned a lot as I got to know them and hear their stories.
This is what prompted me to start working with a group of Veterans in the Chicago area. I even did a play called "Tracers," written by Vietnam Veterans, through my theater company, Steppenwolf Theatre. I just wanted to do something for our Veterans.
Creation of the Gary Sinise Foundation
Brandon: So what led to the creation of the Gary Sinise Foundation?
Gary: After September 11th, my efforts ramped up, and I started to support a lot of different military charities. I volunteered to go overseas and visit our troops, entertaining with the USO and playing concerts. I was just trying to spread myself as far as I could to help organizations that were out there trying to make a difference for our service members.
Then in 2010, I began thinking 
about what's next — either pull back or ramp up.
It was clear to me that this was a very important part of my life. Service is a great healer, and I wanted to continue in some way. So starting my own foundation was the natural extension of all those years.
I'd built a fairly solid reputation raising awareness for, and supporting, all these other organizations, so I just thought, "Well, let's use that. Let's build on it and do more."
Brandon: And I've always been impressed by all the amazing things the Gary Sinise Foundation does in the military community.
Gary: A lot of the organizations out there focus on one thing, maybe two things. Since I had been involved in so many other military charities, with a variety of different missions, it was difficult for me to focus on just one thing.
I wanted to create a resource for the American people that would be a trusted and reliable 501(c)(3) for donating to and supporting Veterans. We've got some great partners and great donors, and we're involved in giving back in as many ways as possible to Veterans and military families.
We want to put our hands on individuals and individual families and make sure that we can stop folks from falling through the cracks, if possible. We've tried to do this without doing more than we can handle as a small foundation. We want to make sure that we're not extending ourselves too far and that we can get the biggest bang for the buck.
We started with one donor. Now, we have over 25,000. We've expanded our funding base without trying to grow too fast, and, with a dedicated team, we focus our efforts without taking on more than we can manage. We try to do what we can as efficiently and wisely as possible. I always tell everybody around here that we're simply the conduit for the American people, and we're simply the guardians of their giving. We channel their giving and their goodwill into the right places. And we can do a lot with the resources they give us.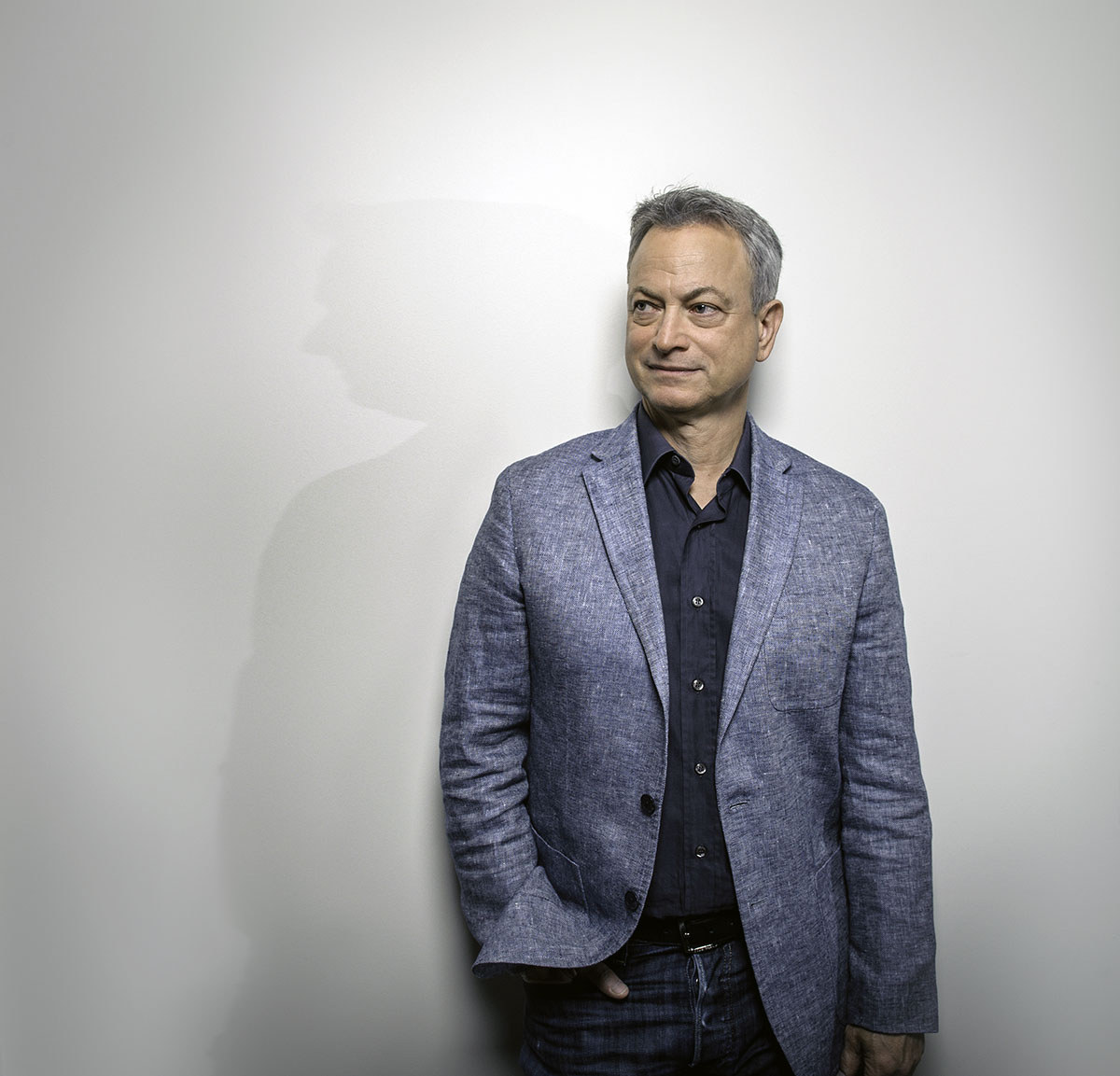 Building Homes for Wounded Veterans
Brandon: One of your more prominent efforts is building homes for wounded Veterans nationwide. How did that get started?
Gary: Well, my efforts with homebuilding started after one of our soldiers, Brendan Marrocco, was injured in Iraq in 2009. I met him shortly afterwards on one of my visits to Walter Reed Army Medical Center.
But let me back up to 2004, and talk about a program called Operation Iraqi Children, which I started with Laura Hillenbrand, the author of "Seabiscuit" and "Unbroken."
Laura and I got connected in 2003 when she was trying to get Arabic translations of her book "Seabiscuit" finished. I was collecting school supplies and sending them to Iraq because I had visited some schools over there, and I saw the kids didn't have anything. I thought maybe the soldiers could bond with these kids better if they were able to hand out these supplies. It's like the GIs giving out bubble gum and candy bars during World War II. By early 2004 we teamed up and started Operation Iraqi Children to ship school supplies over to the troops.
In 2007, I began partnering with Jim Palmersheim and American Airlines Veterans Initiatives. And in April 2009, we set up a flight with 22 tons of school supplies to go over to Iraq. I couldn't be on that trip because I was shooting "CSI: New York," but I sent a few other friends along. On their way back they went to Landstuhl Medical Center in Germany to visit some of our wounded troops there. One of them was Brendan Marrocco, who had just been wounded. He lost both his arms and both his legs.
It just so happened that I had a trip to Walter Reed scheduled in a couple of weeks, and Palmersheim knew that. He called me up and said, "We're on our way back from the trip, and there's a quadruple amputee over here. He's on his way to Walter Reed. I know you're going there. I just wanted to make you aware." So I went and saw Brendan about a week after he got there.
Fast-forward a little. I'm in Queens, outside of Citi Field shooting "CSI: New York." I know the commissioner of the Fire Department of New York, Sal Casino.
He shows up on my set. He brings some guys with and he says, "I want to tell you about this Staten Island soldier who lost his arms and legs. We want to build a house for him." I said, "I know who you're talking about. I just saw him recently at the hospital." He said, "Will you do a concert to help raise money to build him a house?"
That's how I got into home building. Sadly, while we were getting ready to do that concert, a second quadruple amputee, Marine Cpl. Todd Nicely, arrived at the hospital, and I said to the guys, "Let's do another concert to raise some more money to build another house." So we did a concert in St. Louis for Todd. Then John Peck, another Marine, came back without legs and later lost his arms. So we raised some more money and built a third house, and that's how we got into the homebuilding project.
Eventually, the Gary Sinise Foundation created the R.I.S.E. Program (Restoring Independence, Supporting Empowerment) to provide specially adapted smart homes, home modifications, mobility devices and adapted vehicles to America's most severely wounded heroes and their families. In all, we've been involved in building over 40 houses so far.
Working With Veterans United
Brandon: You partner with so many foundations, and we've been honored to join you at some of those benefit concerts. Why do you like to partner with Veterans United Foundation?
Gary: Well, the organizations that I'm involved with are top-notch. They get the job done, and they do it properly. They do it well, and they care.
Veterans United Foundation does that. They've been a good supporter of ours and, in turn, if somebody's going to help me help our troops, I'm going to help them help our troops. Veterans United is one of those organizations that does that without question. That's your job, and that's what you do. I'm proud to be a supporter of your organization.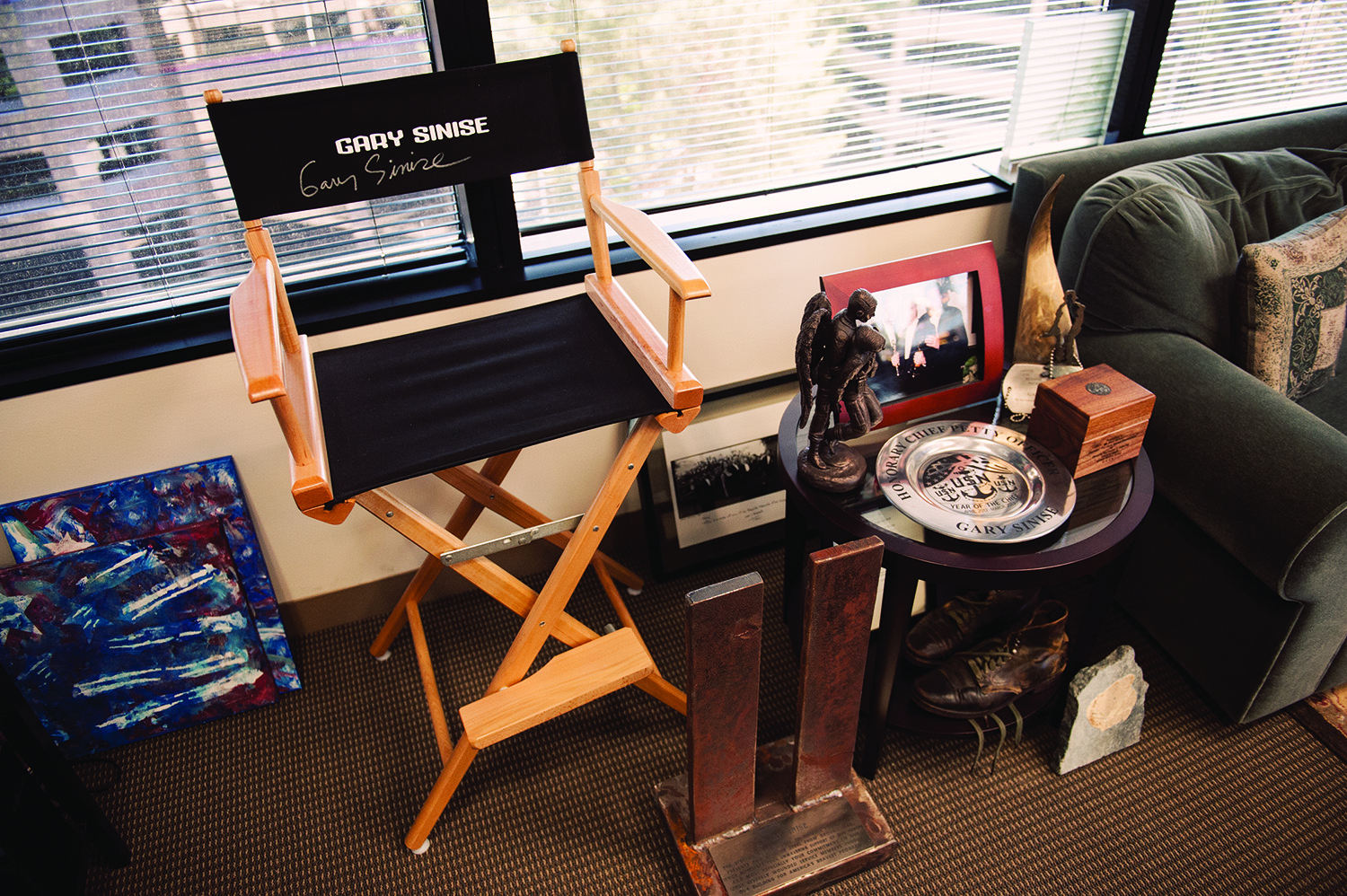 Comparisons to Bob Hope
Brandon: In the military community, you cannot mention the name "Gary Sinise" without positive remarks and admiration for what you do and how well you do it. I've even heard it said: "Gary Sinise is today's Bob Hope." How do you feel when you hear all that?
Gary: I don't know. Holy cow. Bob Hope has battleships named after him as well as airplanes, health centers and airports. But it's always good to hear positive comments about our efforts.
When I said, "Here is what I want to do," I knew I'd be scrutinized for the way we do things, maybe in ways someone who is not a public figure might not be. Everything we do is done properly and with the greatest care. I wanted to provide a reliable non-government organization for the American people to support our military men and women, and my team is dedicated to that mission.
I always want to be somebody that our military trusts and that they know that we're in it for the right reasons. I have to make sure that we do it the right way. I want our Soldiers, Airmen, Marines, Sailors, Guardsmen — everybody who serves our country — to know that we're here for them for the right reasons and for nothing less than to say, "Thank you," and to give back and show some appreciation.
Brandon: You've achieved a great deal of success in your career, and it seems like you value using your influence to give back.
Gary: To be honest, I never thought I'd play a part in a movie that I'd live with for over 20 years.
I didn't know when I played Lieutenant Dan it would have such a lasting effect in supporting our military. And we didn't know we would be attacked on September 11th and that a new generation of real life Lieutenant Dans would be coming back from Afghanistan and Iraq. It's possible that I would have started a foundation anyway, but it's also possible that I may not have.
I felt called to do this — to use whatever I could in my life and my ability to support the men and women who put their lives on the line after that terrible day and that terrible tragedy.
Brandon: Is there something that has been particularly rewarding from all the things you've done over your career?
Gary: Gosh. My wife and I have been together for 40 years. I'm proud that we've made it through some very challenging times. We have three beautiful, wonderful kids, and I'm very proud of them.
God has just blessed me up and down, all over the place, and I just feel the need to pay back for a lot of that.
Future of Gary Sinise Foundation
Brandon: You recently celebrated the fifth anniversary of the Gary Sinise Foundation. What do you envision for the next 5-10 years?
Gary: As long as there's a need in the military community, I think there will always be a need for non-government organizations to step up. So we will continue to be there, just reacting and responding to where the needs are and trying to meet those needs.
If I can create something over the next 10 or 20 years that can last well into the future and be there for our Veterans, and for our defenders, as that reliable resource for the American people to trust and put their support behind, then I'll have done something good in my life.
Brandon: What are some of the experiences from the past five years that stick out in your mind?
Gary: One of our recently developed programs is called Soaring Valor. It came about because I have this relationship with the National World War II Museum. I am the voice of Ernie Pyle in a movie that is shown there called "Beyond All Boundaries." After I went to see the museum for the first time, I called my Uncle Jack, a World War II Veteran, and said, "You have to go to New Orleans to see this museum. It's your museum."
So I set up a trip for my Uncle Jack, my parents and a few of my family members. While they were there, I arranged for the museum to record my Uncle Jack on video, so he could tell his story of being a navigator on a B-17.
When he died, I called the museum and asked for a copy of the DVD of his interview that's preserved there. I watched it, and I got all choked up. I thought, how wonderful it is that my uncle got to go see this National Hall of Honor, which is for him and his fellow Veterans.
After watching that DVD, I called the co-founder of the museum, Dr. Nick Mueller, and proposed the idea of funding one of their historians to travel around the country and videotape World War II Veterans for the library at the museum. They've probably recorded close to 200 Veterans so far.
But equally, if not more importantly, I want to get our World War II Veterans to see their museum. So, I proposed the idea of a program that we would fund and went to my partners at American Airlines, and we teamed up to create this wonderful Soaring Valor program.
Brandon: It sounds like your Uncle Jack is a special person.
Gary: I spent a lot of great time with my Uncle Jack the last 12 years of his life, just taking him to events and making him the star at different events. He was so wonderful.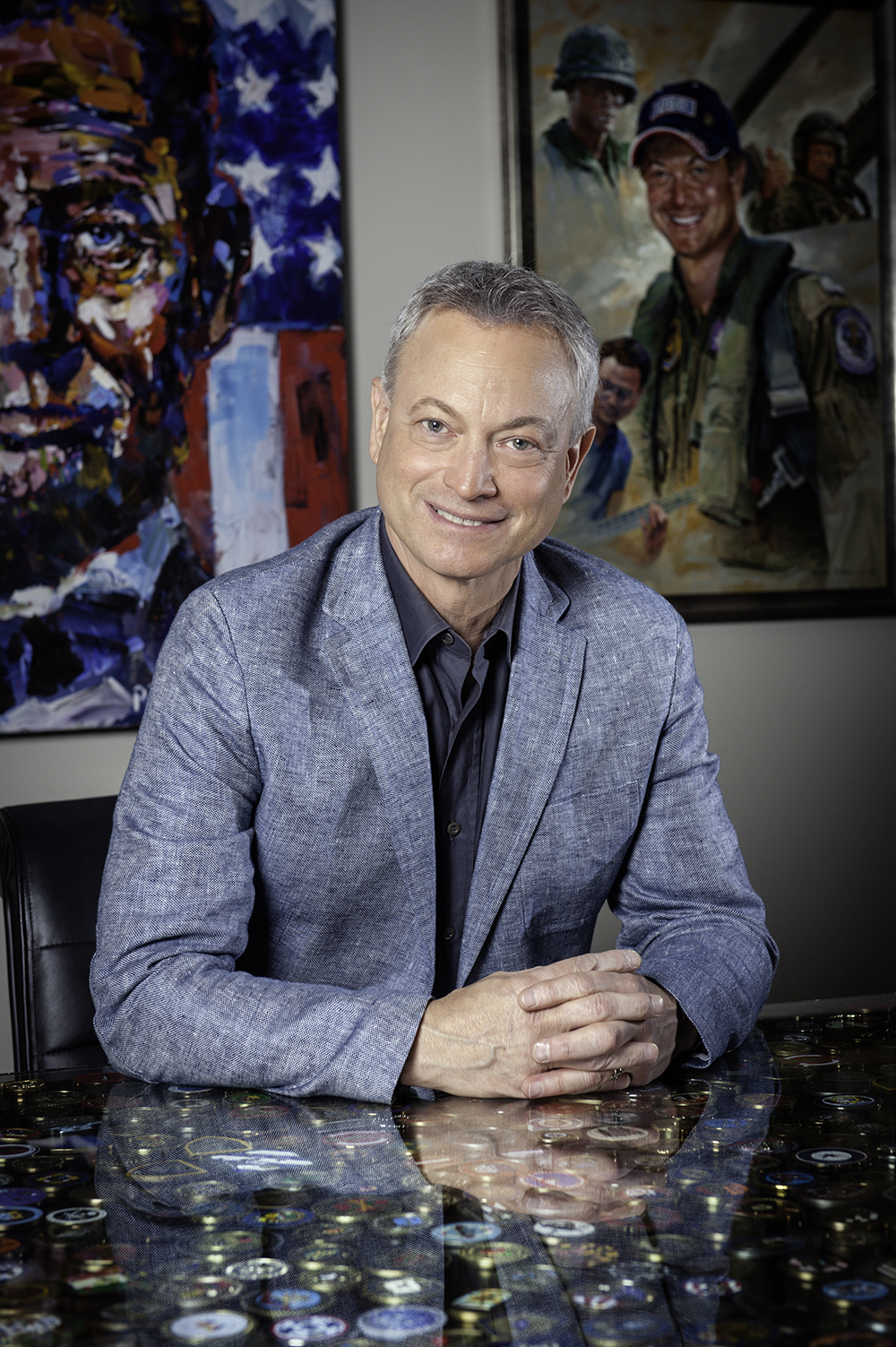 World War II Museum
Brandon: Your passion is really evident when you talk about the World War II museum.
Gary: I think every American, every young person in this country should visit that museum. I mean you can go to the monuments in Washington, D.C., and you can see all that, very moving of course, but when you walk through the museum, with the history of World War II and what happened is right in front of you — 80 million people in a five-year period, gone — it's devastating, sobering and powerful. That was the most destructive war in the history of mankind.
There was a very thin line between freedom and tyranny. The men and women who fought that war preserved freedom for the world and gave us the opportunity to do something positive with it.
As Ronald Reagan said, every generation has to protect it. It's one generation away from extinction. Unfortunately, I feel like this 21st century is going to face another catastrophic, cataclysmic power struggle between freedom and tyranny, and we're going to have to stand up again. The cost of freedom, the value of freedom, and the need to defend it and stand up for it, is something we need to pass on to the next generation.
How to Get Involved
Brandon: People might hear your story and want to get involved. How would you encourage someone who wants to support our Veterans in some way?
Gary: The first thing I always say is there are a lot of national organizations that are doing good things, but there are Veterans in every neighborhood and community around this country. That's where I would start.
Just look in your own neighborhood. Look in your own community, your own town, your own city, your own state. If every neighborhood took care of their local Veterans and stepped up and met the needs of the people that have defended the country, it'd make a difference.
There's a big need out there. There are millions of Veterans all across the country. The 21st century is going to be very dangerous. We're going to be calling on our military over and over again. They're going to keep getting hurt. We're going to keep losing them.
Families are going to still lose fathers and mothers, brothers and sisters, sons and daughters. Step up and pat them on the back. See if you can extend your hand in your own neighborhood.
Then, if you feel inspired to support national organizations, go to GarySiniseFoundation.org and look at what we're doing.