The Veterans United Website and portal was simple and allowed us to be able to easily upload documents required during our loan approval process.




stop and shop no more this is the place that will get you what you need to make all your dream come true.veteran united home loans, the best people that work as a team to make sure you are aware of the process and they stay in touch with you , they return your calls , answer your questions and practically hold your hand as you walk from beginning to becoming a satisfied home owner. real talk! they have figured out what you need and how to get it for you , its all they do veterans, ask for Aaron Madrid! I guarantee you will not be disappointed they go the extra mile. matching you with a realtor if you do not have one! whaaat!? who does that? i am telling you they can handle all your needs and they do! it was the best call I every made. listen nobody paid me to say this! i'm so grateful for what they did for me i'm telling everybody!
mr john brown a happy,satisfied home owner thank you! veterans united home loans and Aaron madrid.


Overall I had a good experience and would recommend to others. However the Va needs to be more upfront with some of the documents that they need and not spring them on the buyer at the last minute. That was the most frustrating part of the whole process. Underwriter issues could have went smoother

If you want a loan team that makes the process pain-free and enjoyable, you cannot go wrong with Veterans United.






They helped make our dreams come true by walking us through the steps needed to buy our new home.

I am happy with Veteran's United overall. I encountered two problems when I worked with them. First, at around time of the appraisal, VU slowed communication and did not relay some of the things going on and what to expect. This was disappointing. The second was the delay in closing (which seems to have to do with the former). This was a delay from Friday to Monday. Again, VU put us into our home, so big picture they are excellent.

10+, graders If you work with Mike you'll be pleased anybody this was a great experience




I highly recommend Veterans United as a lender of choice! I didn't realize that I would have an entire army of wonderful people looking out for me, this made me feel real at ease throughout the entire loan process! God bless you guys for all that you did for me, appreciate it.

You're next!
Join the ranks of our 200,000+ Proud Veteran Homeowners nationwide.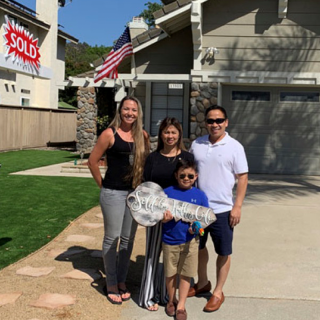 When we first met Travis Ward, he was just a loan officer. After a few months of interaction with Travis, he became our trusted friend. Travis is warm and articulates. He knows his product very well. He took his time to explain all of our questions within 24 hours. Besides those outstanding attributes, what stand out the most about Travis are he is very patient and his ability to listen to our questions/concerns, he waited for us to finish our questions completely before he responds. Travis never once (never) jumped in the middle of our sentences. We would definitely refer him to our friends and family members for VA home loan. It would be a mistake should Veterans United not to retain his service nor inadequately compensate base on his outstanding skills, personal and professionalism!! Warm Regards,Khoa, Susan and Nhat Huy (from San Diego, CA)





He was available every day followed through with every thing he said his team could accomplish!! He had a solution for every problem! Some one on his team was available through email or phone to answer any questions I had through the entire process!! I would recommend this team and company to all veterans looking to purchase a home that qualifies!!