From start to finish, the VU team provided excellent service and I couldn't have done it without them.


I can not go without praising all the team members whom were also very knowledgeable and helped me as well. Chris, Sharee, and all the other team members that called me and gave me the confidence that I would soon be a home owner. Forgive me if I did not call your name explicitly but you should know; you played a major part in making my dream a reality. Thanks so much to all of you.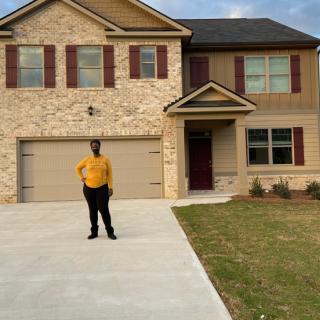 Working with Veterans United was such a huge blessing! I got introduced to Ryan back in May when initially trying to pre-approve for a home. I was in the process of moving back home due to the pandemic so I was jobless and without a steady income. The only income I had was disability and at the time it wasn't enough to qualify. Ryan told me what I needed to qualify and within weeks (nothing but God!) I was at 100% disability. This and only this allowed me to pre-qualify. Ryan was with me the whole time. He told me about my credit and what to do to maintain the score. His team of people was great and held my hand. Sidebar: This is my first home and though it's a blessing to receive disability, I had to go through some things to be awarded it. Nevertheless, a furloughed job, living with my parents, and collecting unemployment for close to a year was all worth the wait of walking into a newly built home. Thank you, Ryan and your awesome team for giving me a place of refuge and peace.

Brittney Whipps is a must to work with on Financing or Refinancing your home. She is professional and pleasant to work with in all aspects of home loans.Thanks
Shayne Fitch

This is my third experience with Veterans United and it was as always a pleasure and not a painful process as has been my experience with other lenders. I highly recommend VU if you are looking for a VA backed loan.




Ready to see for yourself?
Experience first-hand why 180,307 homeowners give us a perfect score!
Check My Eligibility →


Miguel and his team at the San Antonio Veterans United location were nothing less than outstanding! They were quick to answer all questions and walked us step by step during our refinance process. Miguel and his team blew me away with their amazing assistance and would recommend everyone to consider them as their first option if in the market to buy, sell, or refinance a house!!! Thank you for your outstanding help!!




I will do business with Veterans united and Sam's team again in the near future!




Ready to see for yourself?
Experience first-hand why 180,307 homeowners give us a perfect score!
Check My Eligibility →





I had issues with changing of the dates from Nov to Dec and finally January. Wish they would've been more honest with me on the dates.


Veteran's United is THE PLACE to get a mortgage or refinance if you're a vet. They know the business and are respectful to you the buyer. We originally had a lovely reality team when we were thinking of moving out of state; but we found that working with a team that primarily works with veterans provides additional benefits. Using them is the only choice!


I have used Veterans United to purchase several homes and to refinance existing mortgages. I received prompt professional service and updates on the loan process. Everything was explained during the loan and signing process. As a Veteran and Real Estate Broker myself I know professional service when I see it which is what I expect. Signing document for hundreds of thousand of dollars for 30 years can make a person uncomfortable to say the least. A company such as Veterans United understands what we have endured during our service to the country. They will walk you through the loan process as quickly and professionally as possible ( SFC Carter US Army Special Forces Retired)