At first we had a different agent that VU referred us to, Jenni Goodin. It was almost impossible to get ahold of her and she cost us a chance at a potential property (which in the end worked out in our favor). After we drove in to Kansas City from Saint Louis and took time off of work, she never got back to us about scheduling viewings of other houses that we wanted to see. Then after a day and a half of trying to get ahold of her she finally sent us the following message (verbatim):"I spent a lot of time trying to weigh this out Darren and I feel like with the housing market like it is there's not very many available homes in any town that you and Samantha are looking at I don't mind doing Richmond Polo possibly Cameron but I cannot do Edgerton or Cleveland. ¿what's the price of gas going up it is 70 miles one way to Cleveland and pretty much the same to Edgerton from Richmond I don't want to stop you folks or hold you up any longer .¿I don't think that will allow me to do just part and another agent to do part I've never really experienced that with them.¿I'm going to email your veterans United team.¿¿I apologize and I thank you for your patience ¿¿"I would give this agent a 1/10 and WOULD NOT RECOMMEND her to ANYONE. The agent we eventually got (Terry Burks) is from Lee's Summit, MO which is ~50 miles away from our new home and was more than willing to come out as needed while Jenni is from the same town as the new home. Also, we would have understood if she had only told us that some of those houses that we had listed were outside of the range that she would work in, but she never communicated any of that with us as it she would not respond to any communication for hours/days.


Would definitely recommend, thanks again!


Last home I purchased was nearly 9 years ago and to say a lot has changed since then is an understatement. I was very impressed at the fluidity of the process, especially being able to sign documents from my phone if I was busy. Questions were answered promptly and in a manner I was better to understand. I would highly recommend VU and wished I would have gone through them the first time I bought a home.

The process was pretty easy, however, the fact that it took almost 90 days to refinance my home was frustrating.

Doing business with Veterans United Home Loans was a pleasure more than it was a task. The reason why is because: The Home Loan Specialist, Brian Bradley and Loan Coordinator, Lee Ann Jestis made me comfortable and trusting through their online and phone voice demeanor. I felt like I was being guided through the process not only by longtime friends, but even more so by caring siblings. The communication with both was not just professional but it was genuinely warm. You can feel the love and concern for helping fellow Veterans through the way in which these two helped to smooth the bumps along the way. In all of my nearly 70 years I never remember dealing with anyone in a financial capacity that I could connect so well with through a process of doing business. They both deserve some kind of a National Medal of Honor for helping fellow Veterans! What I can add to this is that Brian Bradley is someone that I could easily hang out with on my new front porch while my wife goes shopping with Lee Ann Jestis. As a Vietnam Era Veteran it finally feels like I am being welcomed home.

The team I had at Veterans United prepared me to qualify fo and ultimately close on my home loan expeditiously and to a better end than I ever expected!! A very talented and knowledgeable team was assigned to me. I couldn't be happier!!S. Alex Todd, II
Staff Sergeant (Retired), US Army

Overall great experience with Veterans United

Underwriting held up our closing date by not asking for items they needed soon enough. This put everyone in a bind forcing us to change utility start dates as well as delaying our move in date by almost 2 weeks. I was very dissatisfied by this part of the process.

You're next!
Join the ranks of our 200,000+ Proud Veteran Homeowners nationwide.
Craig and team made refinancing super easy and I really appreciated the organization of the website and getting my documents in order.



Outstanding customer service throughout the whole process







You're next!
Join the ranks of our 200,000+ Proud Veteran Homeowners nationwide.
I'd highly recommend Veterans United and David's team.

Very easy process! I just provided the info they needed and they did all the heavy lifting.


I highly recommend ur company to my friends and family. The best experience ever. Thank you so very much.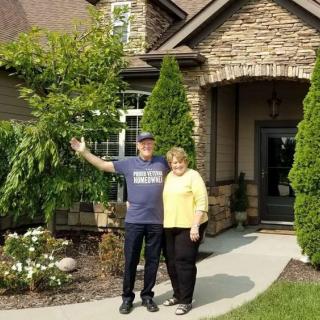 Our VA mortgage we obtained through Veterans United was the most efficient and effective mortgage we've ever experienced in over 40 years of mortgaging homes both while in the military and since retiring. We attribute this extremely positive experience to the professional and technical expertise of Steve Kincheloe and his team of mortgage professionals. We would strongly recommend Veterans United and Steve Kincheloe anytime someone is purchasing a home or refinancing their current residence.

A great experience!