This was the most efficient process to purchase a home. Thank you!


For me personally, I don't think I could have had a better experience with anyone else throughout the entire process.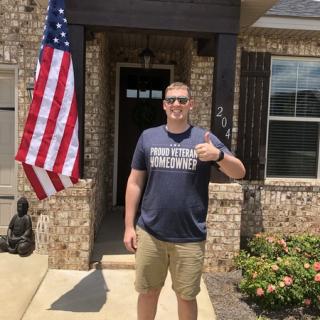 I was stuck deciding between two different lenders. I ultimately decided on Veterans United because my lender, Aaron was super friendly and the website was also very user friendly to upload and sign documents off of. Also, they offered me a credit on closing costs for using my realtor. Great people!

I was dreading the home buying process, but Veterans United made it so easy. We would not have our home today if it were not for there dedication and excellent customer service.



From beginning to end, we are so pleased with our experience working with Veteran's United! Considering how stressful closing on a home can be, this team worked really hard to keep us abreast on every step of the process. They were also very quick to respond to all of our questions, concerns & requests. They also sent a very sweet personalized house warming gift - which was totally unexpected & very sweet! We would highly recommend veteran's United & will certainly use them in the future!Also I should mention - My grandparents used Veterans United for their first home, had a wonderful experience & closed one 21 days. They are currently in the process of closing on another home but used a different lender this time around - what a HUGE mistake they made to go with anyone other than Veterans United! They are a week past their initial closing date with no closing date in sight! CHOOSE VETERAN's UNITED!!


You're next!
Join the ranks of our 200,000+ Proud Veteran Homeowners nationwide.

The whole process went so smoothly. Always knew exactly what was required of us. Everyone on the whole team was great to work with. I would highly recommend Veteran's United to everyone.

I have been pitching Veterans United at my work site. I really had a great thirty day's experience.



I couldn't be more happy with the service we received during the entire process. Veterans United was great every step of the way. They helped me lock in a great interest rate and even assisted in finding a great deal on homeowners insurance. I would recommend Veteran's United to any fellow veterans looking for a VA loan.





You're next!
Join the ranks of our 200,000+ Proud Veteran Homeowners nationwide.
Robert Canine and the whole Veterans United were fantastic exceeded all of my expectations and beyond! I'm am glad I went with VU with their flood of knowledge in the industry had made my purchasing experience phenomenal and stress-free in a timely manner! Highly recommended and I will use VU again!

Veterans United is the best by far. I am a first time homebuyer and I recommend that any and all future homebuyers to work with them. Once you find the house of your dreams Veterans United will be there for you every step of the way. Ryan Williams was my loan specialist who did everything to help me with the home buying process.

Thank you to the entire team who made this work. You guys rock!



Not all team members are as helpful as others. If you get bad one speak up to get the help you need.
Response from Veterans United
Matthew, we appreciate your feedback. Our Client Advocate team is available to connect with you to learn more about your experience should you wish to share more information. We invite you to connect with our team and become a part of our effort to continuously improve the client experience at Veterans United



My experience with VU was an extremely positive one. My loan specialist ( Nick Haller) was always on point and kept me informed with each and every step of the loan. The app makes sending paperwork & documents super easy.